Reading with 'Seeds: A Queer and Latinx Book Club'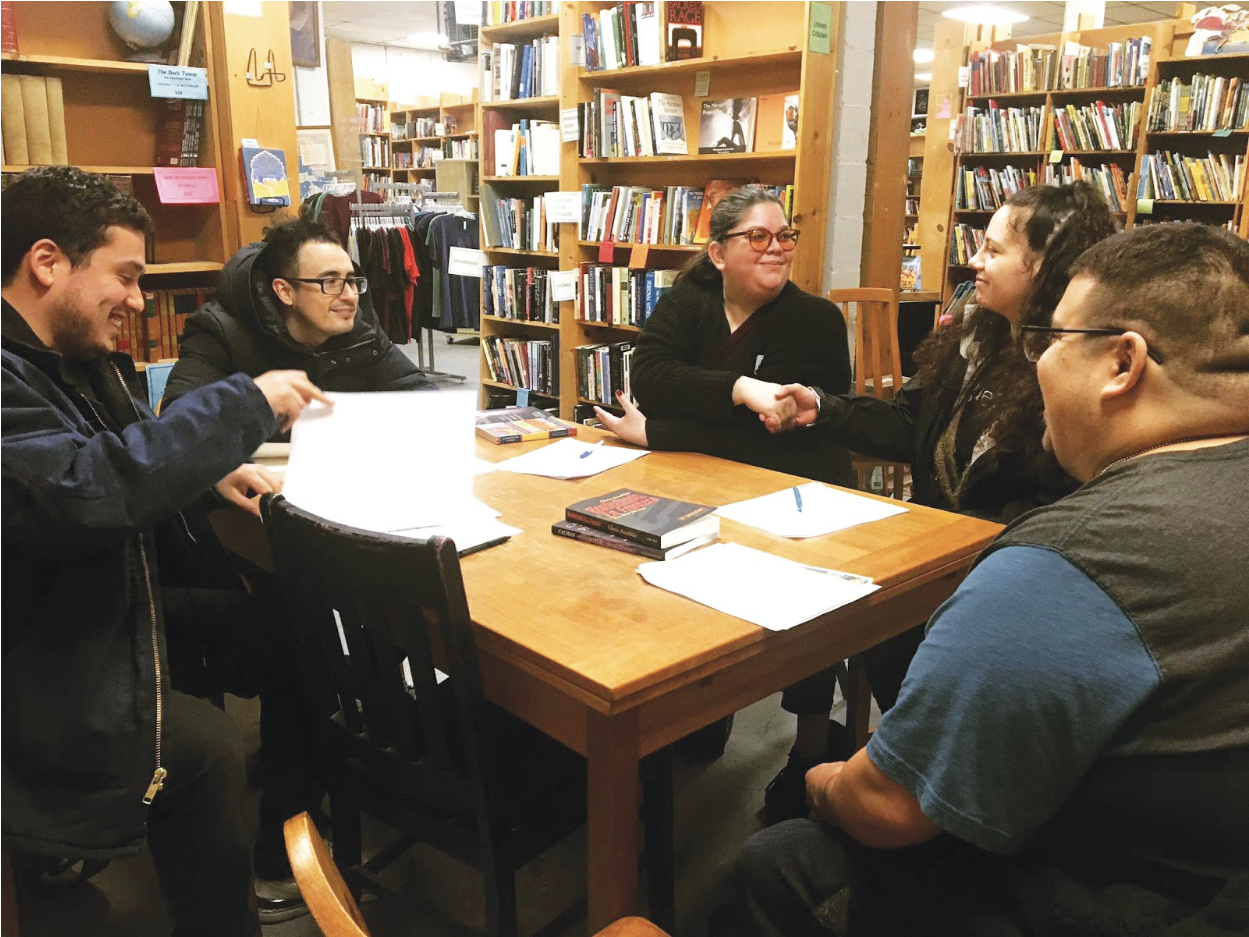 Ortega Esquinca (left) facilitates discussion during first Seeds meeting at King's Books — Photo courtesy of Juan-Carlos Ortega Esquinca
Planning has just begun for Seeds: A Queer Latinx Book Club. On Saturday, Feb. 2, the club's first preliminary meeting was held in King's Books, located near downtown Tacoma.
Group members were led by founder Juan-Carlos Ortega Esquinca, who is a Puget Sound alumnus, and laid out topics for discussion regarding the groundwork of the club before its first official meeting on March 2.
Questions discussed in the preliminary meeting included: "What does Latinidad mean to you?" and "How do you feel about the term 'Latinx?'"
Other topics of importance included future book selections and meeting places.
As of now, Seeds' book club meetings will be held in King's Books once a month; however, there will be another preliminary meeting at the Rainbow Center on Feb. 23 at 2 p.m.
The book club will discuss texts across all genres, including short stories, philosophy and science fiction, among others.
Based on their mission statement, Seeds "will break down texts within the Latinx diaspora and make the application of theoretical lenses more accessible through conversation and connections to our everyday organizing."
The club will focus on ideas such as "identity, politics, culture, queerness, citizenship, and race all while actively complicating and questioning … what it means to be Latinx."  
The first book selection, chosen by Ortega Esquinica, includes: "Borderlands/La Frontera" by Gloria Anzaldúa and "Caliban and the Witch" by Silvia Federici.
Although the selections for March 2 were chosen beforehand, Seeds will receive input to create a more participatory reading list that touches upon topics of interest among group members.
"I'm not gonna be the person really picking all the books but getting a consensus from the group," Ortega Esquinica said.
Some future titles recommended during the meeting included "100 Years of Solitude" and "How the Garcia Girls Lost Their Accents," as well as books by authors Rudolfo Anaya and Yosimar Reyes.
One of the group's members, Elena Chávez, expressed her excitement about Seeds' development and engaged with the group on Saturday, providing suggestions for books and thematic materials.
Chávez, who recently moved to Tacoma, found the opportunity to join a Latinx book club to be perfect timing.
"I'm pretty new to Tacoma … and most recently all I've been reading are Latino books," she said. "So once I saw there was a Latino book club I was like … yes!"
Ortega Esquinica emphasized the importance of providing community within the group.
Having moved here from San Diego two and half years ago, Ortega Esquinica mentioned that even now it is hard for him to feel connected within Tacoma, especially as a graduate.
"I've really struggled to leave the UPS bubble. … It's been hard for me to really find community in Tacoma," he said. "But now that I have more time, part of the way I am finding community is through groups like these."
Each month, Seeds will announce a reading list to allow members to prepare before group meetings. Books can be purchased by members on-site in King's Books at a discount.
During each session, participants will discuss the relevance of the month's texts in regards to the diaspora of the Latinx community; past readings, specifically the first selections from March 2, will provide a theoretical lens from which to guide each discussion.
All people who identity as queer or Latinx are welcome to join. For more information, email jcortegaesquinca@PCAF-wa.org.
Tags :
Book club
Latinx
queer
Tacoma