Out and about: Rainbow Center launches new program for LGBTQ professionals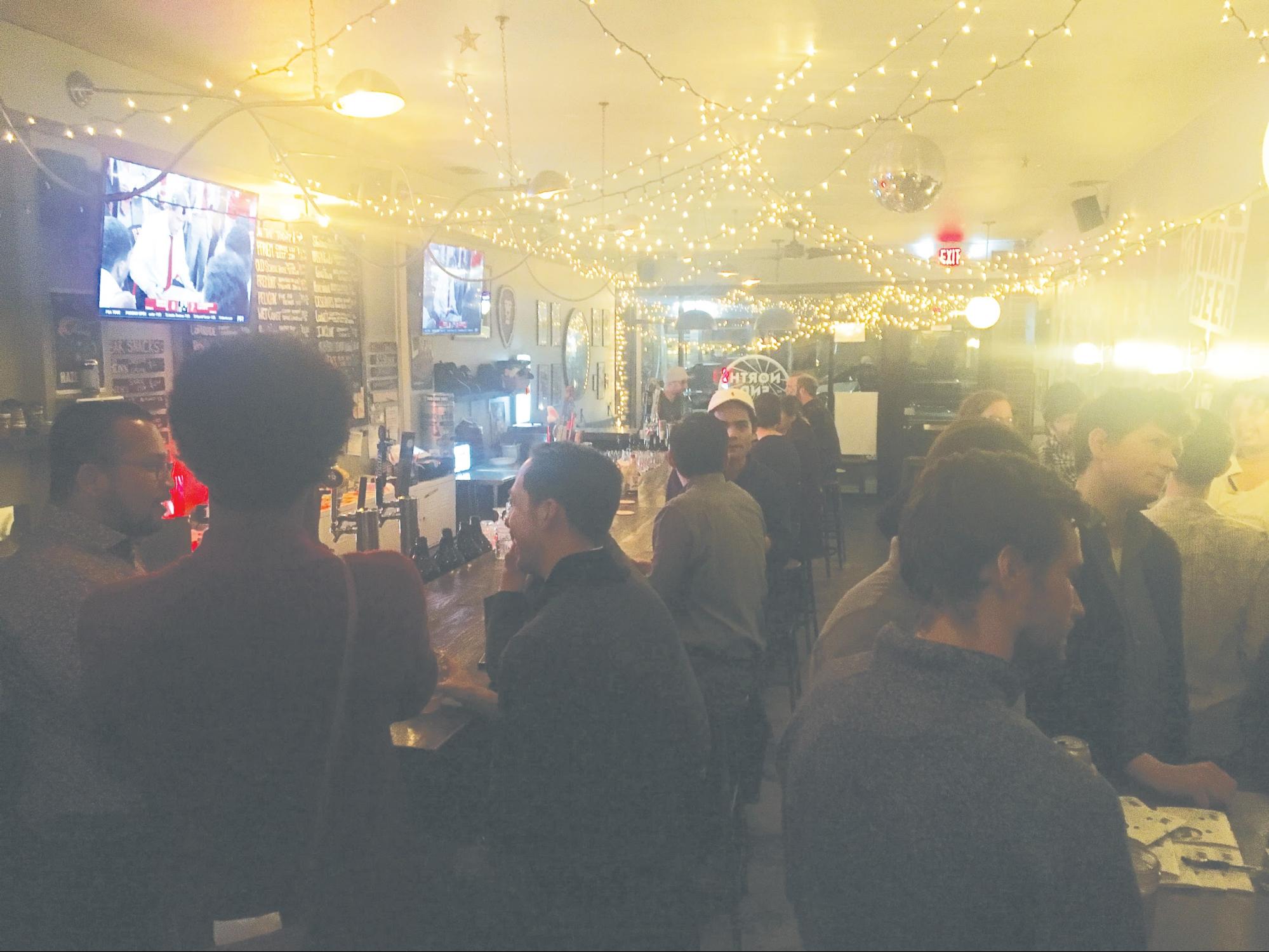 OPN members socialize at first event — Photo courtesy of Juliano Estrada Donatelli
On Jan. 31, Out Professionals Network (OPN) launched their first event at North End Social Club. This program, which is a part of the Rainbow Center (RC) on Pacific Avenue, promotes community-building among LGBTQ professionals in the Puget Sound area. As expressed in their mission statement, OPN "creates a supportive environment where LGBTQ professionals connect with one another, grow as professionals and support the queer community through fundraising."
Members are required to be 21 and over and pay either a monthly or annual fee that goes toward supporting both the Out Professional Network and the Rainbow Center, which is responsible for events such as the Gayla and Tacoma Pride.
Keryn Giguere, a board member of the RC and key figure in the program, stated that in addition to social activities, OPN also hopes to provide a "healthy mix of events, some fun, some networking, and others focused on professional development and continuing education."
At their inaugural event, the North End Social Club was packed with young professionals. As participants showed up, they were asked to sign in, providing an email and phone number, and encouraged to socialize with others in attendance. The bar was filled; members drank and chatted in small groups.
"It was a great night! We had over 30 young, queer professionals in attendance," Giguere said.
"The environment was positive and I felt very comfortable engaging with people," local real estate agent Ben Davidson said.
Davidson discussed his excitement over the program's opening: "I think it is important for queer individuals to feel comfortable contributing to the business conversation of a city."
Besides social events, Davidson is curious to see what OPN has in store for the future.
"It will be exciting to see OPN begin to tackle specific issues," he said. "One such issue would be getting involved with the Tacoma Chamber of Commerce, another might be hosting national networking events where similar groups from other places could come together … on a larger scale."
Jae Bates, a University of Puget Sound alumnus, commented on the development of such a program in Tacoma: "It's certainly helpful to have networks of other queer and trans professionals."
Bates also discussed what he and his friends are really looking for in programs such as these: "What people are always concerned about is like the actual culture where people are working."
He mentioned that having a way to connect with others to talk about their experiences with local organizations in regard to equity, sexuality and gender would be a step in the right direction for the RC's new program.
"My hope for OPN is that it can provide a safe space for the professional and young(ish) queer community in the South Sound to grow and socialize," RC Board President Sergio Flores said.
The next OPN event is scheduled for Feb. 28 from 6 to 7:30 p.m.; the meeting place has yet to be announced. For more information about the program contact opn@rainbowcntr.org or visit the Rainbow Center's Facebook page.
Tags :
LGBTQ
Out Professionals Network
Rainbow Center