First home game for the women's rugby team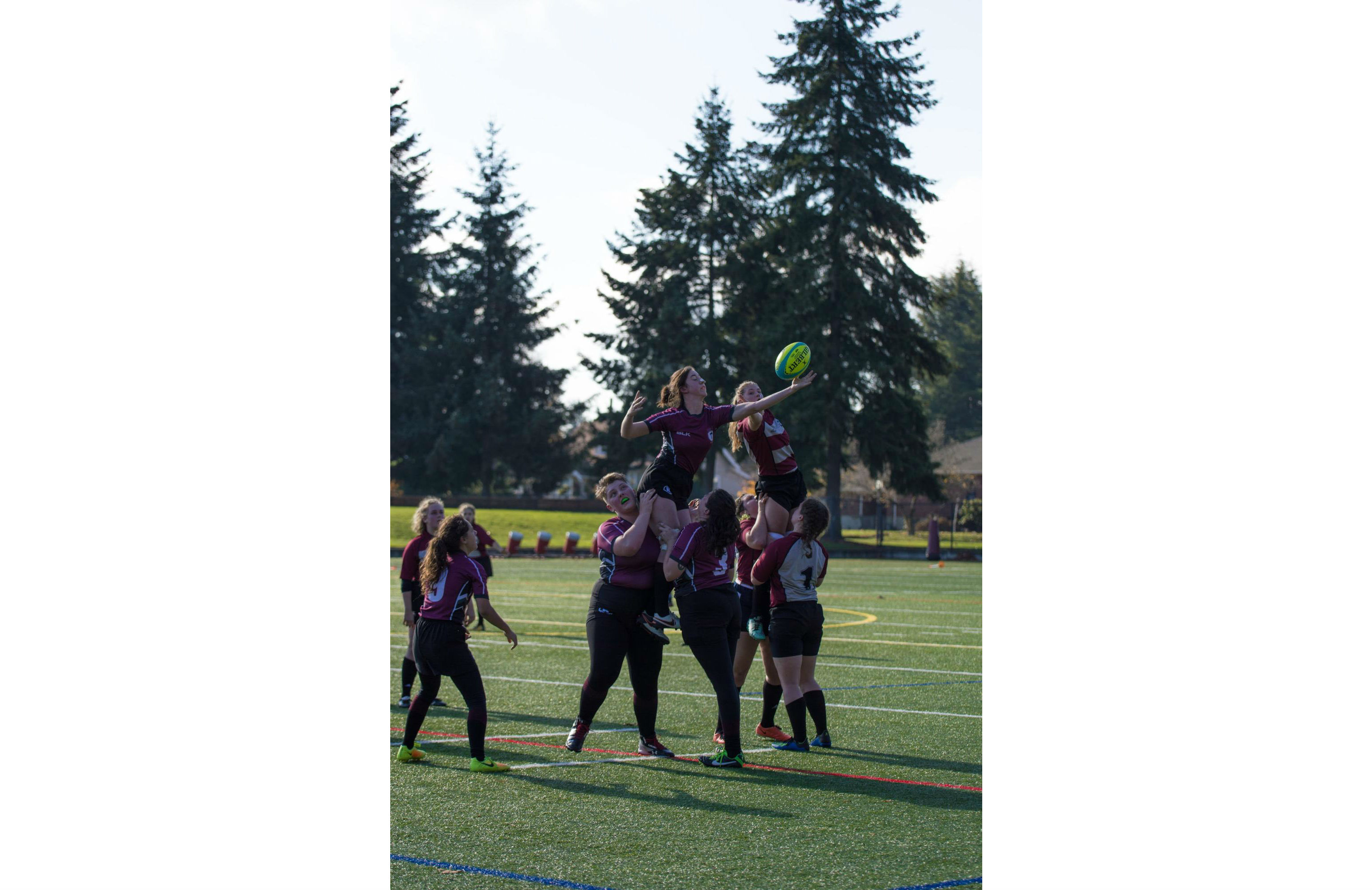 Both teams looking to receive an inbounded ball. — Photo credit to Katherine Kessler
"Rugby's a lot of fun, and we want to make sure that people who want to can play in a community that feels comfortable and welcoming to them without being tied to binary genders," Kate Gladhart-Hayes '20, president of the women's rugby team, said.
The posters for the Rugby team say that there is no experience necessary and that "All trans, non-binary, and non gender conforming people" are welecome. This move towards inclusivity is a big step forward and not something many others teams have done in the past.
"Speaking for myself, it's really important to me that our team be a welcoming space for people of different gender identities because a lot of women I know in contact sports find really powerful communities and opportunities to explore their gender expression," Gladhart-Hayes said. "I believe that it's essential to open those spaces to trans and non-binary folks as well."
"We try to be as inclusive as possible with all identities. The rugby team has provided a community for so many different individuals and we want to make sure it is open to anyone. Everyone is incredibly supportive and kind; the sport truly fosters a camaraderie," Ashley Rot '21, recruitment chair for fundraising, said. "It is also a group that promotes body positivity because all shapes and sizes are necessary to create a good team. We try to be as welcoming as possible to a sport that can seem intimidating."
"In addition to community, a great thing about rugby is that there is no ideal body type," Gladhart-Hayes said. "Different body types are better for different positions, but there is a position for every body type."
As a club team, the responsibility of scheduling of games is given to the student leaders.
"We are a club sport, which is organized by a regional league. We play against schools like Seattle University, Reed, Lewis and Clark, and Western Washington," Rot said. "Our president, Kate Gladhart-Hayes, works with the league and other club presidents to facilitate games."
"We are a part of a league, and our league organizes most of our games in collaboration with the presidents of the different teams," Gladhart-Hayes said. "There are few if any varsity rugby teams, so we all have primarily student leadership. We will sometimes schedule friendlies ourselves as well."
"There is a lot to learn about rugby; like any sport, it has tedious rules. The main idea is the ball is thrown backwards and players can run with the ball as the opposing team tries to tackle them. The offensive team moves forward with the intention to score a 'try,'" Rot said. "A try is similar to a goal or a touchdown; the ball carrier must touch the ball down in a zone. The overall objective is to score as many trys as possible in 80 minutes. There are 15 people on each team at a time."
On Nov. 10 the rugby team played a game against a combined team of Lewis and Clark and Reed.
"I expect going into our game that we'll be able to play together well as a team," Gladhart-Hayes said. "We've been practicing really hard and really bonding as a team which is really important, and since it's our second game of the semester, everyone has a better sense of the rules and what to expect than at our last game."
"I think that everyone should know that rugby is a very community-based sport. It's full-contact, and people play hard and are aggressive, but after every game, the teams eat a meal together," Gladhart-Hayes said.
Tags :
home game
Rugby
women