Mis/educating about the past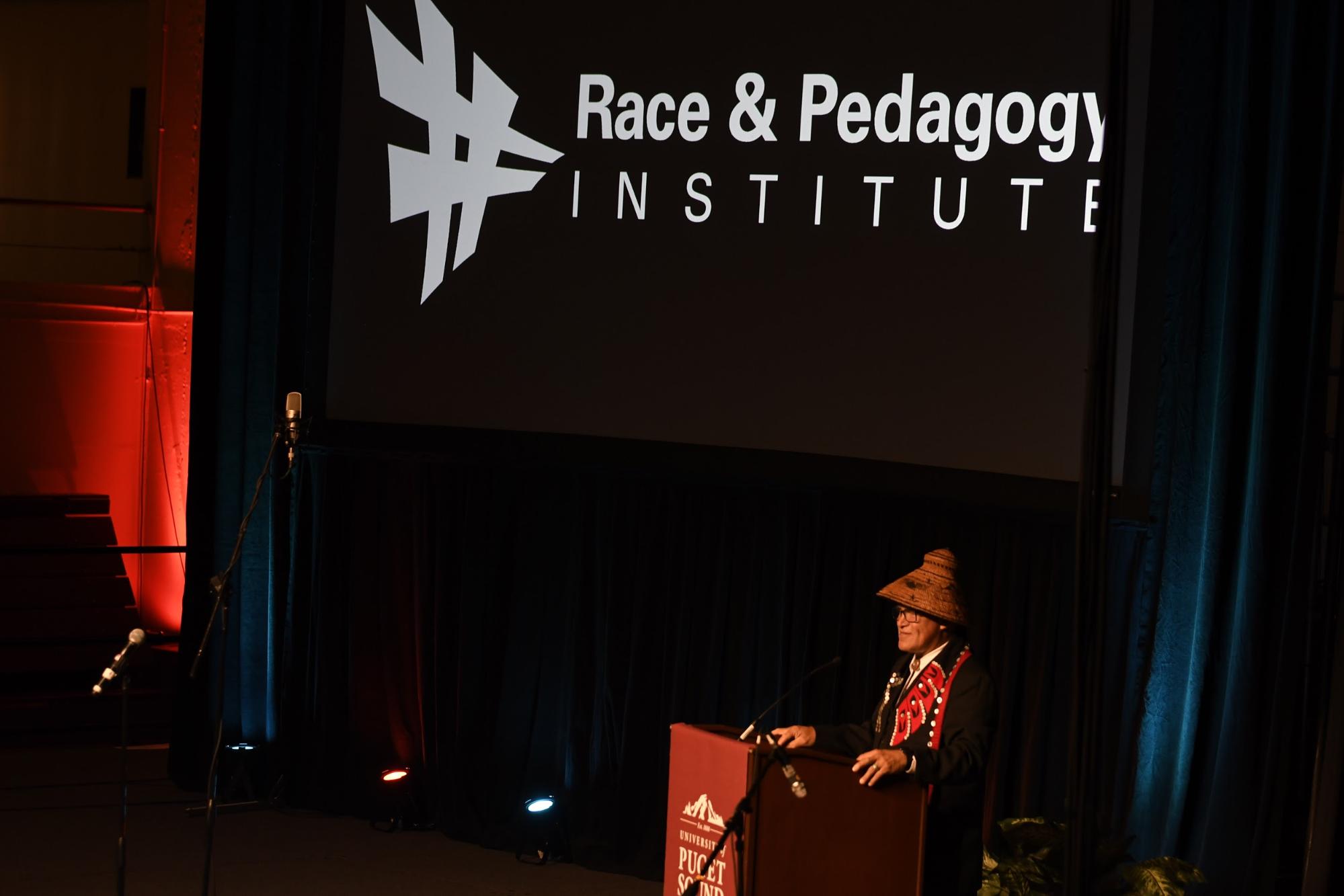 Brian Cladoosby speaking at the Race and Pedagogy National Conference — Photo credit to Rowan Segura
Indigenous history and scholarship is an often-overlooked field within academia. The 2018 Race and Pedagogy National Conference (RPNC) took steps to correct that, as it featured an abundance of presenters focusing on indigenous education, scholarship and capacity-building.
Indigenous representation at RPNC is not just breaking academia norms by giving representation to a community that has yet to gain a foothold in the academy; it is also giving students and educators an opportunity for understanding the decades of miseducation in U.S. K-12 curriculums.
Thursday evening's keynote address was given by Brian Cladoosby. Cladoosby is the chairman of the Swinomish Tribal Community and a board member of the National Congress of American Indians.
His speech highlighted the dangers of traditional whitewashed narratives of U.S. history and the need to reeducate Americans on the relationship between indigenous groups and American society.
"There is a toll to old narratives," Cladoosby said. "My goal as a leader is to destroy historical trauma in our communities one generation at a time."
Cladoosby's words highlighted the RPNC's theme of reimagining the project of justice.
Friday began with a speech by Provost Dr. Kristine Bartanen. Bartanen strongly advocated for keeping an open mind throughout the RPNC and to "see each other's true humanity."
Her speech additionally highlighted a trend that had begun to occur throughout the conference. She began her speech with an acknowledgment that the Puget Sound campus resides on Puyallup land and that the attendees of the conference are guests and beneficiaries to this land. The sentiment of paying respect to the Puyallup tribe before presentations would be common throughout the RPNC.
Later that day, the Puyallup nation hosted a panel titled "The Paths We Have Traveled: We are Puyallup Nation, the Welcoming and Generous People."
The panel featured six Puyallup nation members, including board members, professors and language teachers. Many of the panelists shared the desire to solve issues of the portrayal of indigenous history in education.
Panelist Nicole Marie Brandon was one of them. Her work as a historic outreach specialist involves helping to design educational curricula for Washington State K-12 education.
"We are trying to include what I think are tribal non-negotiables," she said. "It's about changing the narratives and conversations around education," particularly around the authentic engagement with indigenous culture and history.
David Bean, another panelist, agreed. His speech emphasized the importance of tribal sovereignty and what that means in a contemporary context.
"Our people are recovering, are healing and their health is produced through our culture. And that's how we succeed."
The concern for accurate representations of indigenous groups is shared by University of Puget Sound professors.
"All of us have gone through processes where we get miseducated," Dean of the School of Education Dr. Amy Ryken said. "We need to engage in a process of unlearning and relearning."
The state of Washington has helped to set the precedent for disrupting the norms of Eurocentric depictions of indigeneity. In 2005, the state introduced the "Since Time Immemorial" program, which partners with 29 federally recognized tribes to integrate tribal perspectives into K-12 social studies curriculums.
Similarly, Evergreen State College, Pacific Lutheran University (PLU), University of Washington Tacoma and University of Washington Seattle all have academic programs dedicated solely to Indigenous and Native American studies.
According to the PLU website, the purpose of their Native American and Indigenous studies program is to "enter a collaborative learning space in which Indigenous ways of knowing and the academic system meet."
These programs are an interesting comparison to the "Since Time Immemorial" curriculum. "Many marginalized groups compete to get a foothold in the academy," said Puget Sound history professor Doug Sackman.
Establishing academic programs dedicated specifically to indigenous groups brings attention to the historical silence that has surrounded indigenous people in Washington.
The visibility of indigeneity at the RPNC suggests increasing visibility of indigenous groups in discussions of race and identity. Expanding curriculum options that include indigenous histories may help to re-educate students and educators on the difficult topic of indigenous history.
Tags :
Brian Cladoosby
Race and Pedagogy