Students ignite discussion at RPNC poster sessions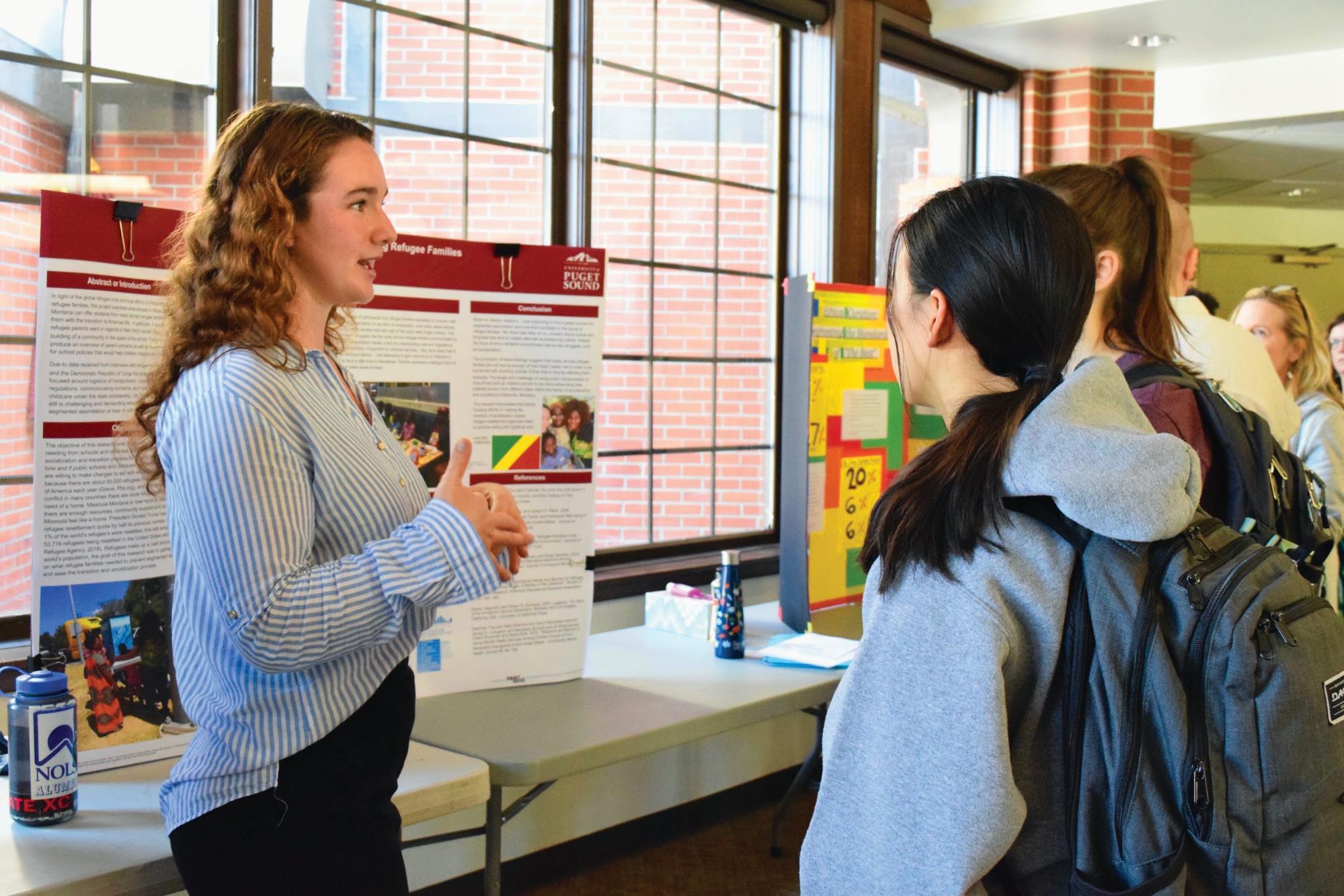 Tessa Samuelson presenting her poster to conference-goers — photo credit to Emma Jones
This year, the Poster Sessions at the Race and Pedagogy National Conference (RPNC) featured a total of 23 projects completed by high school, undergraduate and graduate students.
These students represented University of Puget Sound and other in-state and out-of-state schools as they presented their ideas on issues such as discrimination, gentrification and racism.
Among these presenters were two Puget Sound students, senior Tessa Samuels and junior Erin Rasmussen. While Samuels and Rasmussen researched different topics, their findings conveyed similar themes of privilege and classism, indicative of the basis of the conference as a whole.
Having been inspired by experiences of their own, Samuels working with the International Rescue Committee (IRC) and Rasmussen participating in local hearings for subarea planning, they both passionately view their research as essential components of the RPNC discussion.
"I wrote my thesis my junior year on some of the major struggles that refugees face by hegemonic narrative … and this summer … I worked at the IRC, so I did research on segmented assimilation in a specific refugee community," Samuels said.
"Usually this happens because a child is in a school environment, which is … a place to learn the culture faster than where the parents are working," she said.
"But it also comes with kids who are looking to be accepted by their peers, and parents who are really holding on to the identity of their culture of origin … their language of origin and their traditions of origin."
The focus of her research was on this trend of segmented assimilation in refugee families as well as the extreme publicity of refugees in recent years.
"It's become such a glorified topic in the media and I've done a lot of research on immigration policy and what's going on under the Trump administration and also under the Obama administration … so I was like, 'What can I do to help this?'" she said.
"So I started volunteering with the International Rescue Committee, which is the largest resettlement agency, and I was just so inspired by the people that worked there."
Samuels' research also looked into how refugees are perceived differently than immigrants, and the discrimination that occurs in the political and social actions of providing selective aid.
Similarly, Rasmussen's work touched upon discrimination and classism, but in an environmental sense instead.
"I was really interested in the conventional wisdom that green and clean spaces are synonymous with the upper, privileged, white users. This kind of manifests itself in two different ways," Rasmussen said. "The first is the siting of contaminating facilities is disproportionately placed in communities of low income and racial minorities, with race being the strongest indicator of how contaminated an area's going to be. The second … is environmental gentrification. That's when projects occur in communities, such as cleaning up contamination, putting in community gardens, or putting solar panels on buildings, and that raising the property values and displacing the community members already there."
Rasmussen focused her research on Tacoma and Commencement Bay specifically, referring to published research on other superfund sites for guidance and structure.
She also conducted interviews from community members and those involved in development to gain a more complete perspective on the issue and its future.
"I think sustainable redevelopment is something that needs a lot of work done," she said.
"I could see myself working with local cities in how they are going to develop their city, including affordable housing, including zoning regulations to protect communities … and just trying to find ways to battle gentrification in general and environmental gentrification specifically."
While Samuels and Rasmussen were just two of many presenters, the commitment to their work and the main discussion points extracted from their projects were characteristic of the Poster Sessions in their entirety.
Students dedicated significant time and effort to address these issues from unique yet relevant angles. Attendees were intrigued and engaged as they listened to different presentations.
"This is research that you don't really hear about and so it's important that you are learning," attendee Ariana Cooks said. "It's necessary for everyone of different races and different backgrounds to come together and say, 'Okay, let's see this work that's happening.'"
Other attendees, like high-school teacher Samantha Harris, knew students presenting at a session.
"I'm excited that high school students are also invited to present their research. … That's a great opportunity," she said. "I'm really interested in how diverse the different research areas are. … It's really exciting to see so many different areas and really interesting to see different levels of research."
As is true of the entire RPNC, this year's poster sessions served to engage people in conversation and promote innovative ways of teaching, learning and discussion.
Tags :
Poster Sessions
Race and Pedagogy National Conference