'Immigration, Advocacy, Activism and the Northwest Detention Center' panel sparks conversation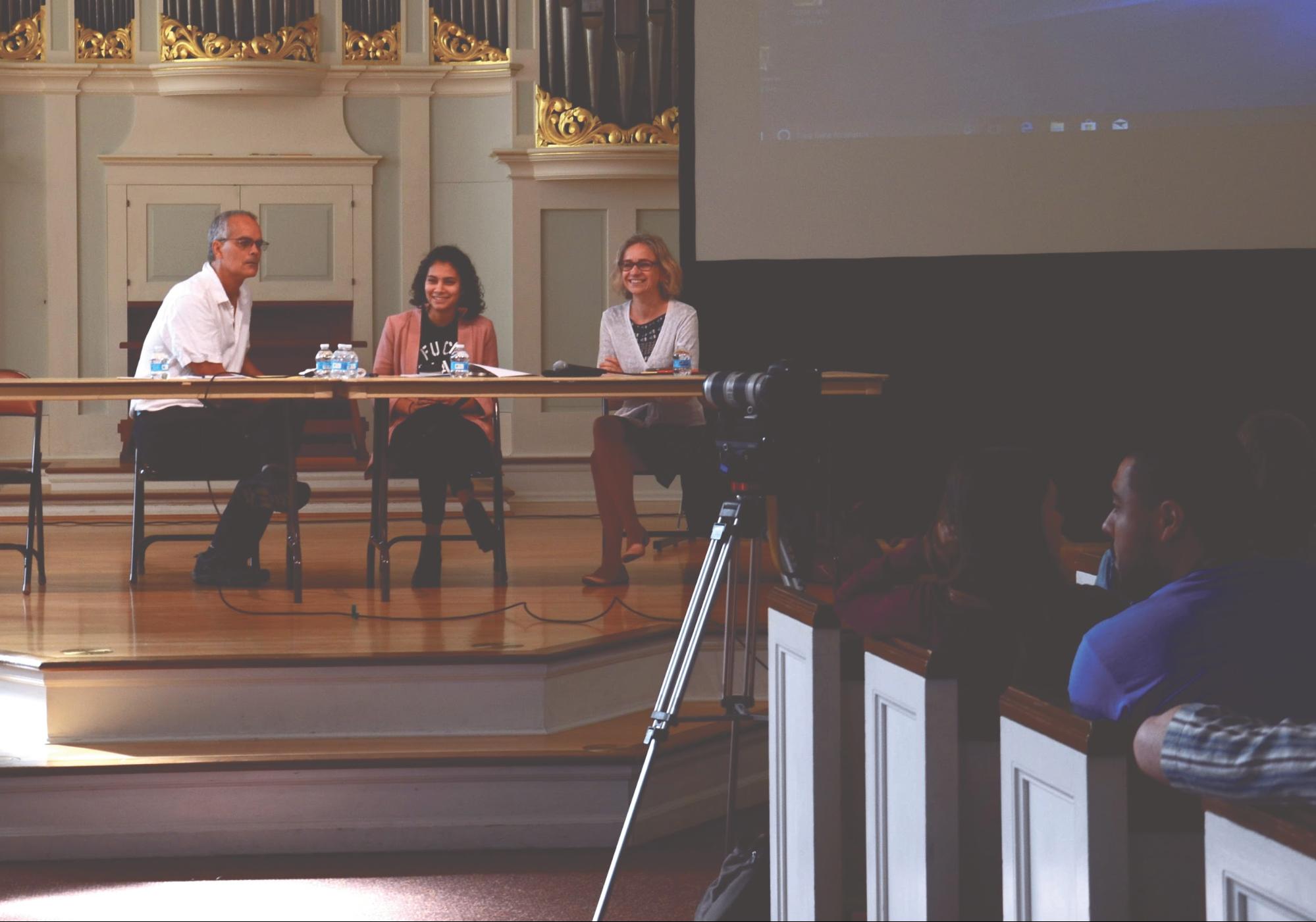 Moderator John Lear and two of the three panelists, Amanda Díaz and Robin Jacobson, prepare for discussion in Kilworth Chapel — Photo credit to Augusta Grassl
A panel titled "Immigration, Advocacy, Activism and the Northwest Detention Center" used the Race and Pedagogy National Conference (RPNC) to discuss a human rights issue hidden in Tacoma's own backyard.
The panel featured Chris Stanislowski, Amanda Díaz and Robin Jacobson.
John Lear, head of the Puget Sound history department and creator of the Latin American studies program, organized the panel to incorporate issues of immigration and detention into the RPNC dialogue.
"This year it seemed particularly important given the context of the criminalization of Latinos in general and the efforts along the border and the country in general to detain undocumented immigrants," Lear said on immigration issues.
The detention center lies in stark contrast to the city's title as "the city of destiny," Lear pointed out in his introduction of the panel.
The contrast echoes darker elements of Tacoma's past such as the Tacoma Method, the expulsion of Chinese citizens .
"We have been known for this mixed destiny for a long time," Lear said.
This panel was an opportunity for insightful discussion on Tacoma's destiny now and in the future.
Moderated by Lear, each panelist was given 10 minutes to discuss their work involving the local Northwest Detention Center.
Chris Stanislowski, the senior staff attorney for the Tacoma office of legal advocacy group Northwest Immigrant Rights Project (NIRP) spoke first.
Stanislowski spoke on his experience as a legal advocate for those imprisoned in the detention center.
"I spend pretty much every day in the detention center … talking to people who are locked up — locked up in cages, honestly. … It has become something I have become accustomed to — seeing people in jumpsuits that are red, orange, green, blue, yellow — and I get to go home at the end of the day. My clients don't. My clients are kept locked up in cages," Stanislowski said.
As Stanislowski passed the microphone to the next speaker, recent Puget Sound graduate Amanda Díaz, the audience was clearly excited.
Díaz was the student body president, as well as the founder and president of both Advocates for Detained Voices and Latinx Unidos.
Díaz is currently a paralegal at an immigration law firm, working primarily with victims of domestic violence.
"Immigrants are automatically criminalized when they come to the United States," Díaz said. Díaz spoke of her experience as the daughter of two immigrants and the opportunity she feels she holds as a citizen.
"I feel like my entire life I was like, 'I'm so passionate about immigration and I'm going to be a lawyer and I can give back to my community' and all these amazing things that I still want to do, but I feel like have been cemented in a negative way by my experience as a paralegal. Primarily because I feel like I am this cog in a machine that is so inequitable and so f—-cking racist," she said.
Díaz's sentiment was shared by the other speakers, especially Stanislowski, who shared the helplessness they often feel in their work.
The third panelist was Robin Jacobson, head of the Puget Sound Politics department and long-term volunteer for Advocates for Immigrants in Detention Northwest (A.I.D Northwest).
"A.I.D Northwest is involved in providing radical hospitality in order to transform and create a more inclusive community both here in Tacoma and broadly," Jacobson said.
Jacobsen shared several experiences of housing people after their release from the detention center, noting that she keeps in touch with several of them.
For the second half of the event, Lear opened the panel up to questions and comments from the audience.
The questions pointed to the audience's confusion in how to get involved. Díaz shared her advice in response.
"Everyone has an opportunity to do something about this issue and I think we try to convince ourselves that we don't and we feel really powerless. … I think it's really important that everyone realizes the privilege that we have but also the opportunities that we each have to try and make changes. … You need to do your own investigation and your own knowledge searching," Díaz said.
Mount Tahoma High School counselor Bernice Whitley, an audience member, shared her experience.
"'Immigration is an everyone issue," Whitley said to those at the event. In an interview after the panel, Whitley shared that she attended the conference to become a better resource for her students. Whitley also shared her experience as an African immigrant to Virginia in contrast to the experiences of immigrants who are from other countries.
"I don't understand what it's like to have a parent in a detention center as I've never had one there but to put myself out there to be a support as close family or distant family for them," Whitley said.
"I think it is one of the most important issues of our time. I think it is the abolitionist movement … the civil rights movement of our time," Lear said of the immigrant rights and anti-detention movement.
Lear's passion, which brought the panel to life, was clearly shared by the panelists and audience members. The event ended with a crowd buzzing in conversation, eager for more information on getting involved.
Tags :
Activism and the Northwest Detention Center
advocacy
Immigration
Race and Pedagogy