Women's basketball pushes on to semifinal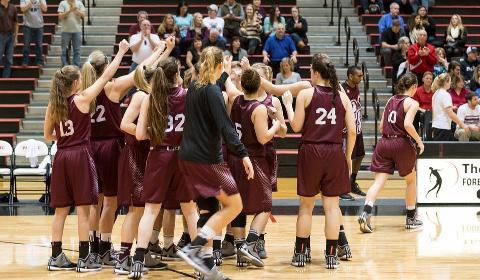 The Logger women's basketball team has put together a season of historic levels. The Loggers flew through the seven games of February undefeated and extended their record to 22-3 overall (13-3 in conference). Junior Emily Sheldon (Portland, Ore.) had thoughts on their success.
"I attribute most of our success to our ability to be open-minded," Sheldon said. "You need five players focused on the court doing the same thing to be successful, and I feel like we consistently have that, regardless of who is in the game."
The past two home games to end the season against Whitworth and Whitman were close, but the Loggers pulled out the wins.
On Feb. 20, the Loggers won 70-64 against Whitman with Sheldon leading the way with 16 points, six rebounds and three blocks.
The next day, on Feb. 21, the Loggers won 82-78 against Whitworth in a close, intense game. Senior Amanda Forshay (Moraga, Calif.) led the way with 16 points, nine rebounds and four assists.
Everyone contributes to the game, including first-year student Claire Fitzgerald (Sierra Madre, Calif.).
She talked about what it felt like to be part of the team.
"Being a freshman on such an incredible team during an incredible time in the program is awesome.  It was so fun to jump right into a talented group of women.  Just being a part of the team is something special," Fitzgerald said.
Everyone is making an impact, but senior Katy Ainslie (Redmond, Wash.) stands out as consistently taking the team to a different level.
She added some thoughts on how the season is going as a whole and if they could go to a higher peak.
"I don't think it's about reaching a higher peak. I think it's always about building off our previous successes, learning what we can from those games and taking that into the next game," Ainslie said. "The best teams reach their potential as they are heading into playoffs, and we are right there with the best teams in our nation. This group of girls is capable of so much, and I am excited to see what playoffs have in store for us."
Having the playoffs at home will help the Loggers as they have sported an 11-1 record while playing here.
Ainslie had a few additional thoughts on playing at home.
"There is nothing better than playing at home. We love to go through our regular pre-game routines and play in front of our fans here at home," Ainslie said.
The Loggers are rolling right now and having a supportive crowd at home was key in their rematch against Whitworth on Feb. 26 at 7 p.m.
It contributed last time the two teams met and if everyone shows up, there is no doubt that it will make an impact again.
As the regular season comes to an end, it looks like they will have the chance to continue their success at home, as they will host the first round of the Northwest Championship (NWC) playoffs as the number two seed.
Tags :
Athletics
Basketball
logger
Puget Sound
winning
women's