MEN'S BASKETBALL WHIRLWIND SEASON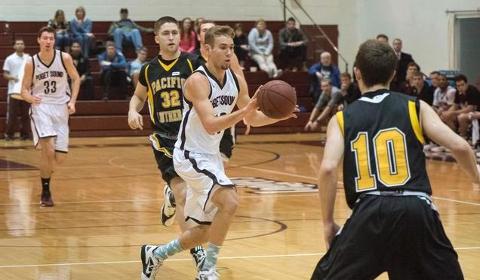 The Logger men's basketball team is performing well late into the basketball season. With an even .500 record at 10 wins and 10 losses, the Loggers have put in a lot of hard work during the course of this season.
They opened the new year against George Fox University with a strong win while away from home, beating the Bruins 84-68.
The Loggers were not on the road for long and continued the season with a four-game home stand during which they had two wins and two losses. The first game back at home in the new year was a tough one against the Willamette University Bearcats. The Loggers were able to force overtime but eventually fell 77-84. Next up on home turf were the Pacific University Boxers who fell to the impressive shooting display put on by the Loggers 76-64. The third of four home games saw the Loggers pick up their second loss in January against the Lewis & Clark College Pioneers. The home stand ended strong with a close win over the Linfield College Wildcats 70-67.
The Loggers then set out on a two-game road trip into the eastern part of Washington state. The first challenger on the road was the Whitworth University Pirates. The Loggers held the lead going into the first half but the efforts of the team were not enough to stave off a second-half comeback by the Pirates and could not keep up with home team.
Next came cross-town rivals Pacific Lutheran University, who the Loggers were able to defeat at home 65-54. George Fox was out for revenge from the early season loss that the Loggers handed them. This time it was the Bruins who came out on top in a close game that ended 76-79.
So soon after handing the Lutes a loss on our home turf, the men traveled across town to start a five-game road trip with a second win over the Lutes this season.
However, it did not get easier from there as the squad picked up two losses this last weekend against Pacific and Willamette, both away from the comfort of Warner gym.
Two stalwarts of the team no matter the condition this year are Nick Holden (Pasadena, Calif.) and Erin Barber (Puyallup, Wash.). Holden and Barber don the numbers one and two respectively on their jerseys and they also hold the number one and two scoring spots on the team. Holden leads the team in scoring with 15.2 points per game and Barber close behind him with 14.8.
The Loggers continue their lengthy trip away from home with two games on Valentine's Day weekend.
They take on the Linfield College Wildcats on Friday Feb. 13 with a start time of 8 p.m. and on Feb. 14 they travel to Lewis & Clark to take on the Pioneers at 6 p.m.
Tags :
Athletics
Basketball
logger
mens
sports