Football loses to Pacific but beats George Fox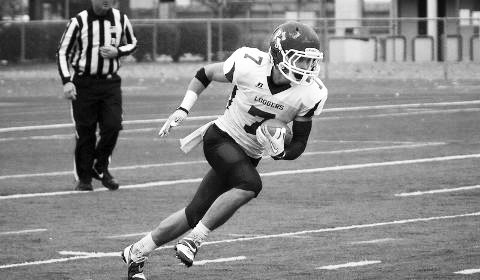 This season the football team has seen tremendous progress, and most of it can be attributed to the hard work the team has put in throughout the season.
The team stands at 3-3 now and looks to be headed towards a strong finish.
The past two weeks the Loggers' have faced George Fox and Whitworth, seeing different results in each respective game.
On Oct. 18, the Loggers' played George Fox and won 33-14, an impressive feat on the road. Going into halftime with the score at 12-7 with the Loggers in the lead, the team exploded in the 4th quarter outscoring George Fox 21-7.
The scoring started with a 78 yard interception return for a touchdown from Nasser Abdelrasul (Salem, Ore.) and after a response from
The Bruins to take the score to 19-14, Connor Savage (Bothell, Wash.) took a kickoff back 99 yards for the score.
After that, the Loggers rolled and brought their record to 3-2, the most wins the team has had since 2008.
On Oct. 25, the Loggers' took on Whitworth on the road, falling 62-30.
After a strong first half, which brought the team as close as 28-23,the game then started to unravel as the Loggers were outscored 34-7 in the second half.
Sophomore Hans Fortune (Kenmore, Wash.) led the team with completing 21-40 passes and adding 236 yards while also throwing a touchdown.
Sophomore Steve Branham (Goldbar, Wash.) brought in four receptions for 85 yards, and Senior Kevin Miller (Seattle, Wash.) had 10 receptions for 67 yards in the loss.
Even with the loss that set their record to 3-3, the team is well on their way to a successful season. First year student Jared Polonitza (San Diego, Calif.) gave a reason for why they've had success this season.
"This team feels like it's full of guys who not only want nothing more than to succeed, but really are dedicated to football," Polonitza said.
Not only do they all want to succeed, but they also treat each other with respect.
"It's different being a freshman on this team. Unlike high school the guys want to make you feel like part of the team. It's no longer 14 year olds and 18 year olds. It's a team of men and they treat you as such," Polonitza said.
Coach Jeff Thomas has made a profound impact on the season and has put the team in a position to be fighting for the conference title for the first time in six years.
"He always pushes to be our best," first year student Shawn McCarthy (Honolulu, Hawaii) said.
Polonitza voiced the same in respect to Thomas.
"[He] is the best head coach I have ever played for hands down. He is a great combination of high energy, intense coach and just a likeable person," Polonitza said.
Some moments can stand out in practice rather than in a game, and it's not surprising how much this team cares about each other.
"One of the most memorable moments for me this year is being on the practice field on a Thursday practice and watching one of the receivers make a great catch in warm ups, and seeing Mitchell Habryle (Covington, Wash.), one of our kickers sprint full speed across the field to celebrate the catch with him. It just shows how much all these guys want to be out here," Polonitza said.
The Loggers have reached some of their goals at points in the season, but now look to take the next step in the final three games considering that they are 2.5 games back of playing for a conference title, something that would be quite phenomenal to bring home back to campus.
Tags :
Athletics
Football
logger