Kitttredge Gallery featuring art by Marita Dingus and Sarah Gilbert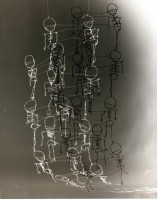 Kittredge Art Gallery currently features two exhibits of works by Marita Dingus and Sarah Gilbert. Take a break from the Race and Pedagogy Conference and explore these unique quilts and fences made of recycled materials, and glass orbs with detailed painted designs.
Kittredge is open, free of charge, today from 10 a.m. to 5 p.m. and Saturday, Sept. 27 from noon to 5 p.m. Sept. 27 is also the last day to experience these exhibits.
Dingus' "They Still Hold Us" features the use of recycled materials shaped and arranged into elaborate quilts, fences and other wall decorations.
Dingus' work addresses the issue of recycling, not just in terms of trash and art, but also in terms of human lives. The items she uses are things typically "cast off," just as many might consider certain human lives worthless.
Coming from an African-American background, Dingus said her people are still "shackled and fenced" in slavery.
"How can you prevent these attacks and move forward?" she said.
Though beautiful from a distance, her work is quite dark once the metaphor is realized. You might think of flowers as light and joyful, but these flowers are dark and heavy, wind-blown and jammed uncomfortably into the fences.
Most striking in this exhibit are the skeleton fences on the gallery's back wall. In light of the topic of slavery and imprisonment, these "fences" present an imposing and lasting image.
Dingus has received numerous awards and honors for her works, and has even been featured from the Museum of Glass here in Tacoma to the National Portrait Gallery in Washington, D.C.
Gilbert's works in the Small Gallery, on the other hand, explore the concept of "home," as she currently finds herself between her home in Tacoma and her home in New York.
"This body of work is the beginning of what will be a long exploration into what makes a place feel like home. The further I look into this concept the more I realize I have just begun to explore the possibilities…but through making this work I want to explore what it is that makes you connect with a place," Gilbert said.
Each orb in Gilbert's pieces has the image of a person on one side and a street name or building or stencil drawing of a child with a balloon or the like on the other. The exception is a series of orbs hanging from metal signs. "Bike Ride" features various buildings, store-fronts and street signs from the perspective of someone riding a bike.
She used a process called "cameo engraving," a slow and challenging procedure that is more traditional. Before photography, this was the way to capture someone's likeness, other than painting.
"This process has proven specifically appropriate for me to make this work because of the history behind the process and because the time put into each piece turns into almost a meditation on the subject," Gilbert said.
"I enjoy the process of making and how the physicality of the process can leave distinct marks from the maker. These marks make each work individual and unique in their own right."
Sarah Gilbert is a glass artist and head technician at the Museum of Glass here in Tacoma, repairing and maintaining all the glass-working equipment. She earned a B.F.A. in glass and sculpture from Rochester Institute of Technology in 2005, and this year was a nominee for the Greater Tacoma Community Foundation's annual Foundation of Art Award.
Tags :
art
art exhibit
art museum
kittredge gallery
Marita Dingus
Sarah Gilbert
sculpture
Tacoma
university of puget sound
upcycling