Pablo Menéndez and his band Mezcla bring a night of Cuban sound two decades in the making to Puget Sound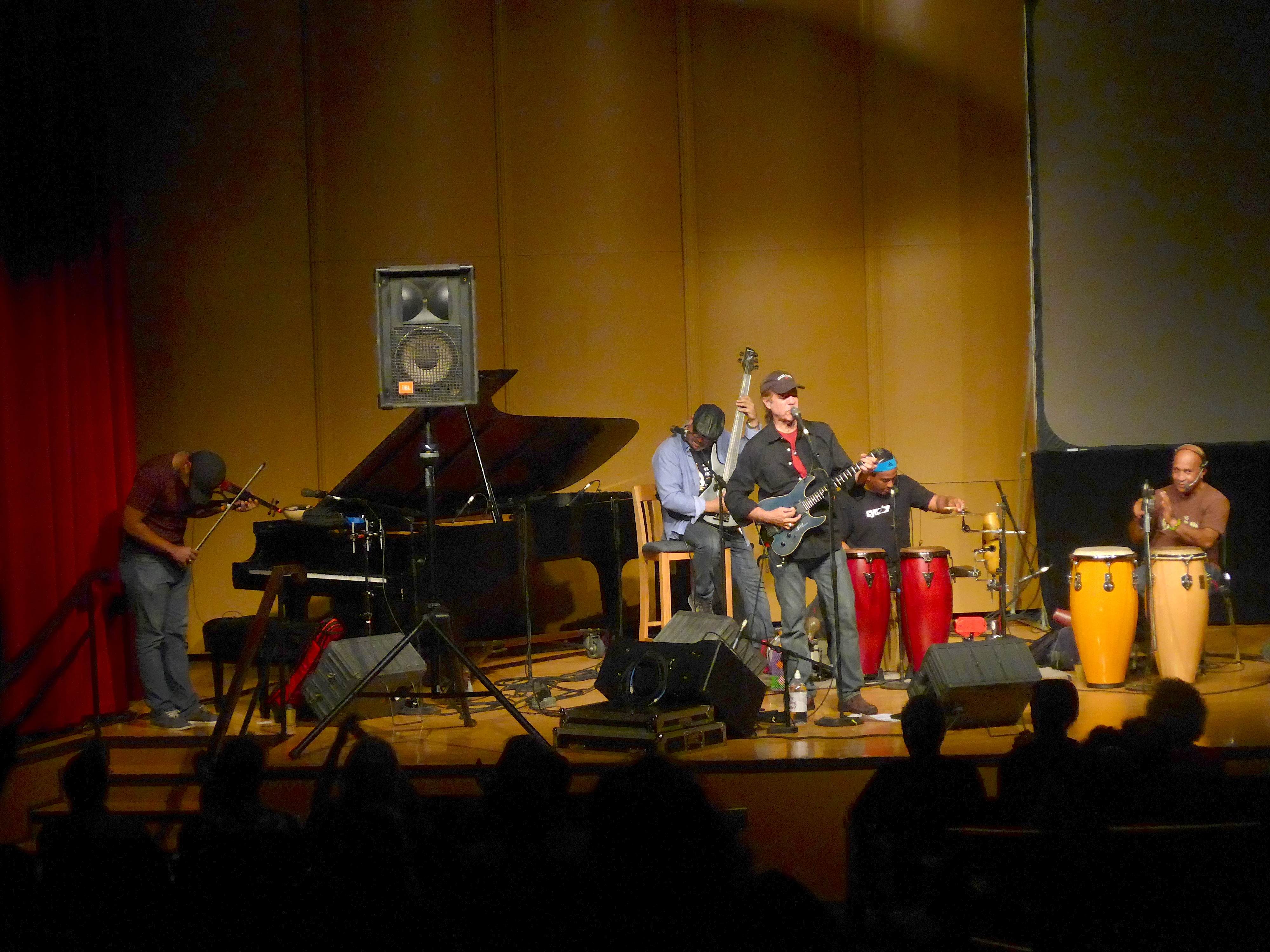 Anyone walking past Schneebeck Concert Hall Tuesday, Sept. 16 may have been treated to the smooth sounds of Afro-Cuban music drifting through the hall's open windows.
Those seated inside, however, had front-row seats to a free concert for a band that has been touring for nearly three decades and has delighted audiences all over the world with their unique brand of Afro-Cuban jazz.
In an event almost 20 years in the making, singer/songwriter Pablo Menéndez and his hit band Mezcla spoke and sang about diversity, togetherness and what ultimately keeps cultures apart. The focus was on the economic and travel embargo with Cuba, which the band has had an extensive experience with.
It's impossible to say how many lives have been affected by the U.S.'s blockade of Cuba, but an example of the embargo's negative consequences can be seen in the adversity Menéndez and his band have had to overcome.
Originally slated to perform on the University of Puget Sound campus back in Spring of 1995, Menéndez ultimately had to cancel at the last minute due to an immigration snafu in which he and his band, along with famed Afro-Cuban singer Lázaro Ros, were denied visas.
This was a main point of discussion on Tuesday night, along with talks about the waning effect Cuban culture has had on modern America and what the term "World Music" really means.
When discussing U.S./Cuban relations before the embargo, Menéndez spoke fondly of the Cuban-influenced hit songs of the 60s and of the successful careers of Cuban actors such as Desi Arnaz, best known for playing Ricky Ricardo in the hit show "I Love Lucy." He lamented that Cuba's popularity has sadly deteriorated over the years.
University of Puget Sound Professor of Politics and Government Don Share and Professor of Latin American Studies John R. Lear both had to a lot say in response to Menéndez's talk.
"Menendez is certainly correct that the U.S. economic blockade on Cuba—in place since the early 1960s—has limited the U.S. public's knowledge about Cuban culture," Share said. However, Share went on to point of that the blockade is perhaps not the key reason why Americans haven't been exposed to Cuban culture.
Lear agreed, saying, "The U.S. economic and travel embargo of Cuba—in place since the early 1960s—has definitely limited the cultural influence Cuba has had on the U.S. That doesn't mean that Cuban culture is not known in the U.S., or isn't felt indirectly through the presence of an exile community, but the relationship is not as direct and full as it would be without the embargo."
Later in the night, Menéndez spoke about the concept of "World Music" and how the term is often misrepresented in popular culture. He describes his experiences in the past when he tells people he plays Cuban-inspired music and they ask if he plays salsa music.
"Culture is not a race thing," Menéndez explained. He recounted his talks with people who automatically assumed he played salsa. He explained that many different types of foreign music often include themes of foreign debt, political corruption and societal standing.
"Something to explore is how non-musical factors affect our understanding of musical cultures," School of Music Director Keith Ward said.
Tuesday night's cultural-centric event led the audience to recognize the importance other cultures have on their own and the damaging effects blockades can have.
"Cultural exchanges should bring peoples and nations together—and never be subject to embargoes," Lear said when asked what he believed the most important lesson of the night was.
It took Menéndez and Mezcla nearly 20 years to finally play a crowded Schneebeck concert hall filled with students, adults and families alike. Now they are off to bigger and better venues all over the U.S., but its safe to say that after a night filled with great music and important lessons they'll be back by popular demand before long.
Tags :
afro-cuban
Cuban culture
Cuban jazz
cuban music
embargo
pablo menéndez
schneebeck concert hall
university of puget sound
World Music