Kayaking club: Puget Sound's hidden treasure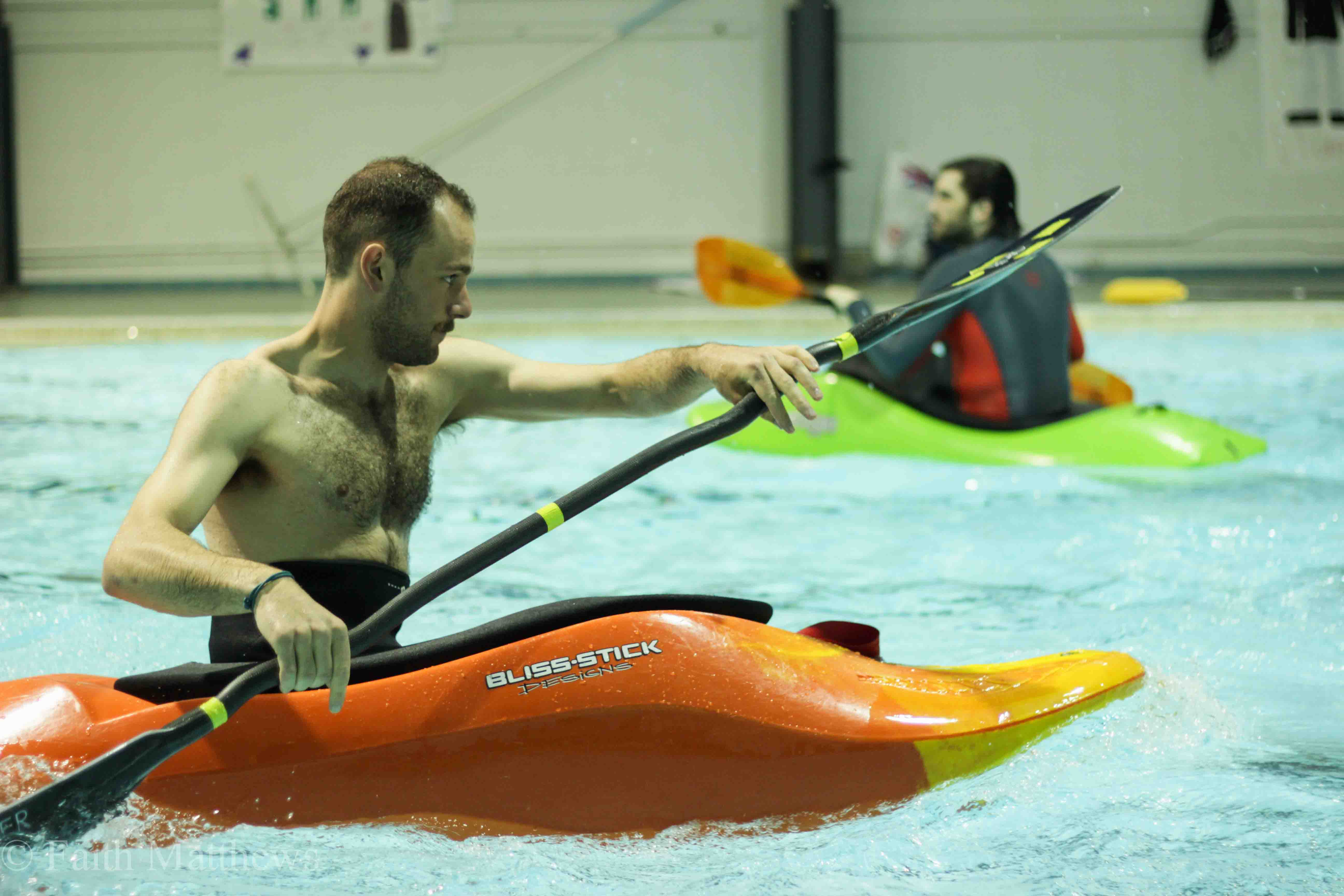 The Kayak Club provides an exciting and fun instructed experience twice a week for community and campus members alike. With indoor sessions in the Wallace Pool in Warner Gym on Mondays and Thursdays from 8 to 10 p.m., the club opens its doors to any skill and comfort level.
Through learning kayaking skills like paddling, rolls and bracing, or hitting the paddle on the water in order to bring the kayaker's body back upright, the Kayak Club encourages growth and instills community as they teach incoming students these skills and then expect them, after mastery, to give back, teaching the maneuvers they have learned to incomers.
Heather Stepp, sophomore kayaker, reflected on her club experience. "[The presidents and faculty advisors] really know the idea that the best way to learn something is to watch it, learn it, and teach it. The way the club is set up helps you to improve very quickly," Stepp said.
"I love that the club is a challenge and that it's a stimulating learning experience outside of class. It's a great community to bring you into. I love that the people in the club are passionate about sharing their knowledge of kayaking" Stepp said when asked what she enjoys most about the club. Stepp, who went on her third Kayak Club river trip the weekend of April 5, has participated for two years. "The Kayak Club is a family," Stepp said.
Through preparing the members of the club with two beginner trips and one intermediate trip on the river, the presidents and instructors teach the members to improve while staying safe and having an incredible experience. Once a member has these completed, they are free to do trips with friends or those the club offers.
As the club practices primarily on an indoor pool, a river setting is drastically different and significantly more challenging. A kayaker has to "learn to read the river, get in and out of eddies, do eddy turns, and lastly ferry, cross the river effectively," Stepp said. The river is different from an indoor pool for many reasons, obviously. A newly introduced river kayaker must pay close attention to fast moving water, currents and navigation, unlike the environment of still water in which a kayaker has "complete control," Stepp said.
"One of the coolest things to learn when kayaking on a river is that it very much has control and you just have to learn to navigate through that with what you know," Stepp said.
Carson Lyness, current Kayak Club president, recently traveled to Peru for a month-long kayaking expedition with American conservationist Rocky Cantos who started a non-profit organization to protect rivers from invasive dams and inform local residents of the possible upcoming environmental changes that will greatly impact their habitats, raising awareness throughout the communities in mainly South America.
On her month's work kayaking the Peruvian river Rio Marañon beginning Jan. 9 and concluding at the end of February, Lyness talked to the locals living along the river and in small villages surrounding the river's boundaries.
"Some people didn't know what a dam was. To hear them get so mad about it after figuring out is amazing. They are not aware of the 15-20 planned dams along the river and the repercussions those dams may have to their homes and villages, which will be flooded," Lyness said.
As Lyness speaks fluent Spanish, she connected deeply with the individuals she met as she informed them of these planned dams in her efforts to protect the river.
Only one dam is currently government approved with an environmental impact statement, though the construction companies do not yet have funding.
"It's amazing to be in Peru kayaking and to bring in the academic world," Lyness, who is a biology major with environmental policy and Spanish minors, said.
Though she intends to return to classes fall of 2014, Lyness also plans to return to Peru next year and visit the locals with whom she has formed relationships.
She intends to continue her journey advocating for environmental conservation and protection through hopefully interning with International Rivers, a non-profit company that also strives to save rivers from invasive dams, meet energy needs and protect residences' rights.
Continuing to fight for environmental preservation, Lyness strongly emphasized the need for petitions to the planned dams on Rio Marañon.
If you are interested in petitioning the dams as well, go to sierrarios.org and click the "Upper Amazon" link. Though petitions are sent to the Peruvian government and need to be written in Spanish, Lyness would gladly translate any English petitions and send them to the Peruvian government on your behalf.
Tags :
adventure
kayaking
paddling
peru
sports