Open hearts and open minds at Diversions open mic night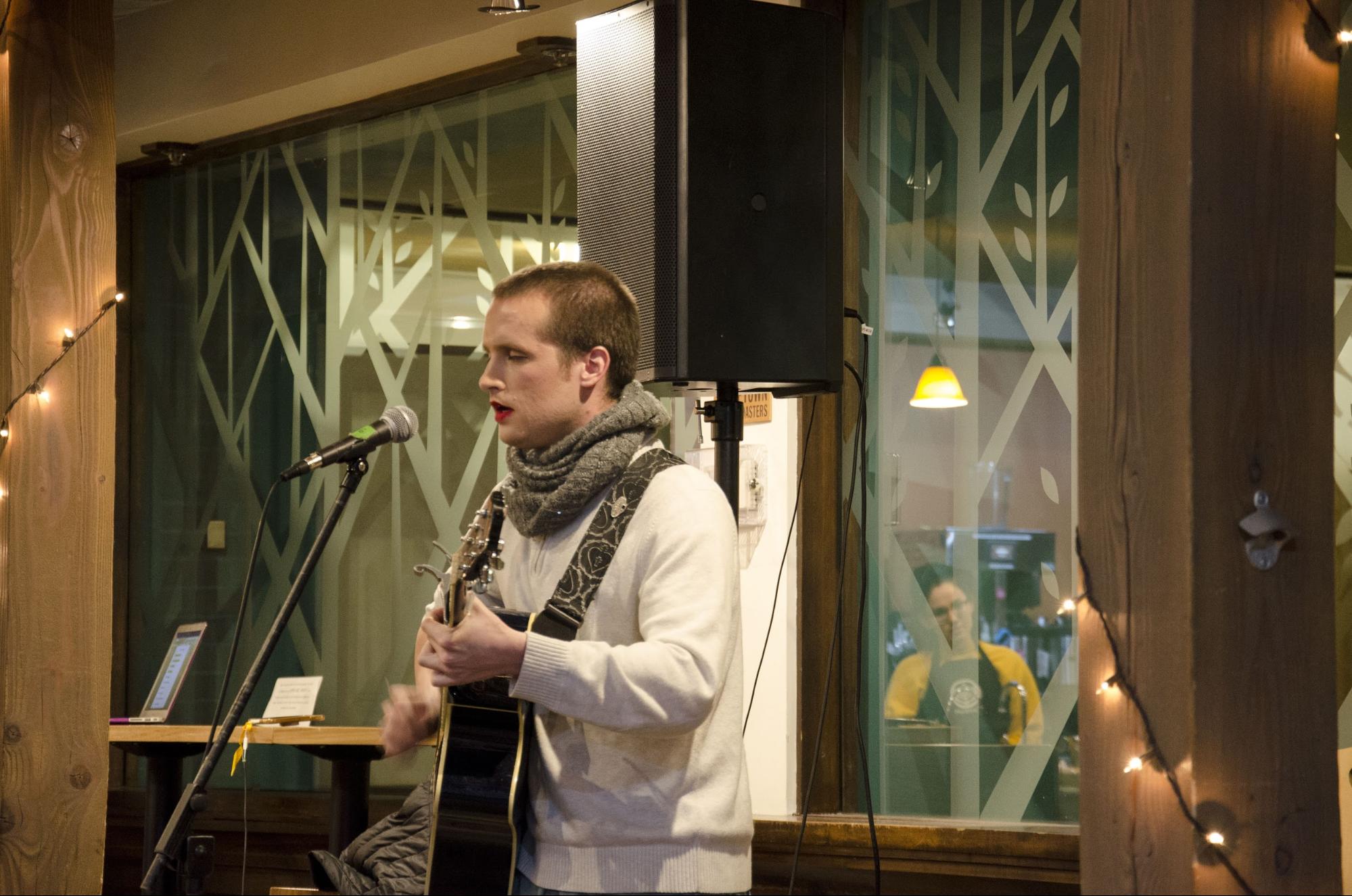 A Puget Sound student performing at Diversions open mic night — Photo courtesy of Augusta Grassl
If you happened to walk by Diversions Cafe last Friday, Nov. 9 for an evening cup of joe around 5 p.m., you may have noticed something a bit odd about our beloved on-campus cafe.
For one, the furniture was completely rearranged, with chairs and tables shoved into theater-style seating, facing a mic stand and a speaker on the rightmost wall, under the wooden archway adorned with Christmas lights. If the sudden change sparked a wave of anxiety causing you to immediately evacuate the premisses, then you missed out on a great night of student performances!
For the first time in several years, University of Puget Sound's own Diversions cafe has revived the long-lost tradition of weekend open mic nights. Diversions marketing lead Danielle Dean spoke to The Trail about what inspired the decision to bring open mic night back: "Open mic night was something I really wanted to start," she said. "Another student reached out to me from the music department sharing their same interest so we decided to get it rolling."
That student was senior Anand Landon, who closed the night with a guitar solo.
"I wasn't expecting it to be as popping as it was," he said. "Our sign up sheet was full within like two minutes. Especially in these rough times, it's nice for all of us to come together."
Indeed, the open mic night brought together students of all kinds. Sophomore Kate Harris spoke to how much she appreciated the chance to see just how much talent was alive and thriving on our tiny campus: "I definitely realized that I sort of neglect a lot of the musical performances that happen on campus," she said. "I thought it was a really accessible way to view the performing arts on campus. I didn't really anticipate going even, I was just walking by and I heard the music and I just walked in."
Sophomore Jenna Krueger also just happened upon the event. She too was taken aback by just how many students came out to the event. "I think it brought people together a lot, there were a lot more people there than I expected there to be," she said.
But as much as it brought people together, the open mic also served as a great way to highlight individual students who don't normally get the opportunity to show off their talent. Many performers, nervous at first, opened their set by explaining that they had just written this song last night, or they hadn't played guitar in three years, only to completely blow the crowd away (needless to say, there was a lot of humble-bragging!). The atmosphere was warm and supportive, as the University's underground singer-songwriter scene got to come out from the woodwork.
It's surprising the Open Mic Night has been in remission so long, considering the substantial group of students on campus who'd been waiting for an opportunity such as this to come along. Sophomore Asha Berkes, who performed two original poems, spoke to how grateful she was for the opportunity to perform her own work: "I love open mics; I miss it. I went to a lot in high school and there haven't really been any here and I've been, like, waiting for it to happen, so it's just a huge part of my life. And I love listening to people and it's such a beautiful space and this night was very close to my heart."
While the date of the next open mic night is unknown, with Friday's success, there's sure to be many more to come. And with them, the student body can expect to find a loving space to express themselves.
Tags :
Diversions
music
open mic