Women and Leadership panel members share advice and their journeys on the way to the top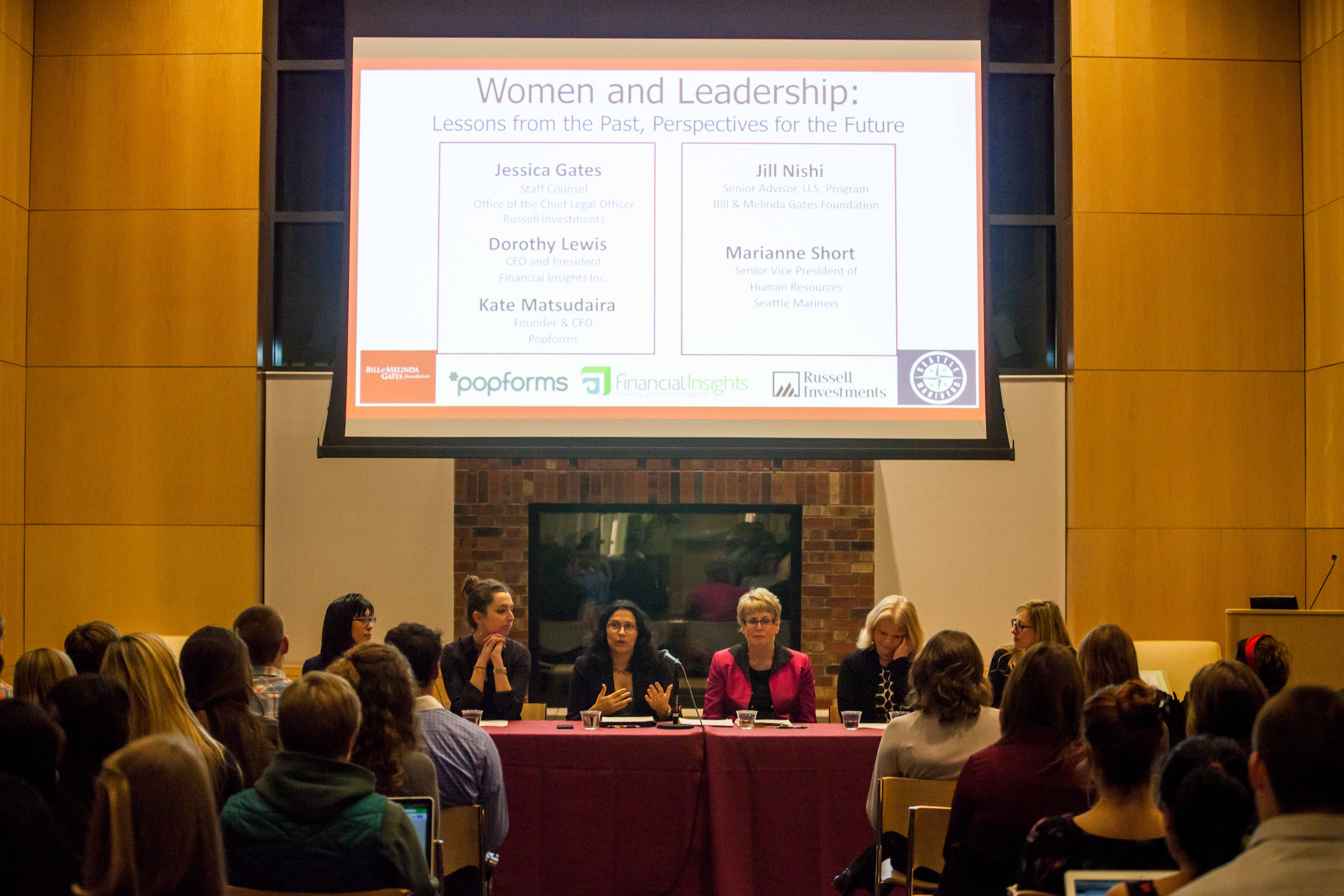 Sponsored by the University's Business Leadership Program (BLP), the aptly titled "A Panel on Women and Leadership: 'Lessons from the Past and Perspectives for the Future" drew community members and students alike to Commencement Hall.
On Wednesday Feb. 19, five female executives, all from different industries and sectors found in the Tacoma/Seattle area, gathered to share what they have learned over the years about business, and to inspire others to follow their passions and achieve success.
The panel included Jessica Gates (Staff Counsel, Russell Investments), Dorothy Lewis (CEO and President, Financial Insights, INC.), Kate Matsudaira (Founder and CEO, Popforms), Jill Nishi (Senior Advisor, The Bill and Melinda Gates Foundation) and Marianne Short (Senior Vice President of Human Resources, Seattle Mariners).
The women offered their wisdom to the BLP students and members of the community, all of whom listened attentively, making notes on lined paper and iPads.
They discussed such topics as the obstacles they faced on their way to success, gender barriers, unequal pay and how to balance a high-stress job with the desire for family life.
Marianne Short addressed the different expectations for women in the past, laughing as she said that her mother told her to go to Puget Sound in order to "find a rich husband."
Even after college, she faced obstacles in the form of strict gender roles, becoming the first female superintendent for the Bon Marche, which is now Macy's. She effectively ended up doing what she called "a man's job." Little did she know that years later she would end up working for a similarly masculine organization: the Seattle Mariners.
"They did not like women in the clubhouse," Short said.
She realized that though the organization was not used to having women at the table, they valued her expertise. Her initial hesitance at entering into this testosterone-fueled environment gave way to a great experience, and Short loves working for the Mariners.
Jill Nishi offered a unique opinion, having worked outside of the United States in Japan. When she was first offered the position, she thought that it was her dream job. However, she soon realized that women in the Japanese workforce had little upward mobility.
"[Women] did not see any prospects beyond those two to three years after graduation," she said. They would work for a few years, but would soon get married, have children and abandon their career ambitions. Nishi did not want a job where she was spending most of her time "pouring tea for executives."
Kate Matsudaira, a tech executive and former employee of both Amazon.com and Microsoft, also claimed that she felt like "a woman in a man's world."
"I struggled a lot with trying to be one of the guys," she said.
Matsudaira, Short and Lewis all emphasized the need for respect.
"You meet the same people going up the ladder as you do going down," Short said.
Nishi and Gates claimed that while respect was always important, women in particular can undermine themselves and be overly deferential in business matters, particularly in seeking mentors.
All the women concluded that owning who you are, staying true to yourself, being strong and developing supportive relationships are key to success, and will ultimately break down any obstacles in one's way. That advice was directed at everyone in the room, men and women alike.
"I did end up enjoying it," freshman Steven Babbich said. "I was a little cautious at first, but I liked the advice. The 'do this, don't do this.'"
When asked what advice he found particularly helpful and might use in the future, he replied, "I liked how they talked about not accepting the first offer you get."
Tags :
business
leadership
women