Greek life on Puget Sound campus: the perspective of a new member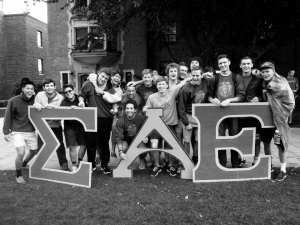 Two pieces in an issue of Puget Sound's Wetlands magazine caused controversy earlier this year: "Greek Life and Straight Supremacy" by C.J. Queirolo and "An Open Letter to Greek Life" by Philip Brenfleck.
Both heavily criticized the Puget Sound Greek system based on the opinion that Greek life is a heteronormative, non-inclusive space inaccessible to those that do not conform.
Many participants in Greek life, however—and some unaffiliated members of the campus community—would beg to differ.
The Greek system at Puget Sound, which gave bids to new members on Jan. 28, tends to be fairly different from its counterparts at other schools. Those who rush are often surprised at how much Puget Sound defies the stereotypes.
"Prior to rushing, I don't feel like I gave Greek life the respect it deserves. I fell victim to the stereotypes that Hollywood and mass media produce," Chris Egan, a new member of Beta Theta Pi, said. "But once I became a part of it, I think that at Puget Sound, Greek life is a very inclusive environment that is really just looking to make the best men and women better."
Fraternities and sororities have somewhat of a bad reputation these days, given the horror stories of hazing and cruel treatment, not to mention movies like Animal House and Sorority Wars that popularize the image of Greek life as a center for dangerous binge drinking, exclusivity and elitism.
"It's undeniable that Greek life has been associated with very negative things in college culture, but I joined Beta because when I walked in I saw a group of really good, genuine guys who just wanted to hang out with other good, genuine guys," Egan said.
Greek life at Puget Sound may be structured in the same way that other Greek organizations are, but the ways students here approach their sorority or fraternity is radically different.
For one, philanthropy takes center stage. Every chapter has a different philanthropy they associate with, and takes that philanthropy very seriously: community service hours are mandatory for all chapter members, and unlike at other schools, those hours must be performed with local organizations in Tacoma.
Secondly, the Greek community at Puget Sound tends to be much more accepting than other schools.
"I think a lot of it [the difference between the Puget Sound Greek system and other schools] has to do with how tight-knit our community starts out—we're immersed into these programs which brings us closer together, so it's not like we're strangers," Alpha Phi sophomore Kelly Frank said.
"We come in as friends, and we stay that way through our Greek system—especially because we join halfway through the year, so we feel comfortable and fall into houses better."
Greek life is often criticized for being heteronormative, which may be true given the traditionally gender-segregated nature of the houses. However, houses at the University do not discriminate. Sexual orientation and gender identity play no role in the rush process.
"I think that one thing I noticed when I was going through rush is that there are so many different types of people in each house, and they were open to any sexual orientation and gender identity," Gamma Phi Beta new member Anne Shirey said.
Sigma Alpha Epsilon member Kyle Long responded to the negative comments about Greek life with a response piece in Wetlands. The Greek system is not adverse to valid criticism; rather, they welcome it, consider it carefully, and offer their own response.
"I would argue that the leadership within our house is neither masculine nor feminine; rather, we practice an inclusive and hybridized form of leading based on communication, integrity, empathy, and compassion," Long wrote. "Greek Life is defined by its members, which is what makes Puget Sound's Greek Life so unique."
Of course, that is not to say that Greek life at Puget Sound cannot be improved. Many aspects of the elitism and secrecy that have traditionally plagued the system are still present.
"The recruitment process was really enjoyable, but really frustrating. There were things they could have been much more open about, like the cost of joining. There are people who want to join, but can't afford it," freshman Beatrix Evans said.
"In that instance, the exclusivity makes Greek life a lot less accessible."
Greek life at Puget Sound may have some issues to work on, but overall, it defies the stereotype. It strives to be an inclusive space where anyone, regardless of their identity, can join together in the interest of a shared philanthropy and the concept of "brotherhood" or "sisterhood."
"Having that aspect of support, that extra sense of family who supports you in your decisions, academically and mentally, has been an excellent backbone to my college experience," Frank said.
"We are not just individual houses—we are one united Greek system."
It is true that Greek life can always be improved to be a more inclusive space, but the members of Puget Sound sororities and fraternities have formed a unique environment that strives to foster a positive relationship with the rest of campus.
Concerns are not shut out, but rather welcomed and responded to—a true expression of the ideals Greek life was founded on.
Tags :
exclusive
Fraternity
Greek Life
heteronormative
inclusive
Puget Sound
Sorority