Garden Level moving forward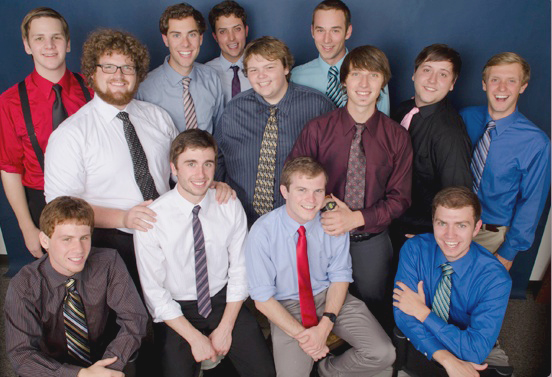 During Garden Level's last concert of the year, the audience was able to catch a glimpse of the sentimental bonds members of the group have formed throughout the year, as bittersweet goodbye speeches and orange roses were exchanged on the stage.
Another unique feature of this year's Garden Level is their incorporation of beat boxing, performed by Emerson Quarton. Starting off the concert with the group's rendition of "Army" by Ben Folds Five, Quarton made a rare appearance away from his beat boxing corner of the stage, singing an energizing solo that successfully got the audience pumped and ready for a night of quality a capella.
Members of the audience laughed and cheered during Garden Level's rendition of "Kiss the Girl" from the Little Mermaid, with creative choreography and one or two pecks on the cheek shared on stage between a few of the members.
A crowd favorite was a traditional song named after a Scottish body of water, "Loch Lomond." A popular choice in the a capella world for its simultaneously beautiful and infectious melody, the song was given a facelift with the addition of a beat boxer and an ambitious Garden Level composer who wanted an uplifting, fun element added to the song.
Fourth-year student Kyle Long felt especially emotional at this concert, with the same three members he had auditioned and joined with performing their senior show. Singing a beautiful rendition of "For Emma" by Bon Iver with them at the concert was a sentimental moment for both him and his fellow a capella mates. A few of the audience members were brought to tears after hearing this truly special rendition.
While reflecting on his experiences in Garden Level, Long said the group was "a great way to be involved in music without necessarily being dedicated to the School of Music here."
Previously involved in high school a capella, Brian Ernst will never forget this last concert adding that "male a capella groups are so uniquely college, so I probably won't have the chance to experience this again." Managing the position ASUPS President while also singing baritone for Garden Level, Ernst said "it was always nice to have ASUPS and then switch to something totally different, which was a handy creative outlet to have."
Commenting on the inspiring members of Garden Level, Ernst said, "One of them would be Patrick Schneider, the leader of the group, because of his intensity, his commitment and his love for music. He's also a pretty terrific friend as well, so I really admire him."
Each of the seniors received a meaningful however playful speech from an underclassman member accompanied by an orange-yellow rose.
When asked about his feelings during his last concert at the University of Puget Sound, senior Sam Faustine said, "There were a lot of mixed emotions, because I was sad but also really excited. It was good to just go out with a bang. It has been an honor singing with these people and making music at this school."
Freshman Brian Schoening said, "I felt like I was on top of the world," when describing the moment he got into Garden Level. He also added that he felt "extremely blessed to have had one year with this year's group of seniors. I wish I could have had more time with them, but I'm excited to see what happens next year because I know that we have to grow a lot to make up for the loss."
Although graduating members Ernst, Faustine and Schneider were irreplaceable voices in this year's group, there is no doubt that Garden Level will continue on as an outstanding, talented group of performers so long as their passion and love for music continued.
PHOTO COURTESY / ROSS MULHAUSEN
Tags :
a capella
ASUPS
brian ernst
garden level