Old Milwaukee Café holds cozy vibes and delicious food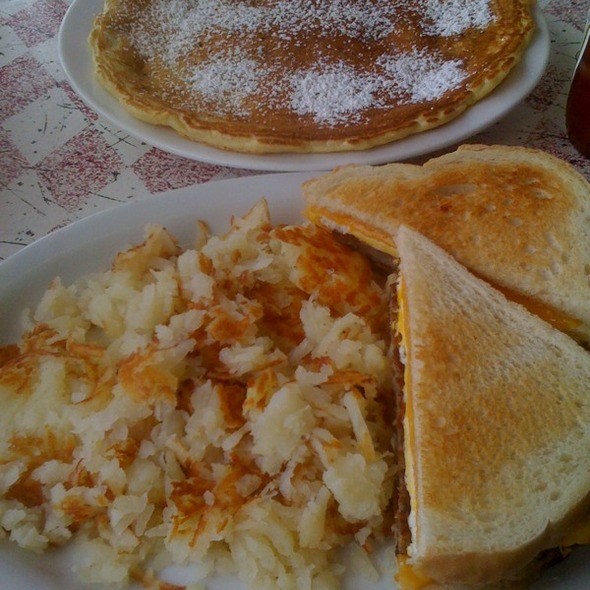 Hidden on the corner of 6th and Cedar lies a small place called the Old Milwaukee Café. While easy to overlook, brunch-loving customers rank the café highly on their list of favorite morning bites for the homemade taste and quality of the food.
The owners, Patricia and Chad Kerth, put all of their energy into owning and operating the café with no additional help.
Genuinely friendly and helpful, Patricia knows the majority of their customers by name and never lets your coffee mug run dry. While she is greeting customers and serving food, Chad spends most of his time in the kitchen hand-crafting customer favorites like the "S.O.S. Your Way," which consists of a thick layer of hamburger gravy over hash browns, eggs and a biscuit.
Serving eggs with options like ground beefsteak, bacon or honey-cured ham, Chad has also gotten creative in the ways he prepares breakfast. "Scramlettes" are his and Patricia's own version of the traditional omelet made with four large grade AA eggs.
The chef's House Scrambles are eggs and potatoes scrambled in the same skillet and served with a choice of toast, scone or English muffin. The unique Chicken-Apple Sausage Scramble is a sweet and salty scramble to add to your adventurous breakfast menu. One can never go wrong with an additional side order of Chad's "Home Fries" that leave you wanting more.
New to the menu is the Cinnamon Roll French Toast, which is gaining popularity from regular customers. Additional syrup or butter isn't necessary for the tasty dish, which has a perfect balance of cinnamon flavors.
As you eat, the pink, black and clear crystals in the saltshakers may catch your eye. Along with the array of spices, the Old Milwaukee Café proudly provides each table with shakers filled with Libertine Tacoma "Trifecta Gourmet Culinary Salt Blend." This unique blend consists of three health beneficial salts called Alaea Red Hawaiian Sea Salt, Kai Black Hawaiian Sea Salt and Pink Salt; all are packed with a plethora of minerals that not only make your eggs taste great, but also offer sodium-restricted people a healthy substitute.
Customers who want to take some home can also sample and buy this and many more sea salt blends displayed on the shelves next to the register at the café. Flavors such as the "Fiery Habanero," "Decadent of Delight" and "Yum X4" are worth at least trying.
The café also serves two types of pancakes made from scratch every morning that average the size of a Frisbee. The Wild Blueberry Pancakes are sweet and delicious with blueberries shipped from Canada. Their classic Strawberries and Whip Pancakes are made to perfection with sweet, chilled strawberries and whipped cream beautifully placed onto the massive, fluffy pancake.
Though primarily known for their delicious breakfasts, Old Milwaukee Café also serves a fine lunch, with great deals and the same friendly service.
With only seven tables available in the small diner and a two-person staff, weekends usually mean a relatively long wait, so be sure to come early. The food is well priced for both the quantity and quality.
The light, family-like ambiance is hard to find in modern day eateries, and is one of the best features of the cafe. The Old Milwaukee Café offers its customers a casual dining experience, easily enjoyed among friendly faces.
PHOTO COURTESY / FOODSPOTTING.COM
Tags :
breakfast
brunch
old milwaukee cafe
Tacoma