Ski Level to Sea Level calls for student action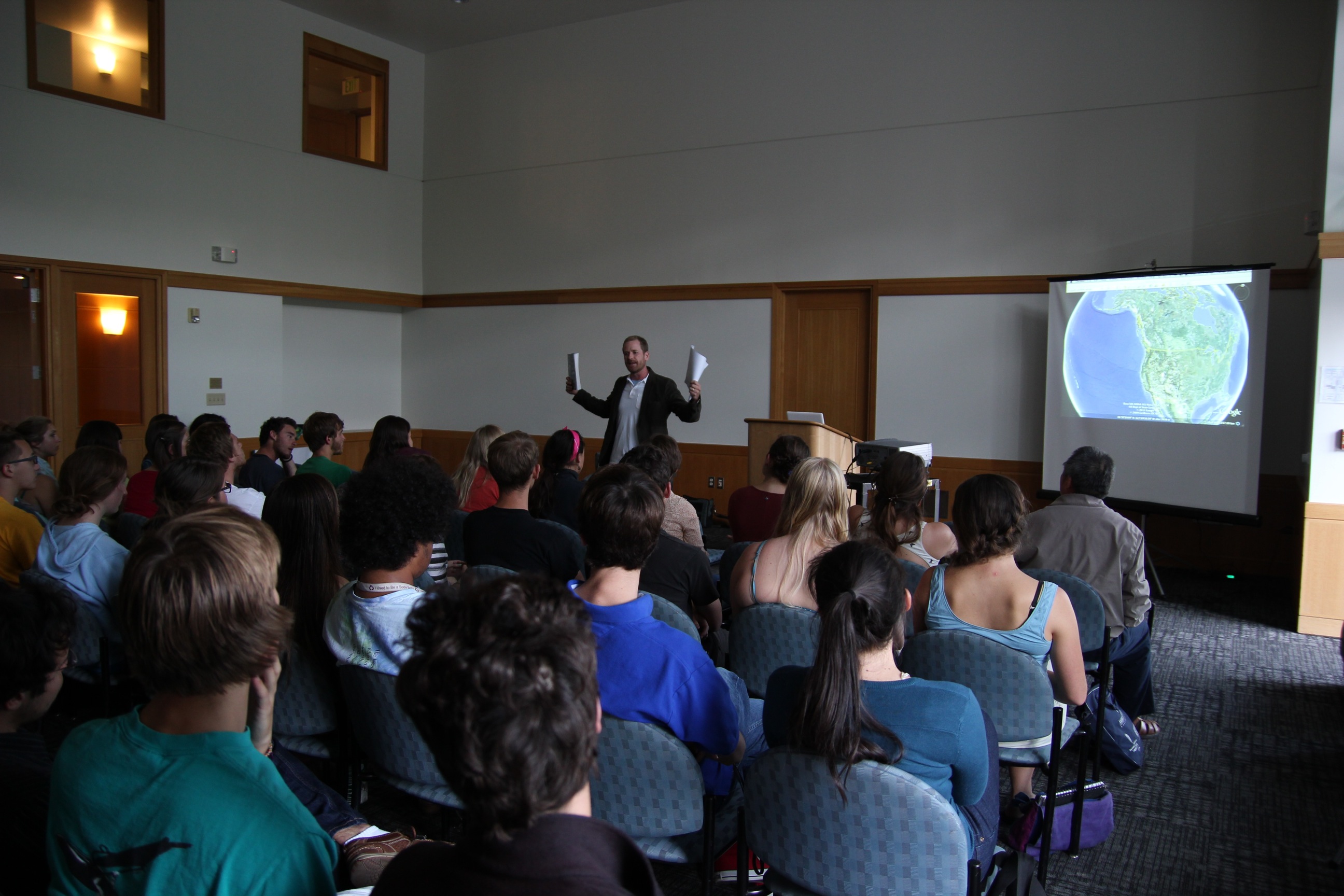 Through two weekends of seminars and excursions, Puget Sound faculty provide strategies for students to become future leaders of change.
Helen Engle exuded energy and sweetness as she walked to the front of Trimble Forum on the night of  Friday, Sept. 7. Her talk, "Politics and Public Participation in the Nisqually Watershed," would be the opener of a three-day Ski Level to Sea Level event, hosted by the Sound Policy Institute.
After a prestigious introduction given by professor Daniel Sherman, the director of the Sound Policy Institue, detailing her extensive work in the conservation of the Nisqually River Delta, Engle shook her head humbly and introduced herself as a homemaker and mother of seven.
As she began to speak, though, the reason that she is considered such a successful catalyst for change was more than evident: She captures the hearts of her audience by being honest and positive. Occasionally she even throws humorous anecdotes in to her story.
Engle's presentation was not accusatory or pessimistic as might seem appropriate when speaking of the negative effects of humans on nature.
Instead, her words were hopeful and encouraging. She established herself as a living example of how, with dedication and communication, almost anything can be accomplished.
Engle first got involved with the preservation and restoration of the Nisqually River Delta in 1964. Her experience and passion grew as she became a founder of the Tahoma Audubon Society and a recipient of an honorary doctorate degree rewarded by the University of Puget Sound.
After 40 years of work, Engle saw the beautiful and rewarding fruits of her labor: With her help, the Nisqually was saved from development into a shipping port and was turned instead into the 3,000-acre Nisqually Wildlife Refuge.
Engle's presentation began with the basics and answered the question: What steps do I need to take in order to make a difference?
Among the expected tips like "do your homework" and "find likeminded people," she encouraged students to get to know the people who are or will be affected by the project and warned them that if they are successful, they will inevitably make friends.
She advised getting to know press on a personal level and to educate congressmen as opposed to accusing them.
"Soon you will have friends in high places," she noted. Perhaps her most unexpected piece of advice was to make friends with those who do not agree with the cause.
"Get to know opposition, that they're real human beings, and they could live right down the street from you," she said.
Many Puget Sound students may not know much about the Sound Policy Institute, even though it is an important part of the campus community.
"[The Institute] supports and provides opportunities for students in the Environmental Policy and Decision Making, helps to integrate sustainability into the curriculum across disciplines and throughout our campus, and engages community members through the programs that we offer," Katharine Appleyard, the research and program coordinator of the Sound Policy Institute, said.
"Programs like this prove the importance of the environment to the University of Puget Sound and its goal to produce adults who are aware of the environment and the Tacoma community," she continued.
This is the second year that the Ski Level to Sea Level course has been offered.
It includes two weekends of venturing out into nature via hikes, boat rides and tours complimented by lectures given by various community members.
"It's all about getting a better understanding about where we are in this place," Sherman said.
The second weekend, themed "Laws and Land Use Designations in the Puyallup/White Watershed," will begin on the evening of Friday Sept. 28 and end on Sunday, Sept. 16.
It will feature speakers such as Jeffrey Thomas, Director of Timber, Fish and Wildlife for the Puyallup Tribe and will include a sunrise Mount Rainier walk and conclude with a Commencement Bay boat tour.
Sherman assured me that even though the course is no longer available for academic credit, students can still enroll as community members for a small fee of $45.
Anyone who is interested in attending the course can contact Katherine Appleyard at (253) 879-3716 or kappleyard@pugetsound.edu.
"This is the perfect time in your life to start making a difference," Engle said as she walked out of the room.
She told me that saving and restoring the natural world is "revealing work," and that if the process is taken step-by-step, incredible things can be done.
PHOTO COURTESY/MATT SCHULZ
Tags :
activism
on-campus lecture