Alumnus' mural art criticizes immigrant detention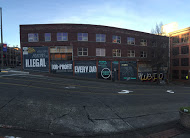 Situated across the Port of Tacoma, the NWDC houses 1500 detained immigrants, which has recently become the subject of protests. David Long's mural asks the question, "How can a human be illegal?"
Unbeknownst to many citizens of Tacoma, as well as many students of Puget Sound, there is a fenced white building just east of the city that houses undocumented immigrants. Situated across the port of Tacoma, this building—the Northwest Detention Center (NWDC)—is owned through contract by both the federal government and the private company Geo Group Inc., "a leading provider of correctional, detention, and community reentry services," according to their website.
In recent years, it has been the subject of enormous controversy and vehement protest, as activists and grassroots organizations follow the leadership of those detained in the facility who demand better treatment and conditions and an end to all deportations. One such activist is David Long, a Puget Sound alumnus and local mural artist. A recent mural of his lies upon a wall on 11th Street, and it asks the question: How can a human be illegal?
Painted with large words in gray, teal, white and yellow against a chalk-gray background, the mural consists of quotes from Maru Mora Villalpando, a Washington-based journalist and social activist. The mural explains the allegations against the center, which include brutality against detainees and the profit Geo Group Inc. makes from their imprisonment. The mural also points to activists within the center – detainees who have taken to hunger strikes to improve their living conditions and end deportations – as role models.
"The mural I painted was very literal,"  Long said. "The message conveyed in the text is a three-part message. One, there is a detention center in Tacoma that holds up to 1500 people. Two, there are people who are taking initiative to change people within the facility. Three, we can take idea from their leadership on the outside."
When Spaceworks Artscapes Program first gave Long the space for a mural in June of 2015, he knew that he wanted to create something that wasn't abstract, and so he reached out to the grassroots organization NWDC Resistance as a potential cause.
"As a movement we reject the paradigm that classifies immigrants as either 'hardworking' or 'criminal,' 'worthy' or 'unworthy,'" the organization's website said in describing its aims. "Words like these seek to further divide our communities between people whose lives are considered disposable and people whose lives are judged worthy of protecting. We reject these divisions."
In painting this new mural on 11th Street, Long sought to provide further voice both for the organization and for the detainees within the center.
"With this work I'm attempting to strengthen or bolster the work that NWDC Resistance has already been doing and to shed light on the actions that the detainees have been doing from the inside," Long said.
Reception has been mixed, with many people—including members of Spaceworks in charge of approval of Long's mural idea—criticizing it as unartistic. Long described the arduous process by which he received permission for his mural in 2015, during which Spaceworks scrutinized his idea for an unusually long period of three months.
"The fact that it took three months for it to be approved indicates something," Long said. "I was getting feedback, anonymous feedback, that it wasn't real art, that it looked like a commercial."
Long also criticized the lack of coverage of the issue by local media, as well as the lack of coverage of the mural itself.
"By not sufficiently covering this story, our local media sources are complicit in muting this issue," Long said. "There is a violent, tragic and oppressive history unfolding in our backyard and we need to be talking about it.  By not talking about it, there is blood on the hands of our local media."
Backlash against protests of the detention center is not unexpected. The profit that Geo Group Inc. gains from the facility has been one of the major criticisms of the center, but the economic stimulus that the center provides, alongside the investment the federal government has made, makes changing such a facility difficult. Geo Group Inc.'s website provides a description of the facility that defends its economic significance.
"Staff were recruited from the local community and local vendors are used as much as possible," the website's profile of the center said. "As a result, the facility contributes significantly to the local economy through salaries and purchase of goods and services."
Not all of the feedback on Long's mural has been critical. Long described how, while working on the mural in the daytime, many pedestrians stopped by and commended him for speaking up on such a sensitive and relevant issue.
"Hundreds of people pass the mural every day," Long said. "Who knows how many of these people have been informed by the piece or continued to have discussions about this issue with their friends or family as a result of seeing my piece?"
As a current resident of Tacoma and an alumnus of Puget Sound, Long believes that this issue is relevant to the University community in spite of the ignorance many may have about the detention center.
"There're probably students at Puget Sound who are undocumented or have family [who is undocumented],"  Long said. "It's not something that people feel comfortable talking about, but this issue is everywhere and I wouldn't be surprised if there are students for whom this is really, really relevant to."
Tags :
activism
art
david long
mural
NWDC