Solid Sasquatch lineup promises to draw usual number of Puget Sound music lovers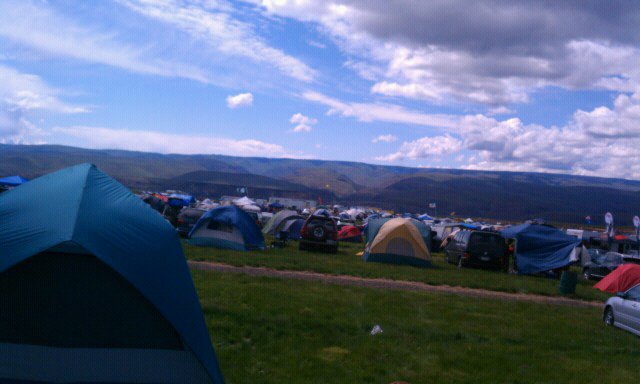 With the announcement of their 2012 lineup, Sasquatch music festival has increased the fans' excitement for the event. Big names such as Jack White, Bon Iver, Tenacious D and many others topped the long list of artists to play at the Memorial Day festival.
The season of Sasquatch 2012 began early Nov. 25 with the beginning of their presale of tickets. Sasquatch regulars who had no knowledge of the lineup purchased tickets with faith in the excellence of the festival.
Lexi Pearce, a Puget Sound freshman and Seattle local, has been going to Sasquatch for four years, and still hasn't lost her enthusiasm for it.
"Sasquatch, there's nothing like it. It's an eclectic mix of people that haven't showered in four days and awesome artists, who could ask for anything more?" Pearce said.
Being well versed in the previous lineups of Sasquatch past, Pearce was pleased with 2012's list of bands. Every year of Sasquatch Pearce has attended has proven to offer an excellent collection of bands in her opinion.
"This year's lineup is great, every year is great. Jack White's going to be rad. And Beirut plays awesome live shows. The 2009 and 2010 lineups still compete for my favorite though. Those will be hard to top," Pearce said.
Pearce's sights were not only set on the big names on the lineup, though. Pearce, in contact with the music scene in Seattle and a frequent Sasquatch patron, has come to know the smaller names in the music business and appreciates them as well.
"The biggest and best surprise was seeing some of my really good friends' band, Craft Spells, in the lineup. That's always fun," Pearce added.
Yet not everyone is as enthusiastic as Pearce about Sasquatch. Many people voiced that they were unimpressed with this year's lineup. Daniel Salas, KUPS Assistant-Alternative Music Director, was one.
"It's stuff that I would expect to be at a festival," Salas said.
The festival format is not for everyone. While many are enamored with the festival set up and eagerly await the four-day lineup of bands, Salas prefers a more personal setting for concerts.
"I don't consider festivals a good setting to see live music. It convolutes the music. The closest you can be to the bands is 15 feet. But when you're at the Neptune, you're four feet away," Salas said.
Although Sasquatch doesn't lend itself to an intimate concert experience, the festival has a unique cachet all its own.  The festival format is an event in itself, and brings about a sort of community as the festival's patrons camp for four days together.
"I can't really pinpoint my favorite thing about Sasquatch. The mixture of the crowd and the camping and the music just make the whole experience wonderful," Pearce said.
The festival is set to occur on May 25 through May 28 in George, Washington at The Gorge music venue. Over 100 bands play at Sasquatch, and the bands will play in rain or sun.
Tags :
Concert
live entertainment
music
Sasquatch
Washington