Washington State Governor declares presidential bid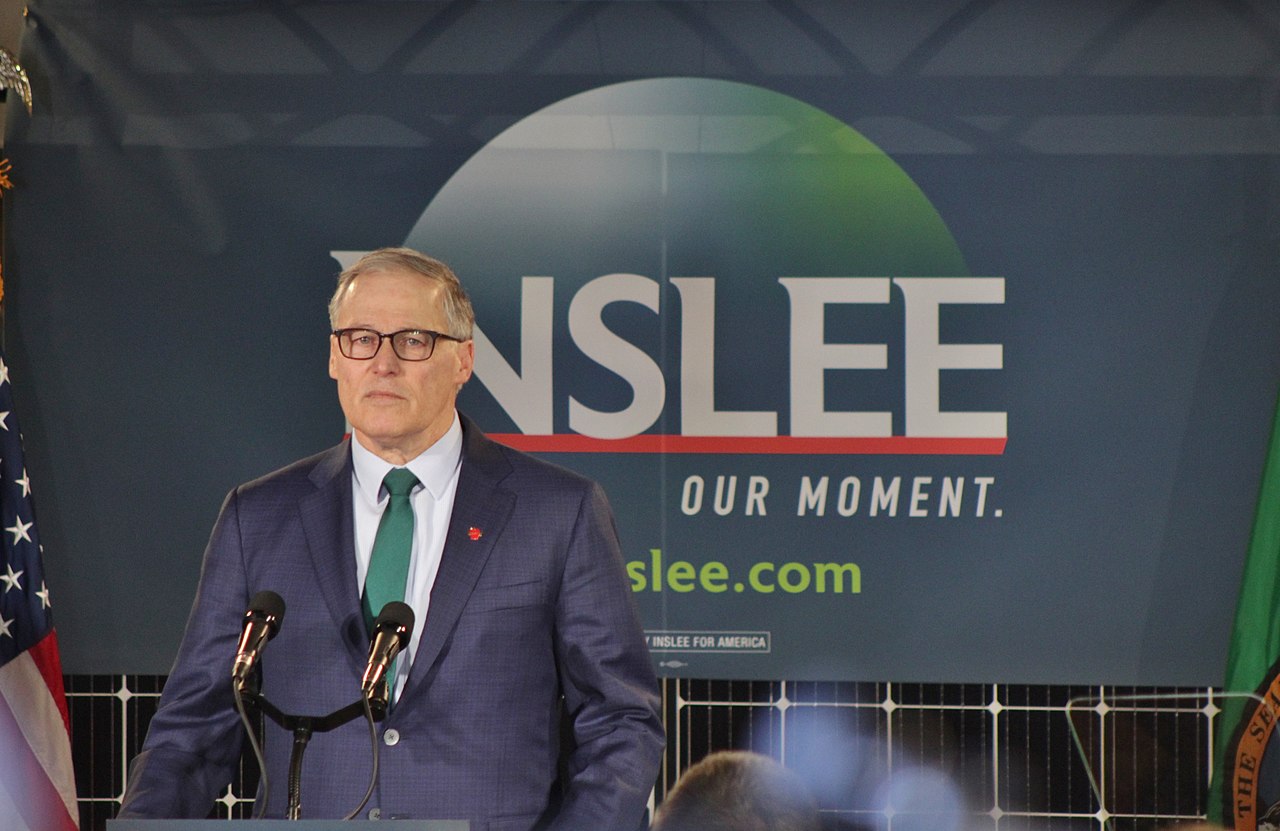 Governor Inslee declares his candidacy — Photo courtesy of Wikimedia Commons
On March 1, Washington Governor Jay Inslee officially declared that he is running as a Democrat for President of the United States in 2020. His current competition includes Senator Elizabeth Warren, Senator Kamala Harris, Senator Bernie Sanders and current President Donald Trump.
In a race amongst these notable political figures, Inslee's campaign stands out. He is running on a platform focused on defeating climate change, calling this "Our Moment."
"As Americans, this is our moment to act on climate change and to invest in a clean energy economy that will grow millions of jobs in communities across the country. Governor Jay Inslee knows that defeating climate change is the defining challenge of our time and that it must be the foremost priority for the next president," states his website's mission statement.
His television advertisement features clips of Inslee discussing climate change, meeting with constituents and visiting sites affected by natural disasters.
"We're the first generation to feel the sting of climate change. And we're the last that can do something about it," Inslee urges viewers.
He goes on to highlight how our nation has been to the moon and is capable of creating life-changing technologies, and encourages our country to rise up to meet "the most urgent challenge of our time: defeating climate change."
He concludes the ad by declaring his presidency and insisting he is "the only candidate who will make defeating climate change our nation's number one priority."
Inslee is structuring his climate change platform as an opportunity to transform our economy, use cleaner energy and create millions of new jobs, benefitting all Americans and ensuring a better future.
According to his campaign's website, Inslee plans to incorporate steps he's taken in Washington state, such as creating the Clean Energy Fund, and replicate them on a national level, thereby "implementing a bold, progressive vision to tackle climate change, strengthen working families and grow good-paying jobs."
His "Climate Mission" is centered on four principles: powering our economy with clean energy; investing in good jobs, infrastructure and innovation; fighting for environmental justice and economic inclusion; and ending fossil fuel giveaways.
According to his campaign website, Inslee's full plan to combat climate change will be released in the coming weeks. To solidify his dedication to combating climate change, Inslee pledged to not accept fossil fuel or corporate PAC money.
Most criticism surrounding Inslee is attributed to the lack of attention his campaign has given toward issues aside from climate change. Many are intrigued by his climate change focus but hesitate to fully support until he expands his platform and further policy positions are declared.
Puget Sound junior Lisa Grimm, a leader in the Eco Club on campus, shared her thoughts on Inslee's presidential bid: "I think it's really important that we have our governor entering the national stage with a climate platform. It's also really important to note that he's not a perfect candidate; he supports fracked gas and natural gas."
Inslee initially supported natural gas projects years prior when it seemed like a cleaner alternative to coal, but recent studies on greenhouse effects have called attention to detrimental effects.
Grimm went on to talk about her concern for Tacoma residents, especially indigenous populations and detained people, as the Port of Tacoma is set to house one of the largest liquefied natural gas plants, a potential threat to all residents. Grimm hopes that Inslee will listen to constituent feedback and act accordingly.
"As someone who does a lot of climate justice work, it's really important to see candidates who are talking about climate and I also want to see climate change as a question at the debates. That hasn't happened before and it would be really important to have candidates talking about climate change on that stage," Grimm said.
With the issue of climate change gaining more attention, the role it plays in the 2020 election will be intriguing and determinant in the future of our country and world.
Tags :
governor
president
Washington