Shenanigan's happy hour a cheap, fun option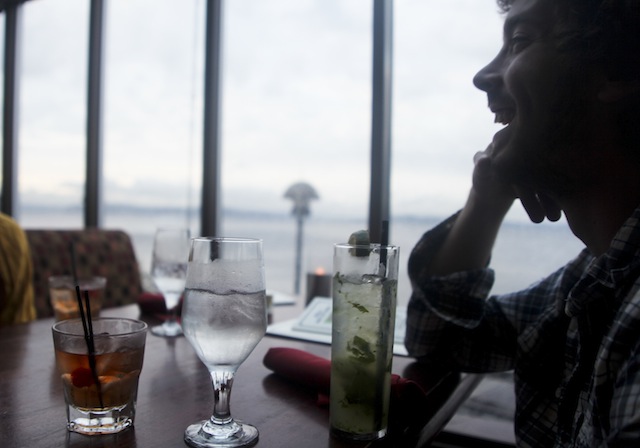 With a location close to campus, Shenanigan's provides a sensible place for drinking-aged students to enjoy happy hour at an affordable price.
Shenanigan's restaurant is a hot spot to eat when parents visit because of its great location, great food and great happy hour—not to mention the amazing waterfront view.
Happy hour runs Monday through Friday 2-6 and again in the evening Monday through Saturday 9 – close, and Sunday 2 – close.
The well drinks are a mere $2.95, house wine is $3.95, Hand-Crafted Big Horn Beer are $1.95 and $3.95, and a variety of house margaritas and mojito are $4.95. In addition to the great prices for happy hour drinks, the bar serves the regular appetizer menu at half price, ranging from $5.95 to $11.95.
If you're an early diner, the early-bird dinner special will suit your needs. They offer a two- or three-course meal with the same food portions as a regularly priced dinner.
The two-course meal is priced at $13.95 which includes an appetizer, soup or salad, and a dessert. The three-course meal runs at $15.95 and includes an appetizer or soup/salad, an entree, and dessert.
The only downfall is that these rates are only offered Monday through Friday 3-6 p.m., so you have to go during the week.
My parents and I started our meal off with a house wine, a lemon drop and a traditional mojito.
Personally, I enjoy sweeter drinks and requested a sweeter-than-average lemon drop. It was perfectly prepared and not too bitter. The mojito, normally my personal favorite, was not among the best I've tasted. It was watered down, as is often to be expected during happy hour, and had a bitter aftertaste.
Shenanigan's also offers a 100-calorie drink menu, substituting Crystal Light for sweeteners and diet soda in lieu of regular sugar. For fun, we decided to try the 100 calorie Long Island iced tea.
The drink was good and I'd likely order it again, but the flavors were noticeably different than a regular Long Island, and the alcohol was not disguised by the lack of sweetness. Despite the flavor difference, if you're watching your calories but still want to indulge in a drink, this is worth at least one try.
For our appetizer we ordered the Seafood Dip ($9.95) for the table, which could easily feed six people. The dip is fresh and adequately filled with salmon, snow crab, and cod, making  it on the lighter side of cream dips.
My mother and I shared the two-course meal and also split the special appetizer of the evening, duck pot stickers and three dipping sauces chili, soy, and spicy). The pot stickers were elegantly presented in a bamboo basket, crispy and tender, and were highly satisfactory.
For our entree, we shared the Chicken Fettuccine Alfredo and a small salad on the side. Bell peppers, caramelized onions, mushrooms and olives were folded in the creamy sauce. The dish was nothing extraordinary, but if you are a pasta lover this Italian meal could be for you.
My father ordered the fish four ways; he had the option of poached, grilled, fried, or broiled. He opted to have his salmon grilled with garlic and served with garlic mashed potatoes and broccoli on the side. The salmon was expertly grilled and incredibly fresh with excellent presentation. The portion of both of these entrees were regular sized and half the price of a regularly priced item off the menu, well within a college student's budget.
We were celebrating my birthday, and as a surprise, the waitress brought us an enormous mocha espresso ice cream cake with an oreo cookie base free of charge.   The cake was topped with whipping cream and shaved almonds and was finished off by a layer of drizzled chocolate syrup.  This cake, likely served on the normal menu, was creamy and rich and would put Ben and Jerry's out of business if it were  to be sold in pints.
The happy hour at Shenanigan's is well worth a try for the great food, reasonable drink prices and chance to enjoy the view of the Sound.
The food is regularly portioned but for half the normal price; you will go home full and with leftovers because of the opportunity to enjoy the two or three-course meal.
Shenanigan's is open seven days a week for lunch, brunch, and dinner on 3017 Ruston Way, Tacoma, WA.
Tags :
bar review
local dining
Restaurant