Café Brosseau offers a quaint neighborhood coffee shop sense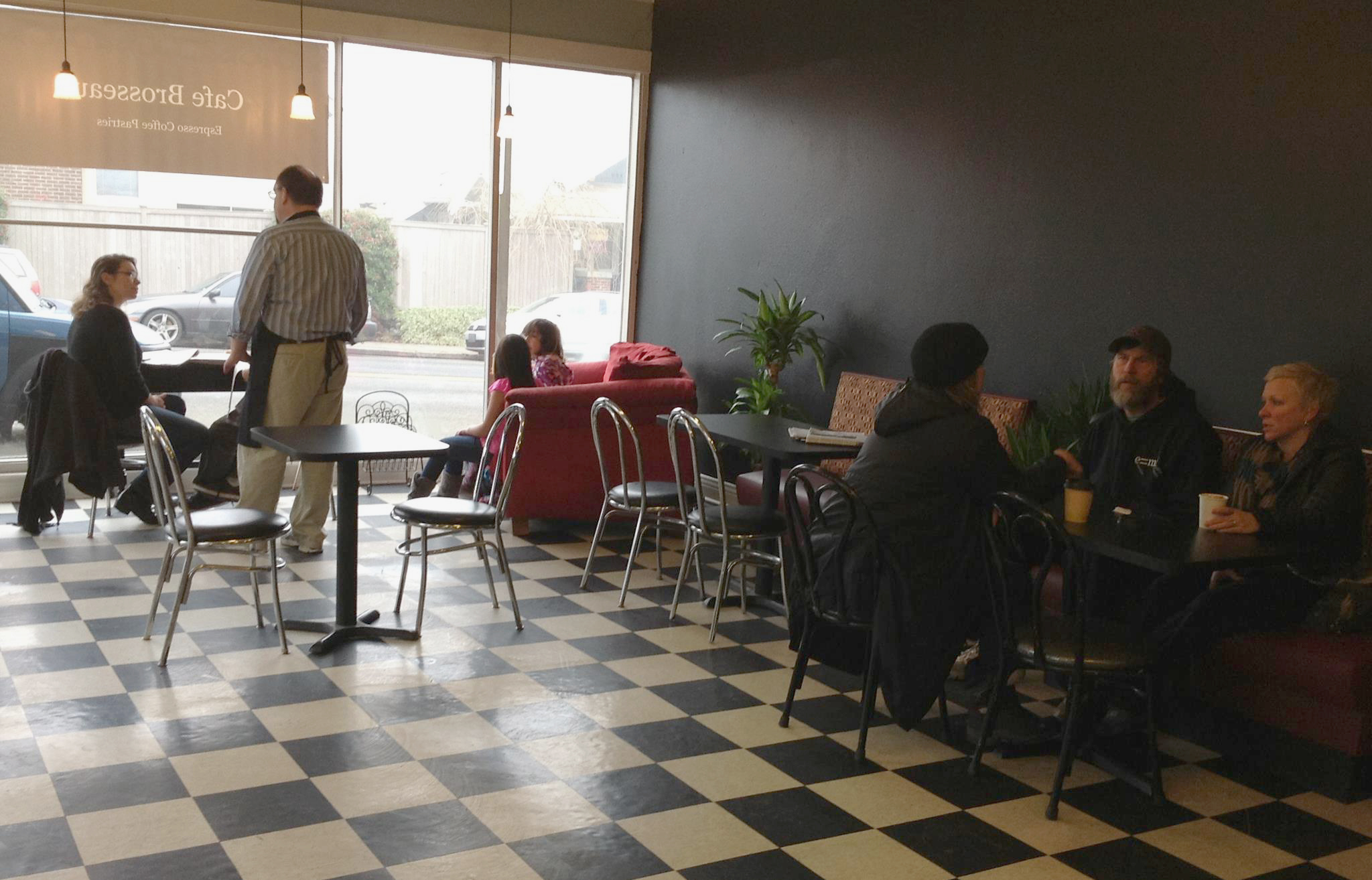 It's six in the morning, you have been studying all night and all you want in life is a 12 ounce white mocha from Diversions to provide that morning pick-me-up.
Knowing full well that the delicious luxury is one excruciating hour away, this sleepless student grumbles and laments for the next 60 minutes until campus facilities open up again. Instead, just a walk along N. Alder Street and a right turn on N. 21st Street brings you to Café Brosseau.
The shop is on a corner of a block filled with affable local businesses that offer anything from haircuts to vintage antique shops.
Opened in January of this year, the checkered tiles that line the floor, along with the sleek grey and mustard yellow walls produce a contemporary and casual feel.
The cafe's helpful owner, Christian Kelley, previously worked in medical administration before being laid off and deciding to open a café.
With determination and help from his friends and family, Cafe Brosseau was born. Emphasizing the café's "quality," Christian said, "we really believe in the quality of what we're offering." The café consciously offers local products such as soups from Alina's Soups, baked goods from Corina Bakery, beans from Madrona Coffee, a variety of pickles from local pickle providers and teas from Mad Hat Tea.
When it comes to Brosseau's rich- tasting coffee, he enjoys "geeking out" over the different tastes and flavors the café experiments with. If you're feeling adventurous you can try the Café Brosseau drink, a combination of chocolate and orange.
The cafe also offers many different sandwiches with some named after Tacoma fixtures such as the "The Logger" made with Canadian bacon, egg, spinach, and pepper jack on Como bread with olive oil.
One of the best things about Café Brousseau's sandwiches is the delicious crunchy pickle that comes with every panini.
One of the three pickle options is the hot pickle, which has a sweet and spicy taste that settles over the duration of your pickle munching meal, providing a great complement to any and all of their sandwiches.
If you crave a hot dog but don't make the 21-and-up age cut at The Red Hot, you'll enjoy the café's new addition to the menu, the Tacoma dog. This grilled bun holds a beef frank with Grey Poupon mustard, Philadelphia cream cheese, and topped with a Lynnae's Gourmet Pickles Hot Mama spear.
Ensuring alternatives for customers, the cafe also offers soy, hemp, rice and almond milk for their coffees.
With gluten-free sandwiches and vegetarian versions of plate orders, customers enjoy a wide variety of food options, regardless of their dietary restrictions.
The cafe's main goal was to provide the community with a friendly neighborhood cafe, where students can study and hang out, businessmen and -women can fill their coffee mugs, middle school students can come in for an Italian soda, and retirees can find a place to spend a quiet afternoon.
Whether it's during the early morning or late afternoon, feel free to satisfy your coffee fixes at this tasty, local hotspot.
Café Brosseau is located at 2716 N. 21st Street and is open Mon. through Thurs. 6 a.m. to 5 p.m., and Sat. and Sun. at 7 a.m.
PHOTO COURTESY / FACEBOOK.COM/CAFEBROSSEAU
Tags :
CAFE BROSSEAU
coffee shops
Restaurant
Tacoma