Bombay Bistro: bomb Indian food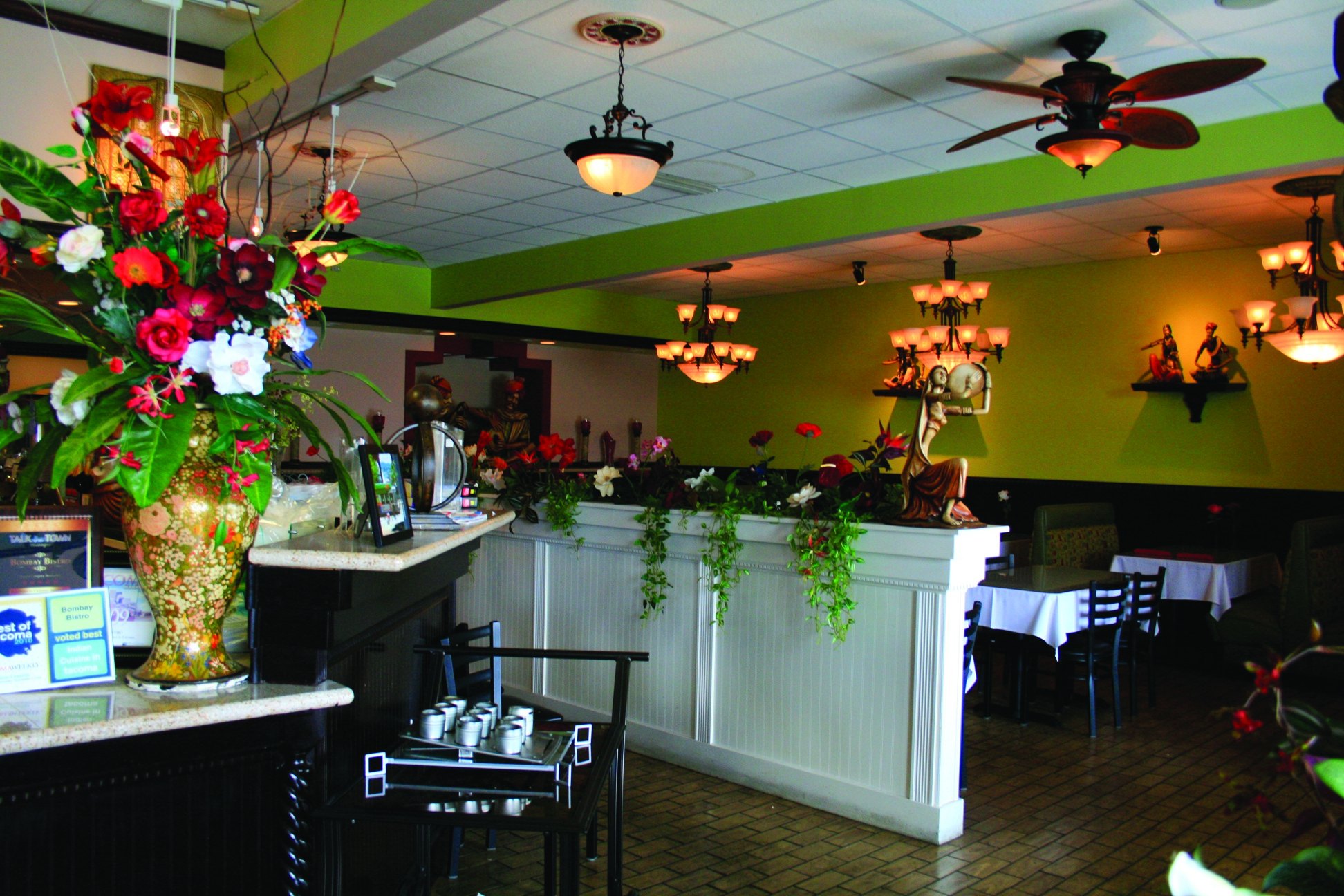 For a delectable taste of North Indian cuisine lying just off campus, look no further than 4328 6th Ave. for Bombay Bistro. Delectable, delicious and delightful: a description worthy of a restaurant as illustrious as Bombay Bistro. Their website advertises that they were "voted best overall restaurant in Tacoma" for a reason.
I've been to the restaurant twice now—once for a lunch buffet, the second time for a shared group dinner.
For the lunch buffet, I recall starting out with some chai tea, vegetable pokora, salaag aloo and naan. The chai tea was excellent, some of the best I've had at an Indian restaurant before.
The vegetable pokoras were also very tasty, filled with mixed vegetables, chickpeas, and garlic-ginger paste. The yummy Indian flatbread, naan, perfectly complemented the spinach, potato, ginger, and onion flavors of the saag aloo.
I then returned to the buffet trays for some spicy channa masala—garbanzo beans cooked in garlic-ginger tomato sauce with onions. I barely had room left over to try the lentil dish, daal maharani, but I'm glad I did—I was thoroughly satisfied as I took my last bite, my face red from the intensity of the spices.
It's worth noting that even for a Saturday lunch buffet, the service was fantastic. Our waiter was incredibly prompt and helpful, patiently taking note of our preferences for spice intensity and assiduously filling up our water glasses whenever he saw that they were even partially empty.
I was pleased with the great service, great food, and great buffet price – merely $8.99 plus tax.
My second time at Bombay Bistro, I found different options that turned out to be just as good, if not better, than what I ate before.
We started out with some appetizers, most notable of which were the excellent vegetable samosas, stuffed with potatoes, ground spices, green peas, and ginger.
We also ordered some basmati rice and a bread basket to share, which included delicious onion, aloo, and plain naan.
I then ordered my favorite dish I've had at Bombay Bistro so far: malai kofta. This dish of vegetable balls was marinated in a spicy, cream-based onion gravy sauce. Malai kofta went perfectly over the basmati rice. I also ordered the channa masala again and shared some aloo mutter, cubes of potatoes, onions, and peas cooked in a garlic-ginger tomato sauce, with a friend.
Again, I left Bombay Bistro pleased with the food, the service, and the relatively miniscule toll it left on my wallet.
Having been to Gateway to India several times, another close-by Indian restaurant on 6th Ave, Bombay Bistro is certainly an improvement. There are far more options and overall, Bombay Bistro offers much more bang for your buck.
Although it may not have a dimly-lit date corner like Gateway to India's, Bombay Bistro's ornate décor of polished belly-dancing statuettes and warm-colored tapestries is welcoming—another perfect locale for a date.
I have yet to go on a date at Bombay Bistro but I'm sure the charmingly dry-humored waiters would joke with us just as they did with my friends and me.
Bombay Bistro is a close, cheap, and pleasant Tacoma restaurant to find some tasty Indian food to munch on.
[PHOTO COURTESY / MARIA SOKOVA]
Tags :
Food
Indian Food
Restaurant