Volunteers dedicate spring break to service in San Francisco, Tacoma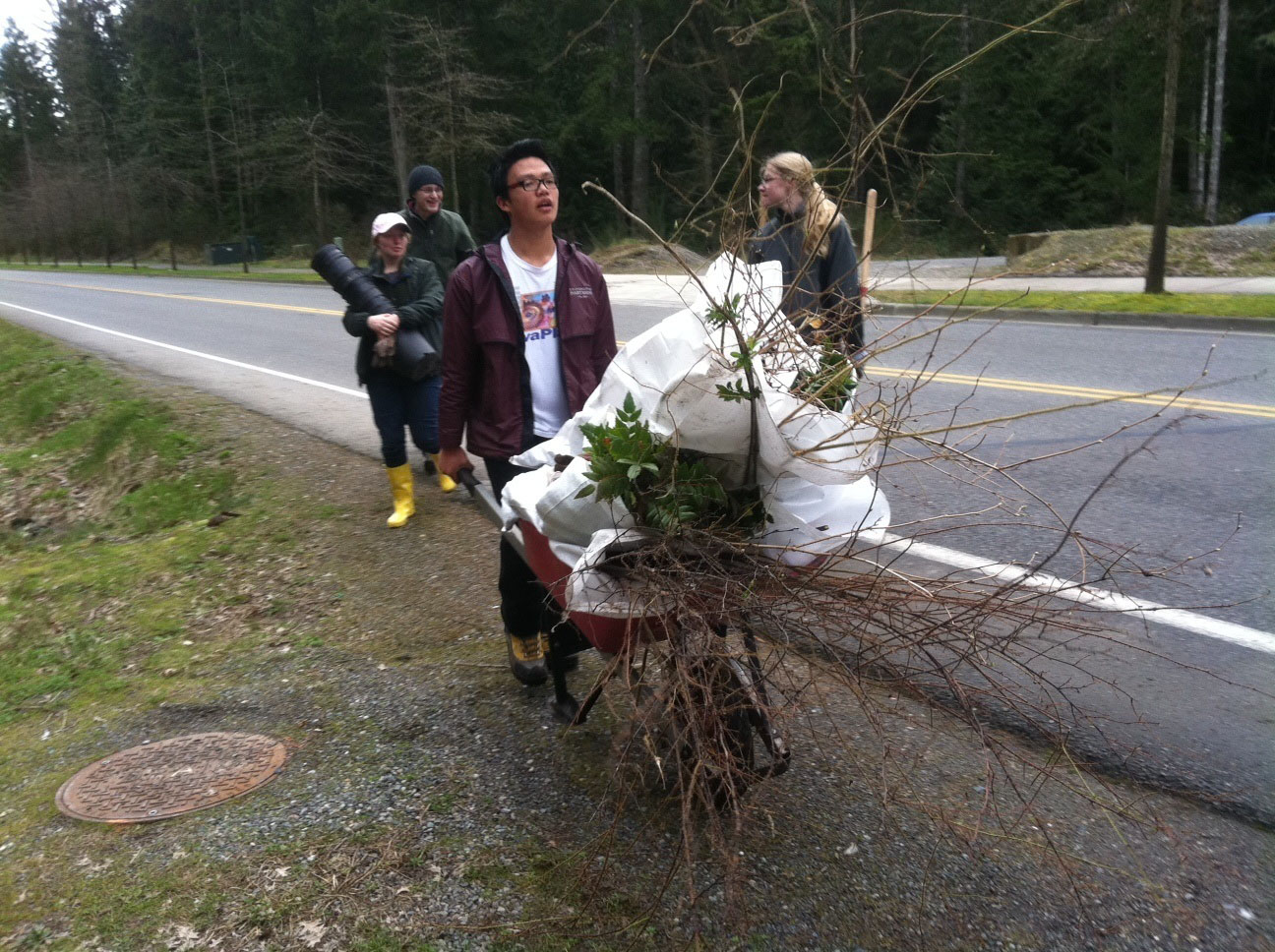 While many Puget Sound students stole away to the sun, snow or other hot-spot destinations for spring break, a handful of service-dedicated students chose to participate in Alternative Spring Break—a week of community service activities that this year took place both here in Tacoma and in San Francisco.
Sponsored by the department of Spirituality, Service and Social Justice (SSSJ), Alternative Spring Break has been offered for several years at Puget Sound, but up to this point has only included work in Tacoma. This year, one group of volunteers embraced projects related environmental justice in Tacoma, while another went to San Francisco to focus on bringing communities together through service and interfaith dialogue.
According to Social Justice Coordinator Skylar Bihl, a group of six volunteers worked from the Monday of spring break to Thursday in Tacoma with several different organizations. At the Tacoma Nature Center, the impacts of invasive species on local water were discussed, and a diseased tree was removed from near a walking trail.
"The most rewarding aspect of the week was seeing how much the work we did at the Tacoma Nature center was appreciated," Bihl said.
The group also participated in a plant salvage program with Citizens for a Healthy Bay and helped to salvage plants from Gig Harbor for a habitat restoration project. A continuation of that project will occur tomorrow, Saturday the 26, where a "potting party" will be held to pot the plants that were salvaged from the harbor.
They also had the chance to attend an environmental justice presentation on how Tacoma communities of low socioeconomic status are adversely affected by factory and landfill placement.
The group also visited the Tacoma Landfill and explored the "recycling center, household hazardous waste center and had an in-depth tour of the EnviroHouse," according to Bihl. "I really enjoyed seeing how items had been recycled and turned into counter tops, floors or other household items," she said.
In San Francisco, meanwhile, SSSJ director Dave Wright was leading seven students through service projects and interfaith-related activities in the neighborhood of San Francisco known as The Tenderloin, an area marked by poverty, a high homeless population and significant drug use.
"The primary service project was working at the Glide UMC [United Methodist Church] meals program," Wright said.
According to Wright, Glide serves as many as 3,000 meals per day in The Tenderloin. "Serving meals was very personally rewarding. Even though I did not get a chance to interact directly with clients…you know you're contributing to a much larger program," Zach Lam, a participant on the trip, said.
Beyond its foundational meals project Glide also offers "around 85 social service, rehab, housing and training programs to clients in and around The Tenderloin," Wright said.
The week also included looks at interfaith communities in San Francisco that take on issues of social justice, as well as looking into the city's housing for low-income residents. They received a presentation about the city's history with homelessness and housing projects and a gained a knowledge of the city's approach to providing permanent housing for those without it.
Though this year's San Francisco trip was a pilot program to see how a trip outside of Tacoma would go, SSSJ plans to continue providing Alternative Spring Break opportunities both in Tacoma and elsewhere. The themes for the trips change yearly, and students can expect a myriad of different issues in trips to come.
"We considered looking more at the justice system or immigration issues, so those might pop up in the future," Lam said.
According to Bihl, fundraising on the part of participants was involved this year for the San Francisco trip, but not for the local project. She added that "scholarships are always available for those who need them. We want everyone to be able to participate."
Student Social Justice Coordinator Caitlin Van Patten, who attended the San Francisco trip, noted that the presence of the Alternative Spring Break option for Puget Sound students is an encouraging one.
"These trips and doing this kind of work attract people who are passionate—about learning, about the rights of others, about life," she said. "Doing this work and seeing people in different situations than one's own gives you a different perspective and your priorities realign."
Tags :
Puget Sound Life
Tacoma