Meet the owners: The infamous Infinite Soups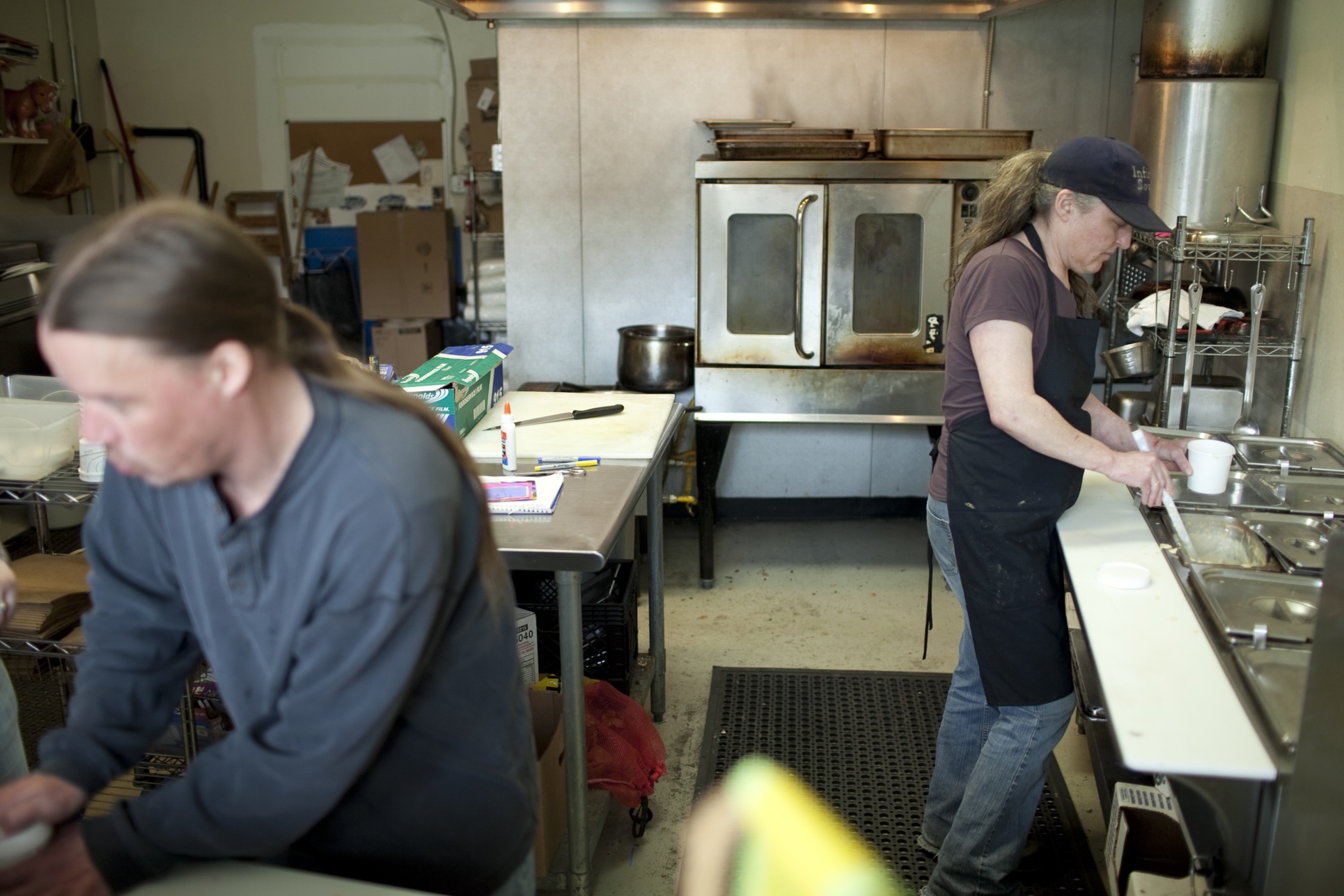 Many cities have soups, but only Tacoma has Infinite Soups. Open Monday-Saturday from 11 a.m.-7 p.m., the local dive, located off Tacoma Ave., offers its customers a wide array of delicious flavors every day.
The arrangement is a simple bar to order soups. There is a stack of records in the corner that continuously plays recognizable oldies; a perfect retro ambiance for ordering your favorite flavor of soup.
Co-owner Wendy Deshazo explained that when buying the supplies to open Infinite Soups she came across a record player catalogue.
"I wanted to bring back the records," Deshazo said.
Deshazo is an old pro at making and serving up soups, but before Infinite Soups she worked at a different café that served a wide variety of deli foods.
"The soups were one of the most popular things on the menu there, but I didn't think you could have a restaurant that just sells soup," Deshazo said.
Deshazo was corrected as Infinite is now celebrating its four year anniversary.  The family business is run by Deshazo, her husband Todd and their daughter Laura Adams. On any given day you will find one of them opening up their infinite supply of soups.
"We work on a rotation. If you open you choose what soups to serve for the day, and you get to go home early," Deshazo said.
Infinite Soups offers anywhere from 20-30 flavors of soup each day. It is hard to imagine how much creative license the Infinite Soups creators put into their menu to provide such variety for their customers.  All the soup creators work to make new flavors to spice up their menu.
"There are no rules for new soup creations.  It's a soup anarchy around here," Deshazo said.
The menu serves up vegetarian, vegan, creamy and non-creamy options. Their daily flavors are posted every morning before opening on their Facebook page. There is always something for any eating diet.
"It's certainly the place to get your soup fix," sophomore Alison Crabb said.
Pleasing customers is certainly something that Infinite Soups has down to a science. Every day from the hours of 11 a.m. – 2 p.m. the lunch crowd storms in to get their soup fix.
"We have so many regulars every day that I don't even know them all," Deshazo said.
The popularity of the soup spot increases through minimal advertisement.
"We have a few flyers around town, but we are noticed by word of mouth," Deshazo said.
With their inflow of customers never wavering, it is a compliment to the restaurant that their customers are so supportive of their business. The soups impress so much that the next step is to immediately pass on the word about the steamy soup being served up each day.
"I love the local atmosphere and the variety and flavor that come with the experience," sophomore Meg Anderson said.
It is hard to deny that the soup bar never fails its Puget Sound customers.
"Once I was walking to work and there was a line out the door of Puget Sound students. It was shocking to see them all waiting for soup," Deshazo said.
I visited Soups myself during the less busy hours of the day. However, while sipping on my curried spicy chicken and vegetable soup, the customers never stopped rolling in.
Seeing Deshazo interact with the customers made it very obvious why Infinite Soups is so successful. Deshazo even gave recipe suggestions to a returning customer wishing to try and make a concoction of his own.
With the wide variety of flavors it is seemingly impossible to choose which one to pick. However, you don't have to wonder which one, as samples are available to anyone who asks.
"Occasionally we get an oversample, but eventually their samples just get smaller," Deshazo said jokingly.
Being around so much soup all the time might suggest a loss of interest but not for the Deshazo family.
"We eat more soup than most. Sometimes we get creative and use them as pasta sauces," Deshazo said.
When asked her favorite flavor she couldn't choose, but that day her favorite was Asparagus Tortellini.
The family business continues to thrive at their downtown Tacoma location. Their second location will soon be closing to go out on the road, spreading the popularity of the restaurant even further.
I asked if Infinite Soups ever planned on expanding to a bigger location, but it appears that the current humble atmosphere is doing the job neatly.
The lack of tables and chairs certainly does not stop the customers from taking time to get their soups.
[PHOTO COURTESY / GREG NISSEN]
Tags :
Food
Soup