Technology services unleashes the beast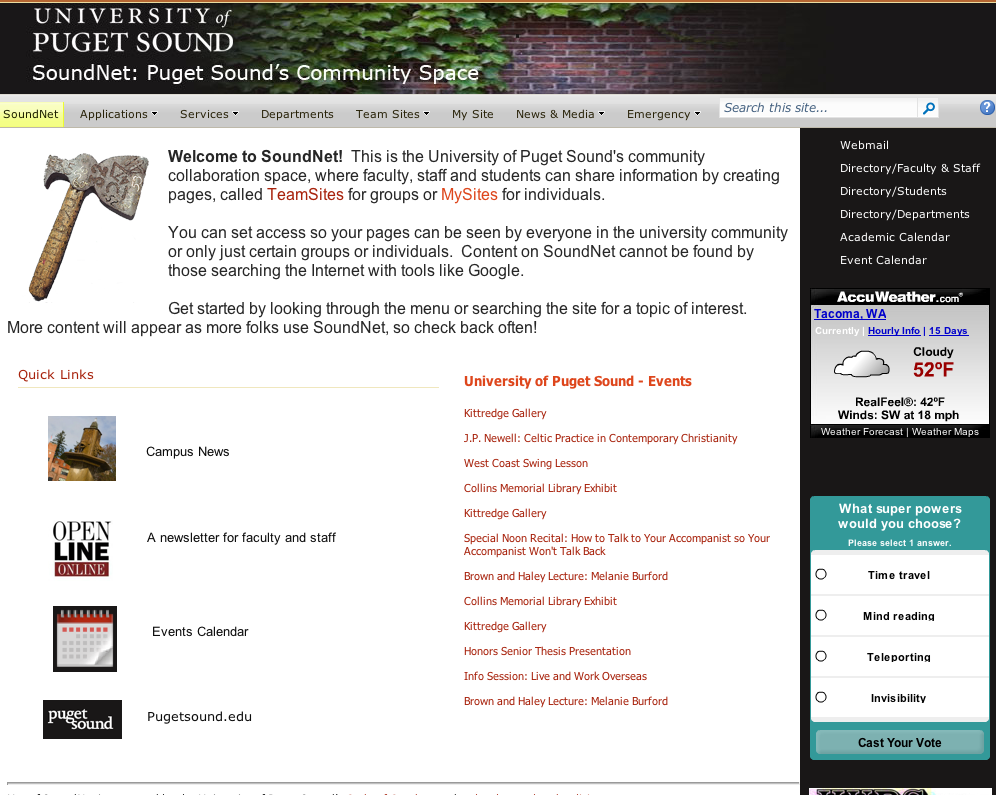 Exciting. Groundbreaking. Not usually words you associate with Puget Sound's online presence, right? Technology Services is trying to change that with a flurry of new services and tools, some of which are already available to students. SoundNet, a private Puget Sound Internet portal that links together traditional services like Webmail and Moodle in a new, collaborative setting, is one such change.
While this new portal is already live on the Internet, Chief Technology Officer and Associate Vice President for Technology Services William Morse cautioned that it is an evolving system that will continue to grow and improve.
"It is like our version of Facebook, but with more grouping powers and more privacy for users. It's password-protected and limited to the Puget Sound community. Users will be able to create and share documents, calendars and discussion forums, for example," Morse said.
As the site may be a little overwhelming at first glance, Tech Services plans to hold various trainings to walk students, faculty and staff through the service. Tech Services will also be hosting with ASUPS a technology town hall meeting on March 2 in the Murray Boardroom to discuss the new developments and hear feedback.
Group and academic department pages are expected to become an important part of the new portal. ASUPS and Puget Sound Outdoors have already created pages, as well as the regional alumni councils. SoundNet allows users to customize the way they view this content by making connections with other users and a "Newsfeed," among others.
Among the changes is the creation of V-Desk, or virtual desktop. Starting in April, V-Desk will allow the campus community to use advanced software on their personal computers via the Internet instead of having to use special computers in a laboratory setting. Economics or Business majors, for example, will be able to use the same statistical analytic software found in the campus computer labs from wherever they need.
"The challenge has been that students had to go to the lab to use advanced software like Photoshop and SSR, which leads to very heavy usage at crunch time and very little otherwise. V-Desk will take lab programs and make them available anywhere. You could be studying abroad in Paris and still use Puget Sound's software," Morse said.
The switch to V-Desk will also allow a reorganizing of the computer labs around campus, as the actual number of desktop computers needed should decrease.
"We will still be investing the same amount in computer labs, it just might not be the rows of computers that are currently necessary. The new technology allows us to be a lot more flexible in what those spaces look like," Morse said.
Reorganizing the campus' residential phones is another project that Tech Services will implement in the near future.
Because recent survey data showed that less than one percent of residential telephones are used, residence halls and Greek houses will have only one phone per floor per hall next year, instead of in every room.
Behind these visible changes, Tech Services is undertaking a larger transition altogether, renovating the Enterprise Resource Planning (ERP) system that underpins the campus' business and accounting services. According to the Tech Services website, an ERP is an "integrated technology solution for managing the internal and external resources of an organization utilizing a single software system and a single database."
For Puget Sound, that means integrating all the information found on Cascade and Banner, including financial aid, human resources and student information.
The implementation of the new system will take two years to implement.
"The end result is that this will allow us to modernize the user interfaces. It will support services like a customizable portal and messaging. It will empower you to control your own experience, with mobile apps, etc," Steve Renker, Director of Enterprise Information Systems, said.
Tags :
ASUPS
Technology