Periods and sustainability: Menstrual cups, period panties and more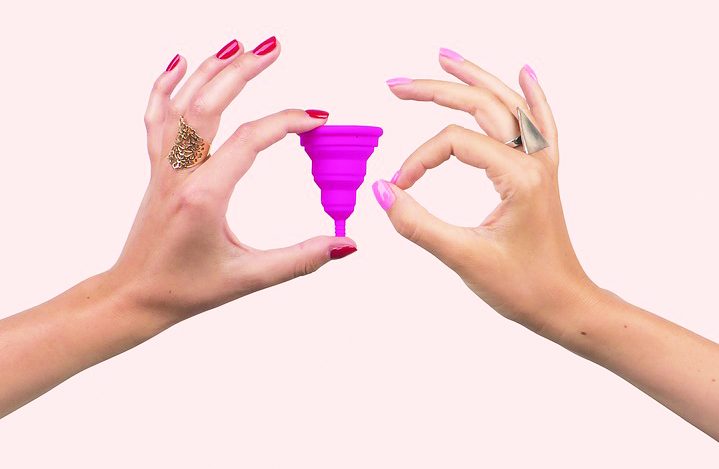 Pictured: a menstrual cup — Photo courtesy of Pixabay
The majority of period products are bad for the environment, but a new wave of environmentally friendly period products have become available. In addition to the menstrual cup, period panties and reusable cotton pads offer consumers a sustainable alternative to single-use period products.
While the period product industry has been slow to respond to consumers' eco-conscious concerns in the past, the industry is beginning to expand to include products that center on both comfort and consciousness.
According to Bustle's "5 Ways to Make your Period More Sustainable" article, the American period product industry is responsible for an average of 20 billion used menstrual products a year, all of which end up in North American landfills. Additionally, Bustle hypothesizes that the average woman will use between 10,000 and 15,000 menstrual products in her lifetime.
One product gaining popularity for its wastlessness is the menstrual cup. These period products are available in both disposable and reusable options. The reusable menstrual cup is made of medical grade silicone and is offered by brands like-Diva Cup and Lunette.
According to the Diva Cup website, the cup can be worn for 10–12 hours without leaks. Additionally the website suggests that the user replace the cup when necessary but that it is often after one to three years.
While the initial investment for a menstrual cup is more expensive, the overall savings is greater than using traditional pads or tampons. Both Lunette and Diva cup offer a variety of sizes for varying bodies and period flow.
Puget Sound senior and sustainability services program assistant Tessa Samuels has been involved in the organizing of three menstrual cup handouts during her time at Puget Sound. The first menstrual cup handout was during Samuels' sophomore year.
To make the cups more affordable for Puget Sound students, Samuels worked with other sustainability services members to write a Green Fund grant proposal for each of the three events. The Green Fund, also known as the Green Fee, is managed by ASUPS to support students who want to improve campus sustainability. The fund collects three dollars from each student's tuition money each year to be used toward sustainable projects.
"Normally they are $25 to $45, depending on the brand, but we were able to sell them sophomore year for $7. Junior year we gave them out for free, and this year for $3," Samuels said when asked about the price of menstrual cups.
For Samuels and her colleagues in sustainability services, bringing menstrual cups to campus was an important step in encouraging students to take sustainability seriously.
"This campus uses approximately 600,000 tampons and pads per year … and that is an incredible amount of waste," Samuels said. After learning of a menstrual cup giveaway on the Pacific Lutheran University campus, Samuels and her coworkers decided to bring the event to Puget Sound.
When speaking to members of the Puget Sound community, it became clear that the menstrual cup is particularly popular among students who enjoy being outside. For junior Meghan Schuyler, her menstrual cup has been especially helpful on long backpacking trips.
"I love my menstrual cup! I have had it for a few years and love how convenient it is," Schuyler said.
Schuyler explained that during backpacking and hiking trips her menstrual cup allows her to leave zero waste behind — she does not have to go out of her way to dispose of it outside the natural area either, as she would have to for a single-use period product.
Despite the benefits of menstrual cups, they are not as customizable or adaptable as many need them to be.
One anonymous Puget Sound sophomore stated that eco-friendly period products weren't for her. She explained that her periods are extremely heavy and often give her cramps that have, in the past, kept her in bed. For this student, her routine of using pads has been created out of necessity. While she wants to limit her impact on the environment, she is worried that changing her routine might make managing her period even more difficult.
Another advancement in eco-conscious menstrual products is the reusable cotton pad, which can be machine washed. These pads retail between $15 to $25 based on the style. They reduce waste as they can be washed and reused until the user decides to replace them. Organic and reusable pads are available from the PackageFreeShop.com.
The overall cost of this option will vary depending on how many pairs someone may decide to purchase. The up-front cost of these would be higher, but would be lower overall compared to normal period products.
In addition to menstrual cups and reusable pads, there are other new advancements in eco-friendly period products. Perhaps the most popular of these are period panties, underwear with multi-layer material designed to absorb period blood and keep it from soaking through and into clothing.
Companies like Thinx and Dear Kate offer a variety of these undergarments, catering to varying blood flow and style options. Thinx underwear come in a large variety of styles, with their underwear ranging from $24 to $40 dollars.
Additionally, Thinx offers an even greater advancement by offering underwear specifically designed for transgender people. The Thinx campaign is marketed for 'people with periods,' a unique and welcoming take on a gendered industry by a sustainable brand.
Again, despite the many benefits underwear like these offer, they are not universally appealing.
"It's the idea that my underwear is the only barrier between my blood and the rest of my outfit," the same anonymous sophomore said. "It's like a diaper … while pads are for one concentrated area, period panties are everywhere. They are full-on like a diaper."
For this student, the idea of wearing period panties sounds uncomfortable and embarrassing. She already struggles to feel and act as she normally does while on her period, and she worries that wearing these underwear would only exacerbate that discomfort.
Despite the wariness of some consumers, eco-conscious products are certainly taking the period product industry by storm.
Tags :
green
periods
sustainability