Puget Sound alumni return to host Entrepreneurship Summit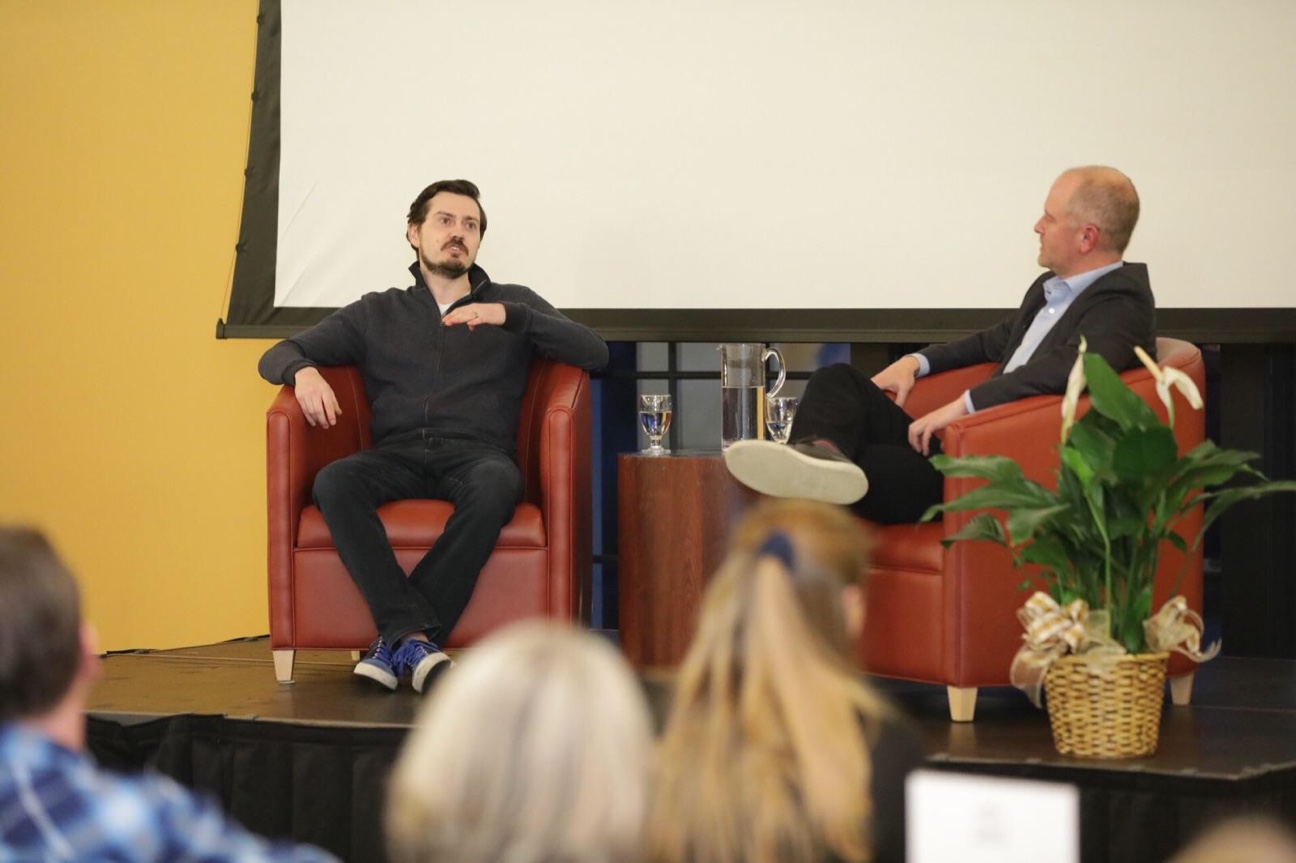 Puget Sound students and alumni discuss the ins and outs of entrepreneurship — Photo credit to Sy Bean
This past weekend the University of Puget Sound hosted its first Entrepreneurship Summit, an event put on by Puget Sound's Student Alumni Association (SAA) and the Entrepreneurship Club.
The summit brought together past and present Loggers, all possessing an energy and excitement for entrepreneurship.
"The purpose of having the Entrepreneurship Summit was to cultivate an environment of a shared entrepreneurial experience among and between alumni and students. Student Alumni Association partnered with Entrepreneurship Club to invite entrepreneurial alumni back to campus to share their journeys starting their own companies and offer advice to our current student body," co-president of SAA Kayla Southwick '19 said.
"SAA is a big proponent of connecting students and alumni and building meaningful, mutually beneficial relationships. My co-president Gabi Marrese (along with Chris Porter) were the real visionaries of this summit and put in a lot of hard work to pull off this event that I was happy to be a part of," Southwick continued.
The summit began with a keynote address and reception on Feb. 22 and continued into the next day with various smaller sessions.
Kicking off the summit, University President Isiaah Crawford spoke to the crowd about the entrepreneurial spirit of Puget Sound and how it aligns with the vision of the University's new strategic plan: "Leadership for a Changing World."
Crawford went on to mention that in 2015, Forbes had ranked Puget Sound among 20 other colleges and universities as one of the most entrepreneurial colleges, calculated through percentages of graduates that go one to become entrepreneurs or found companies.
The evening continued with an interactive keynote, taking the form of an interview between two alumni, Jesse Proudman '07 and trustee Jeremy Korst '97.
Prompted by questions from Korst, Proudman shared his entrepreneurial journey, from before his time at Puget Sound through to his present projects.
Proudman is the current CEO at Strix Leviathan, a cryptocurrency startup and his most recent project.
While at Puget Sound, Proudman was a Matelich scholar and a member of the Business Leadership Program (BLP). "BLP and Puget Sound taught me that relationships and networking are everything, that stuff gets done by picking up the phone," Proudman said.
When creating startups, the easiest way for him to hire has always been to look at his immediate networks, while also remaining conscious of where those networks are originating from.
Proudman went on to speak on how being the founder of a company can be the loneliest job, but that he wouldn't want to do anything else.
Proudman has always been his own boss, never working anywhere but at his own companies. His last project, Blue Box, was launched from his dorm room at Puget Sound and was bought by IBM in 2015.
Candid with the audience, Proudman discussed the discouraging aspects of entrepreneurship: debt, lack of feedback and immense stress.
"Entrepreneurship is basically daily punches in the face … the trick is to find other entrepreneurs willing to share in the experience," he said.
Proudman concluded his keynote with recognition of the multiple catalyst moments in his life that had the power to change the course of everything and encouraged those in attendance to be aware of our own catalysts.
Referencing once more the challenges he has faced but also the success he has achieved, Proudman encouraged the audience to "never act out of convenience but excitement."
While this was only the first Puget Sound Entrepreneurship Summit, the immense community engagement and student participation left organizers hopeful for future years.
"I think that the turnout was really exciting for the first time this event was held and it was encouraging for the future of the summit, which we plan to continue annually. I think it reached an audience of both students and alumni that hadn't been previously reached by other events on campus," Southwick said.
Tags :
Alumni
Entrepreneurship Summit
Event