The Yellow House hosts 'Wednesdays at 6' event series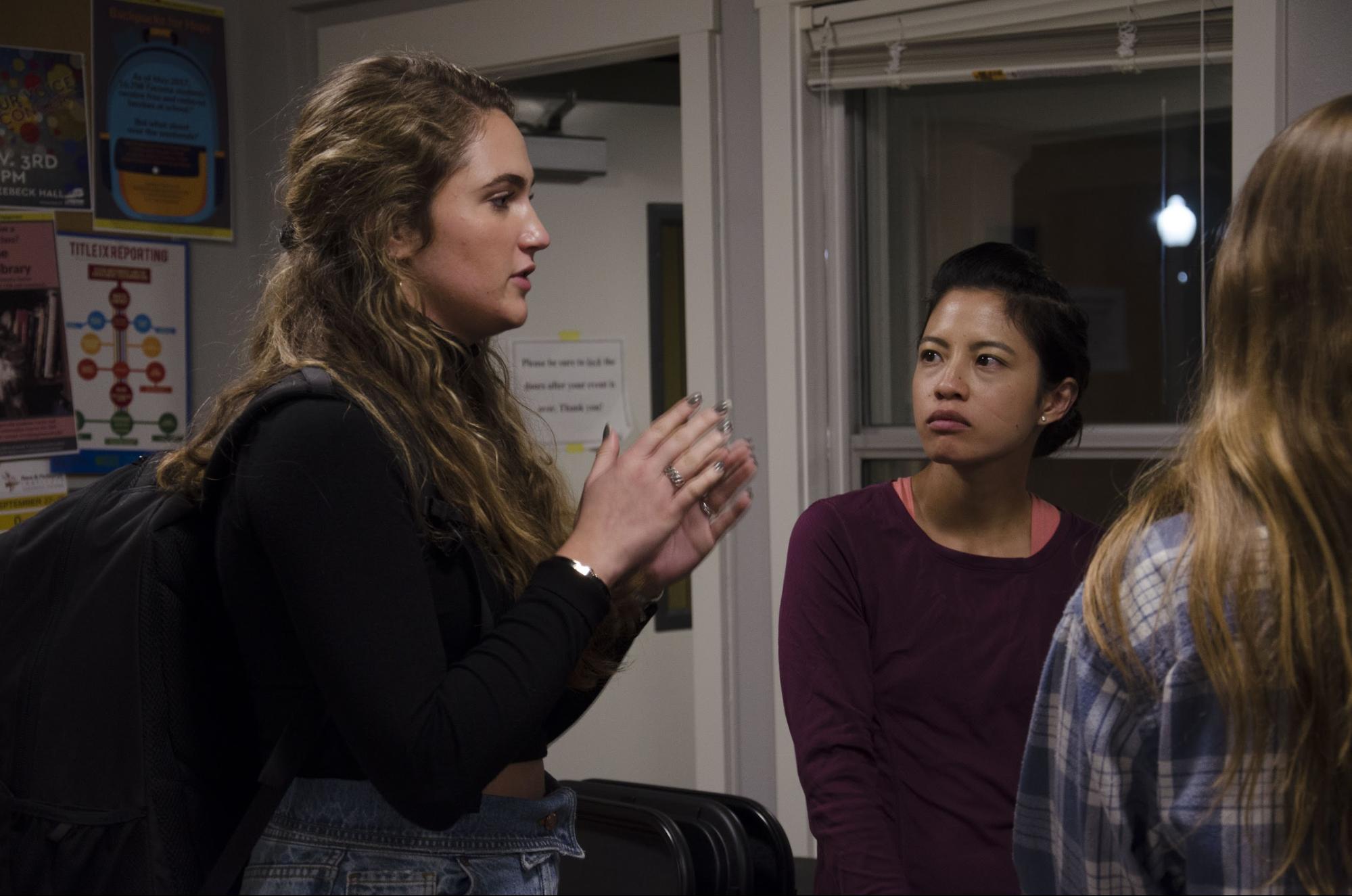 Photo pictures staff and students at the Social Justice Center — Photo credit to Augusta Grassl
On the first three Wednesdays of every month at 6 p.m. in the Social Justice Center, you can find a small space for learning and critical discussion. University of Puget Sound's Center for Intercultural and Civic Engagement (CICE), or the Yellow House, puts on these events known as Wednesdays at 6. The Yellow House works to promote intercultural and civic engagement as well as an understanding of spirituality and religion.
Each Wednesday at 6 meeting focuses on a specific topic that the Yellow House explores, such as civic engagement, spirituality, ethics or faith. The meetings are held in the newly renovated Social Justice Center (SJC), located on the corner across from Thomas.
The meetings are discussion-oriented, and the chairs are pulled into circles in order to facilitate participation and discussion.
The Oct. 10 session featured a panel of Puget Sound students who had participated in the Washington State Legislature Internship. Sarah Griffin, Abby Crowel and Fiona Gredvig all spoke about their experiences in the legislature. All of the panelists were United States Politics and Government Majors. According to many of them, the internship fostered a greater appreciation for state government and a new understanding of its relevance.
"It inspired me to work in state government," one of the panelists said. This session was intended to focus on the civic engagement aspect of the Yellow House.
The Oct. 17 session of Wednesdays at 6 was well-attended. Many students gathered in the SJC to learn about cultural appropriation in the context of Halloween. Tim Lu, a student at Puget Sound and an employee of the Yellow House, gave a small presentation about cultural appropriation and appreciation.
The presentation was geared towards student participation. Lu fostered a comfortable environment for students to discuss and ask questions about appropriation. Students frequently jumped in with questions or comments for Lu. They were passionate about the subject, sharing their own experiences and asking personal questions.
One student brought up her nannying job, asking other students how to handle cultural appropriation from a young age and how to encourage kids to understand appropriation. Her question was met with many constructive responses.
Lu also incorporated a discussion of cultural appreciation and how it differs from appropriation. Lu described it as a difficult concept to differentiate, a gray area. Responses to his understanding of appreciation were passionate, and students shared their personal understandings of appreciation.
"If you really appreciated the culture, you wouldn't copy it," sophomore Qiara Millen said.
The Trail sat down with an attendee of the session, a sophomore at Puget Sound and a member of Gamma Phi Beta named Chlöe Brew. She was there to learn for herself and for her sorority.
"I think it was a really nice discussion to be able to have," Brew said.
As an attendee, she appreciated the diversity of the space and the intersectionality of the discussion.
As the diversity and inclusion chairwoman of Gamma Phi Beta, Brew looks for opportunities to bring diversity to her sorority, whether that means publicizing events or disseminating information. Brew stressed a need to increase engagement with topics of diversity. She acknowledged that these spaces do exist at Puget Sound, but people need to engage more.
"How do we actively create changes that aren't for just this generation of the house?" Brew asked.
As Brew expressed, Wednesdays at 6 is a positive space for students to engage with challenging issues. Though it already is featured on the campus website and calendar, these spaces must be better publicized in order to have an effective and productive outcome.
Tags :
Event
Yellow House