CFOs and professionials in finanancing and accounting give inside advice on their careers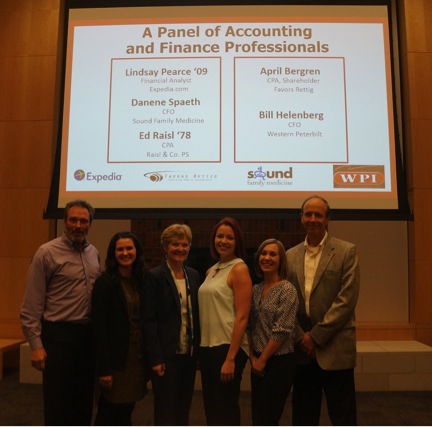 Financing and Accounting Professionals Panel: from left to right. Ed Raisl, Lindsay Pearce, Paula Wison (an organizer for event, Associate Professor), Danene Spaeth, April Bergren, and Bill Helenberg.

Stereotypically, a career in accounting and finance is boring, isolating and all about crunching numbers. However, last Wednesday about 50 students gathered in the Tahoma room to hear five panelists in the field of accounting and finance talk about their careers and offer guidance.
Their insights and advice go further than just accounting and finance.
The School of Business and Leadership and the Business Leadership Program created the panel together with the hopes of providing students more information on these two career paths.
"The Women in Leadership panel this past spring was a great source of inspiration," Paula Wilson, Associate Professor and panel organizer, said.
The Women in Leadership panel focused on the life experiences, challenges and insights of five women in leadership roles.
She also contacted Puget Sound alums who believed that the accounting and finance panel would be beneficial for students looking into the accounting and finance field.
Wilson selected the five panelists aiming for diversity in age, gender and experience.
The panel included two Puget Sound alums, Lindsay Pearce '09, a financial analyst at Expedia.com, and Ed Raisl '78, CPA at Raisl & Co. PS.
The panel also included Danene Spaeth, a CFO at Sound Family Medical, April Bergren, CPA and shareholder at Favors Rettig, and Bill Helenberg CFO at Western Peterbilt.
Catherine Durkee, a senior BLP student, attended the event as part of her senior seminar accounting class.
"The panelists played well off each other and were relatable," Durkee said.
Panelists were asked to describe their journeys after leaving college and how they ended up where they are today. Both Spaeth and Bergren said that they had no interest in going into accounting, but ultimately ended up having an affinity for it.
"Maybe it's what I should be doing," Bergen said.
For Pearce, her discovery of finance came after her internship with Russel Investments during the summer between her junior and senior years.
Key points that all panelists emphasized included the importance of internships, mentors and soft skills.
"Get exposure! Do internships. Take advantage of connections and people offering advice," Raisl  said.
The only real way to know whether or not you like anything is to try it.
This remains true for picking a career path. Internships provide a safe and constructive space for discovery.
Mentors and networks are also great tools for students, especially as they enter the job market.
A good mentor and network may not get you a job, but both create connections, can be great references and offer advice.
"You are in a unique position where you're surrounded with people, just in this room there are 50 people interested in the same field. Make connections now. It will get you places later," Spaeth said.
Their other key point was focusing on skills such as critical thinking, presentation, communication and writing. These are skills that are developed over time.
"Hone in on your presentation skills—take public speaking classes, put yourself out there so you practice making eye contact and staying on point," Helenberg said.
The panelists also addressed the question of how much time they spend interacting with people, as opposed to their numbers. There is a correlation between the amount of time the women spent with people and their positions within their companies. For example Raisl, Helenberg and Bergren are either owners or CFOs of their respective companies and therefore spend most of their time interacting with people.
In contrast, Pearce spends about 50 percent of her time with numbers and the other 50 with people. She described this balance as atypical.
For her, it added a new dimension to her work and made working with the numbers easier and more interesting if she knew the client.
"Dealing with people makes accounting interesting and putting a human behind the numbers," Raisl said.
Another important topic the panel touched on was the debate on whether or not students should try to become a Certified Public Accountant or to get a Masters in Business.
This discussion largely came down to what a person wants to do. Certain jobs will require one and not the other or both. However, if you want to move up  you will definitely have to have at least one of these certifications.
What exactly did students gain from coming to the panel? It allowed them to meet and hear from individuals in a specific field with different experiences and advice. It created a space for students to talk about and ask questions that may not be answered in a classroom setting.
"[I] hope students have a broader understanding of the opportunities that accounting and finance offers," Wilson said.
The panel provided students with a rich network of experienced individuals who are willing and excited to help them make the next moves in their careers.
Tags :
Alumni
BLP
business
Business Leadership Program
CFO
CPA
Expedia.com
local business