Callahan breaks conference record, moves on to NCAA championship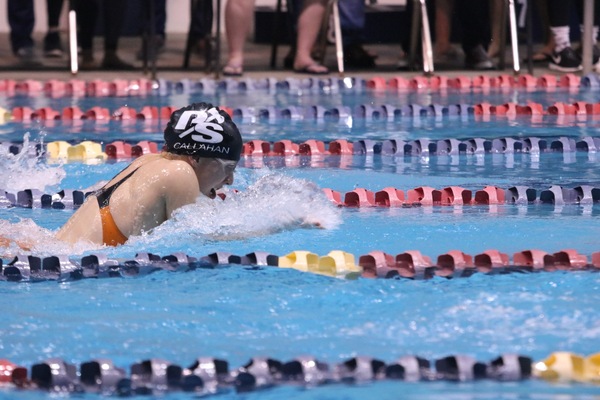 Callahan during the Northwest Conference Championships on Feb. 8 — Photo courtesy of Logger Athletics
Junior Kelli Callahan earned the award for the Northwest Conference (NWC) Women's Swimmer of the Year for the second consecutive year.
"It takes a lot … but it's all worth it!" Callahan said.
Callahan's exceptional abilities were on display at the NWC Championships held from Feb. 7–10. She had some specific aims in mind heading into the competition: "My goals were to continue improving my IM and free races. … I was focusing on defending my conference titles in the 200 and 400 IM, as well as adding a third title in the 200 freestyle."
Her ambition and focus paid off. According to Logger Athletics, Callahan successfully defended her title in the 400-IM (individual medley), clocking an impressive 4:26.70. She also defended her title in the 200-IM and won the 200-freestyle, doubling the number of titles she held going into the weekend.
It's no surprise then, that Callahan was named Swimmer of the Year once again. "It's a big honor to win conference swimmer of the year! I'm excited to receive the award for the second time in my collegiate career."
Her pride is shared among much of the swim program. Her teammate and co-captain Kai Haven praised Callahan and her achievements: "She has a good feel for the water, a lot of passion and an amazing work ethic. She was really happy with her performance and so was everyone else."
Assistant coach Alex Nowjack echoed this excitement for Callahan's achievement: "Seeing Kelli receive recognition for her hard work is amazing."
The season is not over for Callahan. "While scoring/placing is important to me, I also wanted to continue my season on past our conference meet," she said.
While she must wait for official qualification, Callahan will most likely be competing in the Division III NCAA Championship in March. This means another month of hard work for the NWC Women's Swimmer of the Year.
Looking ahead, Callahan knows what another major competition entails in terms of preparation. "I usually have about eight swim practices a week, which includes three mornings, as well as lifting two to three times a week," she said.
What really sets swimmers like Callahan apart, however, is not the sheer amount of time spent training, but the manner in which they train. Nowjack praised Callahan for paying great attention to detail when she trains.
"I'm very stroke-orientated. So, the efficiency of all my strokes is very important to me. As I swim all four strokes within the medley, I have to concentrate on all of them, rather than just specializing in one," Callahan said. "My best event, the 400 IM, is both physically and mentally challenging. I visualize my events and follow a specific strategy. The more I practice these strategies, the better I'll do when I have to race."
While Callahan continues to earn individual accolades, she does not ignore the support she has received from those around her: "We have a wonderful coaching staff here at UPS, with our head coach Chris Myhre and our assistant coaches: Ronda Marie Smith, Alex Nowjack, Derek Frenzel, Mark Amberson and some help from Dick Hannula. I couldn't imagine swimming and competing without my teammates."
The NWC Women's Swimmer of the Year gave a special shout out to her primary support group: "My family has also been very supportive of me, especially my parents, who taught me that the true spirit of competition is to always give your best effort and be as good as you can be!"
It certainly seems as though Callahan has lived up to this spirit of competition in her three years as a Logger.
The Division III NCAA Swimming Championships will take place in Greensboro, North Carolina from March 20–23, according to College Swimming. Callahan will be competing in the 200-IM, 400-IM and 200-freestyle.
Tags :
NCAA championship
Swimming