A little free guide to North End's Little Free Libraries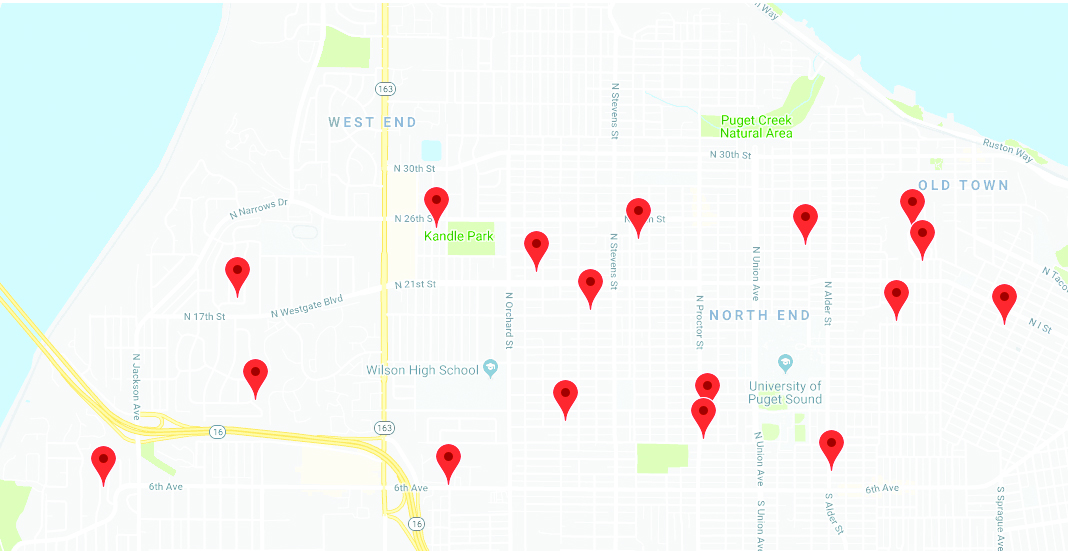 Screenshot of Google Maps: Little Libraries throughout Tacoma
They're cute, they're quaint, they seem to be on every corner, they're Little Free Libraries! The premise is a simple one: take a book, leave a book. The impact, however, is much more profound. In our age of ceaseless technological stimulus, Little Free Libraries offer a unique source of refuge from the all-consuming vortex of those ominous glowing screens of ours.
The small wooden boxes vary in style and complexity, but they all have one thing in common: they're filled to the brim with beautiful books ripe for the taking! But where did these mysterious harbingers of knowledge come from? Despite their quirky exterior, Little Free Libraries are much more than a random viral explosion of a passing Pinterest trend. In fact, they all stem from the same non-profit organization based in Hudson, Wisconsin, founded by Tod Bolin 2012.
Their mission, according to the organization's website (Littlefreelibrary.org), is to provide a service that "inspires a love of reading, builds community, and sparks creativity by fostering neighborhood book exchanges around the world."
With 75,000 registered libraries to date, it is clear that this mission has seen substantial success since the organization's inception.
All Little Free Libraries are maintained by volunteers called "stewards." Stewards can then either build a library of their own, or purchase one from the organization's catalogue. Once the library is built, Stewards then register them in the official Little Free Library database and receive a plaque with the Little Free Library logo and a unique charter number specific to them.
On their website, one can access a free map of all the registered libraries in their area. According to the site, there are 17 within a four-mile radius of the University of Puget Sound campus alone.
Each and every one of them contains hidden treasures. Senior Zie Zeigerson spoke to The Trail about her experience as a patron of Little Free Libraries, stating: "I think it's really cool that you get to exchange books that you didn't click with, that you know you're only gonna read once, and end up finding something that you're gonna keep forever."
Indeed, one never knows what they may find in the Little Free Libraries of Tacoma. However, if you frequent them often enough, you may start to notice some trends.
For example, the Little Free Library located on 24th and Union frequently includes obscure pulp science fiction titles, including "Barefoot in the Head" by Brian W. Aldiss. This psychedelic thriller takes place in an alternative post-apocalyptic Europe that has been ravaged by a mysterious "Acid War."
The Library on 25th and Mason, on the other hand, features a wide variety of children's books, such as "The Adventures of Mary-Kate and Ashley; The Case of the U.S. Navy Adventure."
And of course, there's the occasional wild-card: that obscure novel you couldn't find anywhere else, like "Vegan Teenage Zombie Huntress" by G.G. Silverman. This novel tells the harrowing story of Clarissa Hargrove who, "trapped in a high-school zombie hell hole," must save her crush from certain doom without betraying her vegan and pacifist sensibilities. (22 people have rated it five stars on Goodreads!)
Now of course, there is no predicting what you may find yourself when you explore these tiny boxes, but it is perhaps this very fact that makes the Little Free Library such an ingenious innovation.
As Zegerson so aptly put it: "With any book exchange I really like thinking about how many people have had it before hand, and what it meant to the people beforehand and why did they get rid of it? And I don't know the answers to any of those questions, but it's nice to think about."
The feeling Zegerson described is likely familiar to anyone who has picked up a found object, whether it be a used book at a Little Free Library, or a chipped china cup at a second-hand shop. There is, despite the object's mystery and anonymity, a strange sense of intimacy and connection that accompanies touching something that once belonged to someone else. It is in this way that when one opens the doors to a Little Free Library they are finding not only books, but a sense of community as well.
It's true that in some ways, technology has made us more connected than we've ever been. But in many other ways, it has also made us more frightened and alienated, too. So the next time you're stuck at home hyperventilating over that inflammatory Facebook post you had the misfortune of scrolling past, take a deep breath, go for a walk and visit your local Little Free Library. Who knows, you might just find a story to comfort you in your times of woe.
Tags :
little library
north end
Tacoma