Campus responds to Kavanaugh confirmation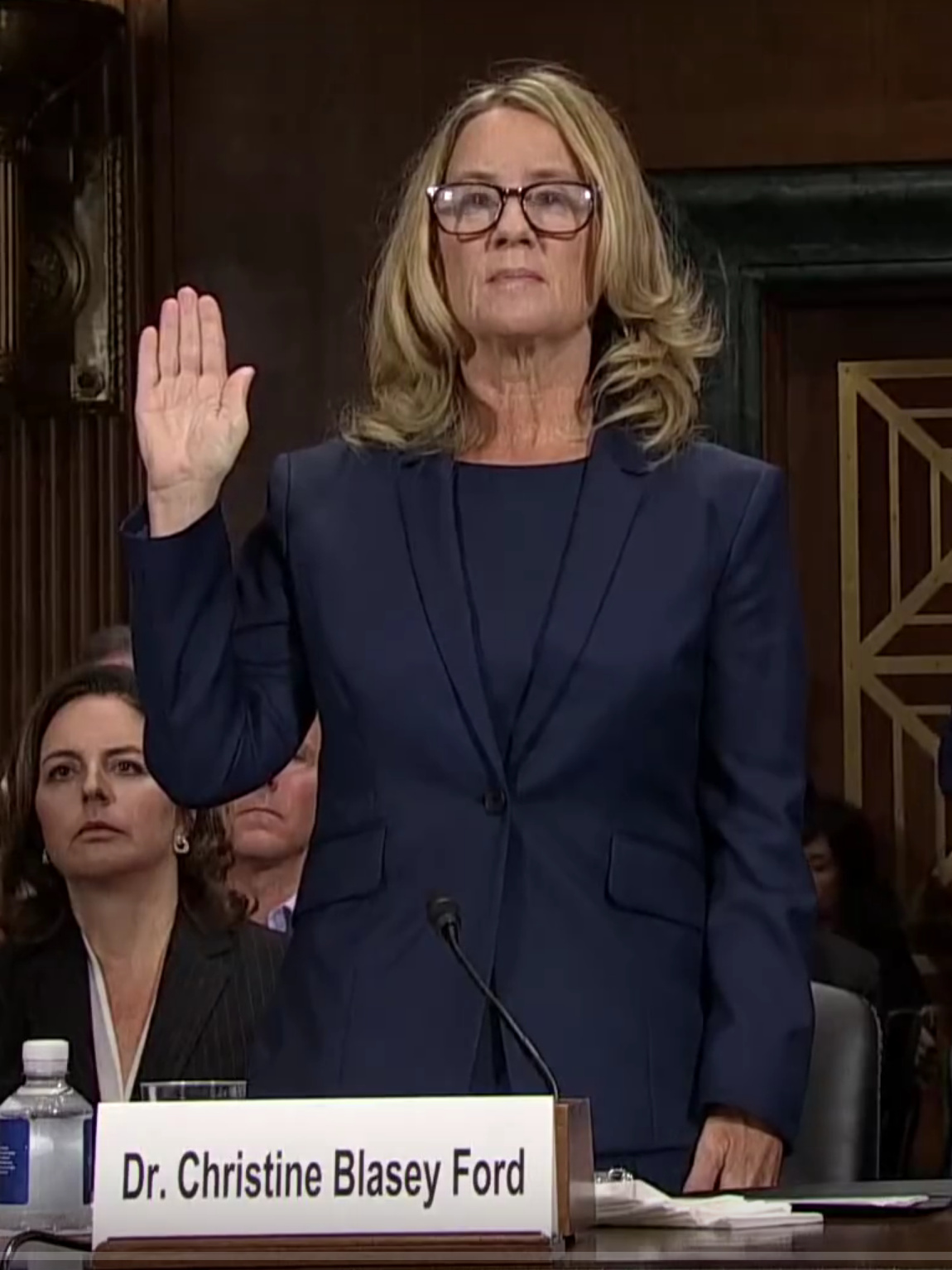 Dr. Blasey Ford testifying — photo courtesy of Wikimedia commons
For the past few weeks, the nation's eyes have been turned toward Washington D.C., waiting to see if President Donald Trump's newest Supreme Court nominee, Brett Kavanaugh, would be confirmed.
What makes this specific nomination stand apart from the rest are the controversies and allegations surrounding Kavanaugh. On Sept. 14, allegations of sexual assault by Kavanaugh were made public, with Dr. Christine Blasey Ford publicly coming forward two days later.
Ford accused Kavanaugh of sexually assaulting her at a house party more than 30 years ago, when she was just 15 and he 17. Kavanaugh "categorically and unequivocally" denied the allegation, saying he "did not do this back in high school or at any time."
However, Dr. Ford was not the only accuser. Following her allegations, two more women, Deborah Ramirez and Julia Swetnick, came forward accusing Brett Kavanaugh of sexual assault.
On Sept. 27, Ford and Kavanaugh were called to testify under oath in front of the Senate Judiciary Committee, where Ford, forced to recount the assault in front of the nation, justified her reasoning for coming forward more than 30 years later.
"I thought it was my civic duty to relay the information I had about Mr. Kavanaugh's conduct, so that those considering his nomination would know about this assault," she said. Many saw Ford's coming forward as a ploy by Democrats in an attempt to stop the nomination, an accusation to which she responded, "I am an independent person and I am no one's pawn."
Survivors and allies rallied behind Dr. Ford with the hashtag #WhyIDidntReport, highlighting why women often neglect to report sexual harassment or abuse.
With the country at odds over who to believe, many wondered if Kavanaugh would back down from the nomination. In his testimony to the Judiciary Committee he laid the rumors to rest: "I will not be intimidated into withdrawing from this process."
Sept. 28 brought a delay in the vote, when the confrontation between two female sexual assault survivors and Senator Jeff Flake, R-Ariz., led Flake to advise a delay in the floor vote and call for a limited FBI investigation.
While initially seen as positive progress, the investigation was criticized by many for omitting interviews with key witnesses, including Kavanaugh and Ford.
With the week-long investigation over and no found cause for delay, the Senate voted 50-48 on Oct. 6 to confirm Kavanaugh to the Supreme Court. Kavanaugh's confirmation solidified the conservative majority of justices and determined the future of the Court, likely for decades.
The only Republican senator to oppose Kavanaugh's nomination was Alaska Senator Lisa Murkowski, who justified her decision by stating, "In my conscience, I could not conclude that he is the right person for the court at this time."
President of Puget Sound It's On Us and National Greek Regional Advisor at Large Carly Dryden spoke to the impact the hearings have had on her and her work with It's On Us, a national organization dedicated to raising awareness of and fighting against sexual assault on college campuses. "There was a moment in time when I felt as if we were moving forward and now it feels as if we are moving back to conversations of questioning women and questioning survivors and it's quite frustrating," she said.
But the campus response she's observed is encouraging. "A lot of people reaching out, asking to get involved, which has been great," Dryden said.
On Oct. 2, six campus organizations (Bystander Revolution Against Violence, the Gender & Queer Studies Program, It's On Us, Green Dot, Peer Allies and the Center for Intercultural and Civic Engagement) co-hosted an open mic on the Kavanaugh hearings. The event served as a safe space for students to voice their opinions and have their emotions validated.
"Typically with these events we don't get a ton of attendance which can be frustrating, but this was probably one of the better-attended events that I've ever been a part of," Dryden said.
On Sept. 27, Associate Dean of
Students Marta Cady and University Chaplain Dave Wright sent out a campus-wide email addressing the current national conversation about sexual assault and harassment.
"Many survivors of sexual assault and harassment have found themselves re-traumatized by the volume and content of these last several days," the email reads. "These moments can be as isolating as they are painful."
The email went on to list several resources for students to turn to, including Counseling, Health, and Wellness Services, Peer Allies and Cady and Wright themselves.
The email concluded with a message that reverberated throughout the nation as Kavanaugh was confirmed: "For all those hurting right now or supporting someone who is, we want to share that this pain is seen by our campus leaders, that you are not alone, and that we will all do what we can to be alongside you through these days and whatever else comes from this moment."
Tags :
Campus
Kavanaugh