White supremacist posters on campus: Administration quick to act and slow to follow up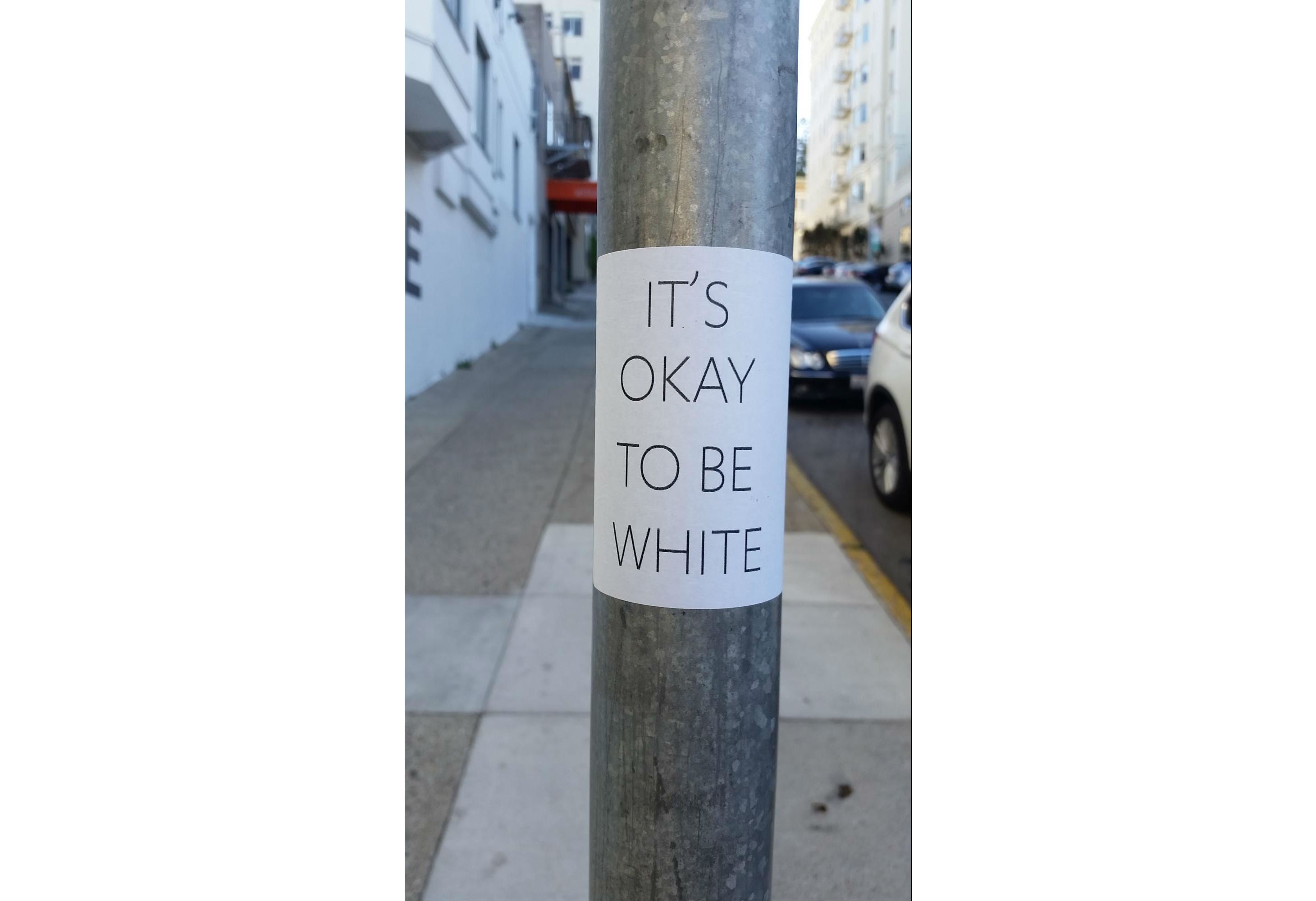 An example of what one of the posters may have looked like — Photo courtesy of Wikimedia Commons
Posters containing the message, "It's ok to be white," in large black letters were posted in Jones, Howarth, and the library late on Oct. 31.
Associated Students of the University of Puget Sound (ASUPS) President Collin Noble sent a statement to The Trail about this incident:
"[After] the white supremacist posters were taken down, folks across campus were in varying positions of information and misinformation. When incidents of bias and hate happen, it is critical that students are decisively supported and informed. Administrators responding to this situation did not have enough information to support students of color precisely because students were mostly unaware of the incident. Students of color, and our allies, cannot identify the resources we need if we are not aware of a threat that is posed to us. That being said, I have been assured by multiple administrators that this incident has prompted action to change our community response. I urge students to encourage not only administrators, but the faculty and our peers to make critical changes so we can do the equitable work of supporting all Loggers. We must see ourselves as a complex and whole community that both supports and challenges itself.
"As our campus community responds to a barrage of negativity and divisiveness, we recognize the work of our friends on campus to find healing. Hope lives in the humanity of those around us. We must — and will — continue to provide each other with opportunities to learn, spaces to be seen, and a microphone to tell our stories. (That means restructuring financial resources as well.)
Of course, healing the world is not easy because we must heal ourselves first."
At around 9:30 p.m. on Oct. 31 an employee of Collins library called security about finding one of the posters. A student had initially found the poster and notified a library employee.
According to Fred Creek, the Associate Director of Security, receiving the call and finding the offenders was almost simultaneous. Members of the security team patrolling campus found the perpetrators in Howarth shortly after security was notified.
They were two young people, according to Creek, around the age of 22–25. They are not members of the campus community. When confronted by security, the offenders were calm and respectful and left campus immediately.
It is suspected that they are a part of a national movement that places these posters around educational institutions across the country and internationally.
The posters are part of an online campaign to foster divisiveness and inflate political tension. Users from 4chan, an online bulletin with low censorship and minimal monitoring, encouraged other users to post the posters and spread the message, "It's ok to be white." 4chan is known for being politically divisive, it is commonly seen as a platform for neo-Nazis and white supremacists.
The incident occurred on Oct. 31, but Puget Sound's administration did not address the issue until a week later. Puget Sound's Chief Diversity Officer and Dean of Diversity and Inclusion Michael Benitez informed students and faculty of the incident in a campus-wide email on Nov. 7. The email brings to light the complicated nature of dealing with divisive or hateful messages.
"Puget Sound intentionally did not send a campus-wide message so as to not give power to the persons who created the postings and in order to avoid feeding the apparent purpose of the postings," Benitez wrote.
The University did not publicly address the issue until this email. Instead, they dealt with the issue by removing the posters and confronting the perpetrators, not immediately calling attention to the incident.
This situation seemed to put Puget Sound's administration in a double bind. To call attention to it potentially means proving the 4chan users' ideas about liberal hysteria correct, but to not address it at all would leave students feeling lost and unsupported.
First-year student Mimi Molotsky commented on the issue: "It feels like they aren't actually doing anything. It's pretty passive."
Puget Sound does have a Bias-Hate Education Response Team (BHERT). BHERT works to bring awareness to issues of hate and bias on campus, while also improving how the administration deals with these instances. According to Puget Sound's website, one of BHERT's main objectives is to "assure institutional accountability and responsiveness in addressing bias and hate."
The Trail  asked Dean Benitez about the BHERT criteria for sending out a campus-wide email.   
"Bias and hate is determined by what our assessment of threat to the community is, also tied to federal regulations/definitions. In this case, it is important to note as I mentioned in [the] campus wide message that the recent postings do not qualify as bias incidents," Benitez wrote.
"The decision to respond when we did served the following purposes," Benitez continued. "(1) provide an update after having opportunity to investigate the matter/report and postings; (2) transparency; (3) provide clarity in response to misinformed commentary surfacing throughout campus; (4) to acknowledge that though the postings didn't meet threshold of bias or hate, we understood very well the intent, along with impact such postings had, and are likely still having, on our campus community; (5) remind campus community we take these postings seriously and are addressing the matter; (6) make campus community aware that we are taking action/working with different campus leaders for collaboration on educational programming possibilities about both the postings and the educational work to address these issues."
One of those upcoming educational programs is titled "A Conversation with Security Services and Chief Diversity Officer: Understanding Security Campus Response." It is set to take place on Nov. 28 from 12 p.m. to 1:30 p.m. in the Tahoma Room of Thomas Hall. Dean Benitez encourages campus members to attend.
Tags :
Campus
posters
White supremacist