Cross Country teams sprint into the last leg of the season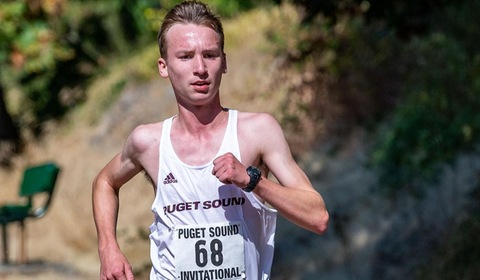 — Photos courtesy of Logger Athletics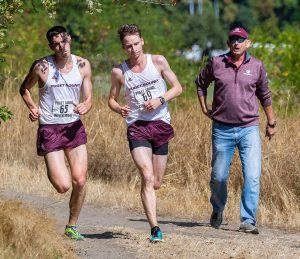 The Cross Country men's and women's teams are starting to gear up for the regular season's second half. The women's and men's cross country teams, currently ranked fourth and seventh respectively, have won one invitational, the Puget Sound Invitational. Both teams had respectable overall finishes at the Pacific Lutheran Invitational, placing ahead of a few conference competitors.
The women's team, with one invitational win under its belt, has fared well so far. At the home-opening invitational, junior Emery Bradlina secured the first-place spot in the women's race, with sophomores Samantha Schaffer and Abigail Dalke taking second and fourth places, respectively. While none of the women placed at the Pacific Lutheran Individual, the team defeated three teams in the conference.
"Our gals are doing well, definitely, but it's not like what it was last year, especially with a couple of girls being injured," Head Coach Mike Orechia said.
Sophomore Rachael Metzler, who finished 10th overall at last season's Northwest Conference Championships, is out of commission because of a recent operation. While doctor's orders keep her from participating in competition, practices and trainings, Metzler is in no way sidelined because of her injury. She is running and working out to the extent that she can until she gets cleared for competition. She and Coach Orechia have faith that she will have done enough physical rehabilitation to run in the last two races of the season.
Coach Orechia said that once she and other injured runners are well enough to compete, they'll have a stronger team. Still, he is proud of what they have been able to accomplish.
"We were fourth in conference last week and we even didn't run three of our top four girls."
The men's team, which was ranked last in the conference last season, has seen measurable improvements in terms of times and competition finishes with this year's roster of runners. The team is a mixture of returning runners and first-timers.
"I thought I was going to take on more of a leadership role, to establish camaraderie with the team," senior Jack Lindauer said. He saw the influx of new runners as a opportunity to assume a mentoring role. The team, however, seems to not need as much guidance as he anticipated.
"Because the team is doing a lot better than I expected, I'm able to actually run and contribute to the team in that way, too," Lindauer said.
What has contributed to the team's overall success is undoubtedly the addition of first-year Colin Monaghan to the team. Monaghan, in just the few weeks he has been running at a collegiate level, has finished first at the Puget Sound Invitational, second at Pacific Lutheran Invitational, and has been named "Student-Athlete of the Week" by the Northwest Conference. Coach Orechia is confident that Monaghan, whose times have been close to or have beaten those of past Puget Sound cross-country greats, is on track to become one of the most decorated runners in the University's history.
For all of the attention that Monaghan has received, the team doesn't seem imbalanced, with Coach Orechia calling the shots over a team that seems to be fighting for good finishing times as a cohesive unit. At the Pacific Lutheran Invitational, the men's team beat four conference schools, which, as Coach Orechia says, is a testament to the strength of the team as a whole.
Coach Orechia, as much as he is impressed by the improvement the men's team has made, is not convinced that either of the teams will have the opportunity to compete in postseason races: "I don't tell them that they're going to make it in the top five or they're going to place if I don't think they will. And the thing is, I don't have confidence that either of the teams will definitely make it to championships."
Coach Orechia seems to be approaching the competitions that lie ahead, namely the conference championships, with a healthy dose of realism. He has confidence that the teams have put in the necessary work and will try their best at upcoming meets, but he also knows that no amount of pep talks will produce qualifying finish times.
"Everything is all about getting our best runners to championships. That's what we're striving for," Coach Orechia said.
The cross country team is set to compete at the Charles Bowles Invitational, the third invitational of the regular season, on Saturday, Sept. 29, in Salem, Oregon.
Tags :
Cross Country
sports