Passages creates opportunities for first years
The beginning of college can be nerve-racking: a new chapter in life, a new school, a new city and for some, a new state.
However, Puget Sound's orientation program, Preludes, Perspectives and Passages, consistently proves its capability at alleviating the fear for new students.
A few days after arriving on campus, every batch of first years at the University is thrown into the three P's of orientation—Prelude, Perspectives and Passages—and this year was no exception.
Prelude introduces students to college-level academics in a one-day course that gives a rundown on how to write like a college student.
Many participants from this year said it granted them a useful glimpse into what their future classes would be like, but opinions about the Prelude experience varied.
"I had expected something that introduced us into "college life," but instead I got a class setting that seemed pretty much pointless," first-year Sage Pintler said. "It was moderately interesting stuff, but there was no continuation of the material so I felt like it was a dead end."
Prelude is somewhat pointless for most students, but experiences became more positive as the week went on.
The next P, Perspectives, was a day of community service at various locations in Tacoma.
"I really liked getting out into the community," first-year Erik Anderegg said of his Perspectives experience volunteering at a local community garden.
As always, the final phase of orientation is Passages, a three-day excursion during which students either spend their time hiking the surrounding mountains, canoeing on the Sound or dabbling in various activities at base camp.
The overwhelming majority of students greatly enjoyed their time in the outdoors, an opportunity that makes Passages and Orientation Week in general so valuable.
"I made so many friends through backpacking along the Duckabush River," first year Keala Yang said.
Yang was not the only one who felt the same. The Passages experience gave a handful of strangers the opportunity to become a close-knit group of friends.
Previously, first years did not  have the opportunity to get to know anybody beyond his or her name and home state, so three days in such an individualized group was a nice change of pace.
At closing campfire—the event that rounded out Orientation Week and signaled the end of Prelude, Perspectives and Passages—each Passages group created a cheer referencing some event that took place during their time together.
These chants were usually filled with inside jokes and while outsiders looked on perplexed, the groups would sit down, laughing amongst themselves.
While Maroon group, the first half of first years to attend Passages, had beautiful weather for their entire stay, White group, the second half, was not so lucky. They had to deal with sporadic showers of rain.
Those at base camp could run to some sort of shelter to keep dry, but others didn't have that option while hiking or floating across the Sound.
Despite the rain, Passages is still valuable. For many, it even served as a highlight; going through rough times together can help bond a group for good, helping first years to find their first new friends at school.
"Everybody just kept enjoying the moment even though they were getting soaked," first year Madeline Kerala Stine said, referring to the downpour at closing campfire. "It was a good final moment."
This downpour was one of the many stories that students were talking about upon their return from Passages.
Passages is valuable because it leads to unique experiences that help to ready one for their first days of college.
Taking time before the stress of classes to get outside and get oriented is crucial to making first years a little less nervous. These experiences can be meaningful, silly or both, but all of them are valuable memories.
First year Meagan Mackay's Passages group woke up with their breakfast of oatmeal missing. During the night some animals, likely raccoons, had taken it. They had a great solution for their predicament—instead, they ate their leftover s'mores for breakfast.
It was moments like these that brought the Passages groups so close together.
This is such a boon at this time when first years really need a group to depend on. Many are far from home and have little to no support system established within their new surroundings. But within those three days they were given the feeling of being included.
"Orientation week really made me feel like a part of the Puget Sound Community," Yang said.
Most people remember their first few days of college; at Puget Sound, students have a first week of college that they will never forget.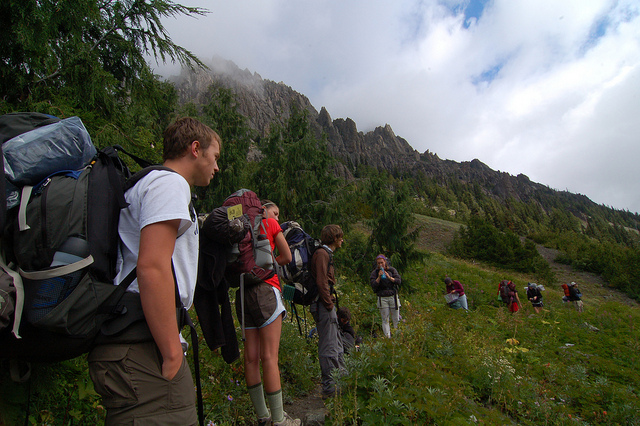 Tags :
backpacking
Base Camp
canoeing
first years
Orientation
pacific northwest
Passages
Puget Sound
Puget Sound Life