Volleyball team stumbles at start of preseason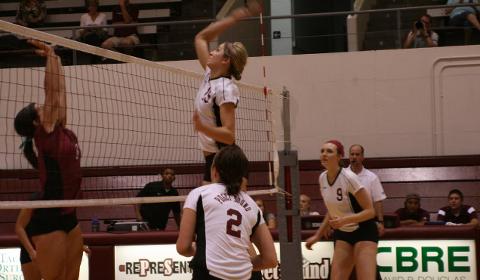 After a tough preseason, with a 1-8 record, the Logger volleyball team is back and ready to take on conference play.
First year Katie Rice (Glendora, Calif.) has her eyes on the prize.
"My goal is to get some wins," Rice said. "Our team is really good compared to the other teams in our conference and I think we can place really high."
The Loggers are currently ranked as one of the bottom two teams in the Northwest Conference but, according to the Loggers Athletics website, the team is projected to finish second, following Pacific Lutheran University.
"PLU is ranked nationally right now, and we are looking to beat them," first year Moira McVicar (El Dorado Hills, Calif.) said. "If we aren't able to completely defeat them, it should still be a pretty close game."
The Loggers played three matches against PLU in both 2012 and 2013. They won two out of the three games both years.
According to junior Andie Kenneally (Bend, Ore.), the team's match against PLU will be their most intense of the season.
"PLU and Puget Sound both play super intense. Nothing drops without a fight," Kenneally said. "It's all or nothing in those types of games. That's the game where everyone comes ready to compete."
With 14 of their conference matches still remaining in the season, the Loggers have a good chance to make up some lost ground.
"We have amazing blockers, but we really need to step up our hitting," first year Maggie Van Wheele (Sebastopol, Calif.) said. "So, against Whitman and Whitworth, we are really focusing on being consistent and coming out hard and strong."
With eight first-year players, Van Wheele attributes their slow start to the fact that they are a young team.
"We haven't had the records we want," Van Wheele said. "So it is all about trying to find our flow and how to mesh."
With such a big recruiting year, the team's rotations this year include more first-year students.
"The freshmen have a lot of catching up to do and they have a lot to learn. They bring so many different dynamics and backgrounds on to the court," Kenneally said.
In addition to the new players, the team is made up of three sophomores, eight juniors and one senior.
Most recently, the Loggers competed at the Trinity Fall Classic at in Tex. on Sept. 12-13.
Going into the tournament, they knew it was going to be tough.
"Our coach asked to have a really challenging line up for us," Van Wheele said. "So we were playing some really high-level teams."
Kenneally compares it to stepping into the unknown, and that's what made it especially difficult for the Loggers.
"There were a lot of different teams there that we hadn't played before. We knew going in that we weren't going to be 100 percent prepared," Kenneally said. "We didn't know enough about the other teams: how they played, who their biggest hitters were, and who to stay away from serving at."
Instead of focusing entirely on winning, the team aimed more focus toward their mental game.
"We just went in with the mind-set of focusing on ourselves," Kenneally said. "We went in with the mind-set that 'we're here to do what we've been practicing.' "
After opening the tournament with two losses on day one against Mary-Hardin Baylor and Southwestern, the Loggers came back ready to play on day two.
They first faced the Texas Lutheran Bulldogs in a five-set match that resulted in their third loss of the tournament.
"Our match against the Bulldogs was definitely our closest and most competitive game," Van Wheele said. "Things finally started to click."
The Loggers started off the first set strong, winning 25-17, but then fell short in the second and third sets, losing 25-21 and 25-16 respectively.
During the fourth set, The Loggers played neck-and-neck with the Bulldogs until they managed to pull ahead and win 25-19 after three consecutive kills, two by senior Nicolette Reynaud (Los Gatos, Calif.) and one by junior Shawna Smith (Longview, Wash.).
The Bulldogs built a four-point lead in the beginning of the fifth set, but the Loggers continued to fight until the end. The score was brought up to a tie of 6-6 after kills by Smith and junior Heather Sangster (Los Altos, Calif.).
Still, they fell short, losing their last set of the match by only three points.
Reynaud and Rice led the team in points, both scoring 14.5. Not far behind was Sangster who racked up 12 points.
Later that day, the Loggers closed out the tournament with a fourth loss to Trinity University.
They averaged a kill percentage of .020 percent during the three-set match while Trinity led with .317 percent.
Reynaud, Rice and Sangster each had 20 total kills, and first year Hannah Stinson (Portland, Ore.) came out with the highest kill percentage of .444 percent.
"We learned a lot about our team chemistry [in Texas]," first year Shelby Kantner (Spokane, Wash.) said. "We didn't do as well as we hoped, but we got a lot figured out."
Although it was a challenging weekend, the high-level teams at the Trinity Fall Classic prepared the Loggers for what lies ahead in conference play.
"We figured out from Trinity what exactly we needed to focus on, and where we need to continue to develop as a team," Kenneally said.
The Loggers will continue conference play this evening as they take on Willamette Bearcats at 7 p.m.
Tags :
Athletics
logger
preseason
sports
Volleyball