Women's lacrosse seeks to end season strong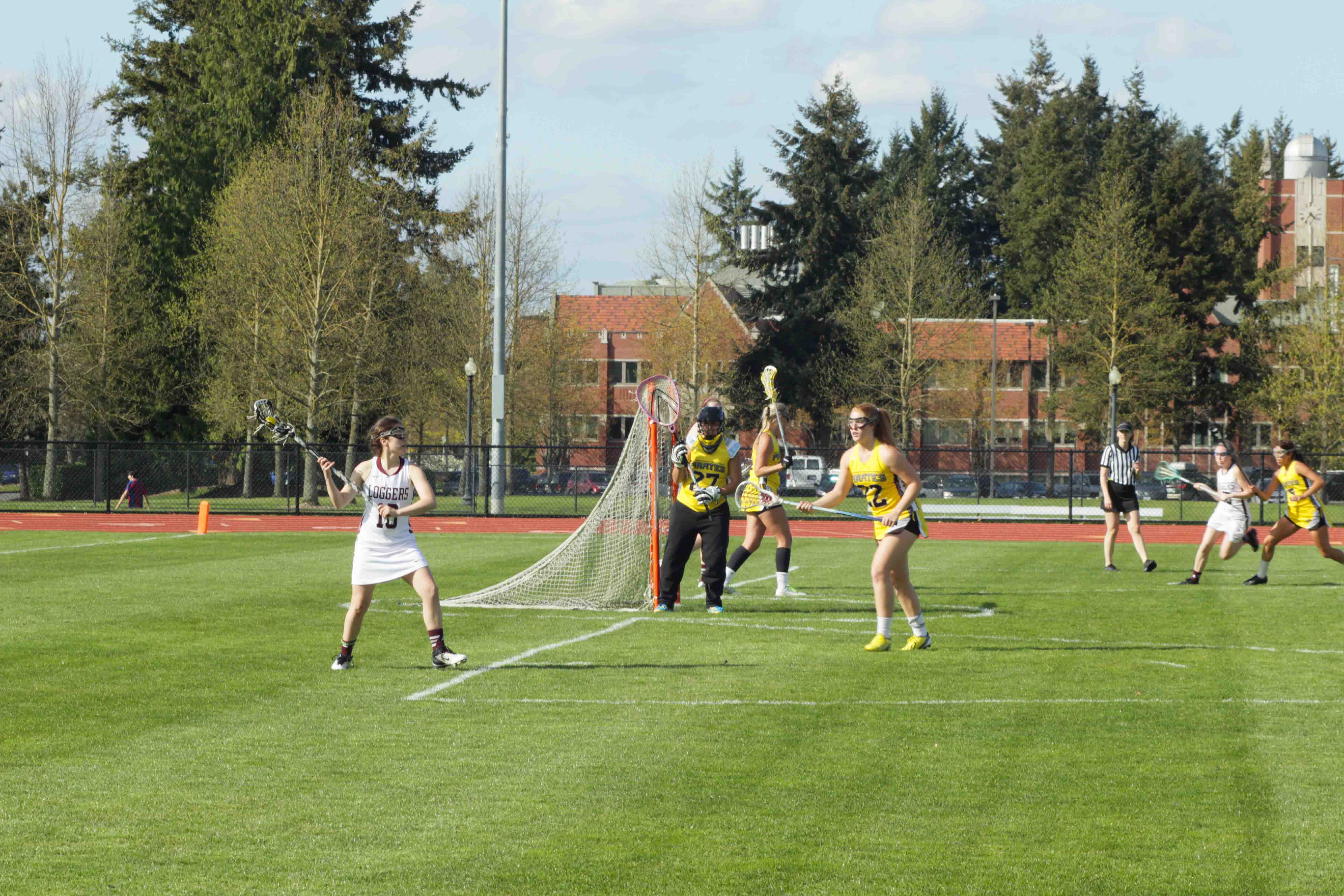 With only one game left until the season is over, the women's lacrosse team is ending strong with two dominant wins. On April 6, the Loggers played Linfield and defeated them with an exceptional win of 23-5. This game had many highlights due to the dominance the team had.
The Loggers scored 15 goals in the first half while Linfield only scored five, which was their total for the whole game. Less than a minute into the game Kerri Smith (Kirkland, Wash.) scored the first goal of the game, her 25th goal this season. About two minutes after Sierra Edgerly scored the first goal for Linfield.
The women's lacrosse team has a record of 7-9 for the season thus far and have really grown as a unit this past season. Many of the players are incoming freshmen which allows for growth and experience to occur during their college career. There are currently no seniors on the roster which causes the Loggers to have to work extra hard in creating a reputation for Logger's lacrosse.
Due to the large gap between points, many players managed to score their first collegiate goal as they were able to work the field and switch up positions.
Junior and captain Lauren Stuck (Mount Airy, Md.) scored her first collegiate goal which was a highlight since she is a defender. Other highlights included freshmen Megan Bacher (Carlsbad, Calif.) and Elena Becker (Bellevue, Wash.) scoring their first collegiate goals. Bacher ended up scoring three goals throughout the game.
Throughout the season freshman Olivia Keene (Whitman, Md.) has been a crucial member of the team which she has proven from her continuous goals to her draw controls.
"I started playing lacrosse when I was seven. Everyone in my family plays so I had a lot of people to teach me and show me what I could become. I loved playing on both the county team and my school team in middle school and then played on just my school team in high school. I initially didn't want to play varsity sports in college, but when I tried to imagine my life without lacrosse, I couldn't. I love the sport. It somehow managed to be both fluid and graceful and rough and tough at the same time.  I also love how the individual and team components of it are equally important," Keene said.
During the Linfield game, Keene also had an accomplishment of having a season high in draw controls of 14.
This past game against Southwestern, a Texas university, Keene broke the Logger's single season scoring record with 57 goals this past spring season.
Highlights from the Southwestern game included scoring 12 goals in the first half.
Smith also scored the first goal of the game like the last one. The last second of the first half ended with a Southwestern player's shot on goal but was saved by Puget Sound's Hailey Palmore (Tualatin, Ore.). The second half was not as eventful as only five goals were scored.
Junior Haley Jackson (Seattle, Wash.) who has been playing since middle school added to the moments that occurred in the past game. "Highlights from our last game against Southwestern is that we won and as a team had a great game.
Our transitions from defense to offense was really well, the defense did a great job with communicating with each other, both of our goalies had a great game and each played a half, our offense had some really good shot placements and one of our players, Olivia Keene broke the season scoring record on Friday," Jackson said.
The lacrosse team has its last game of the season on Wednesday April 16 against Loras.
Since it is their last game as well as a home game, the Loggers would appreciate any and all support.
Keene expressed what the lacrosse team means to her and the positive experience it has allowed her to have during her first year at Puget Sound.
"I played lacrosse in college to stay in shape and because, like I said, I love the sport and want to spend as much of my life playing it but one thing I did not expect is how close I would get with my teammates, coaching staff, and training staff. They are all so supportive and I cannot imagine college without them. I would play college sports just to be a part of that community," Keene said.
Tags :
Athletics
end of season
Lacrosse
logger
sports
women's