Victor Wooten: Prophet for a new music theory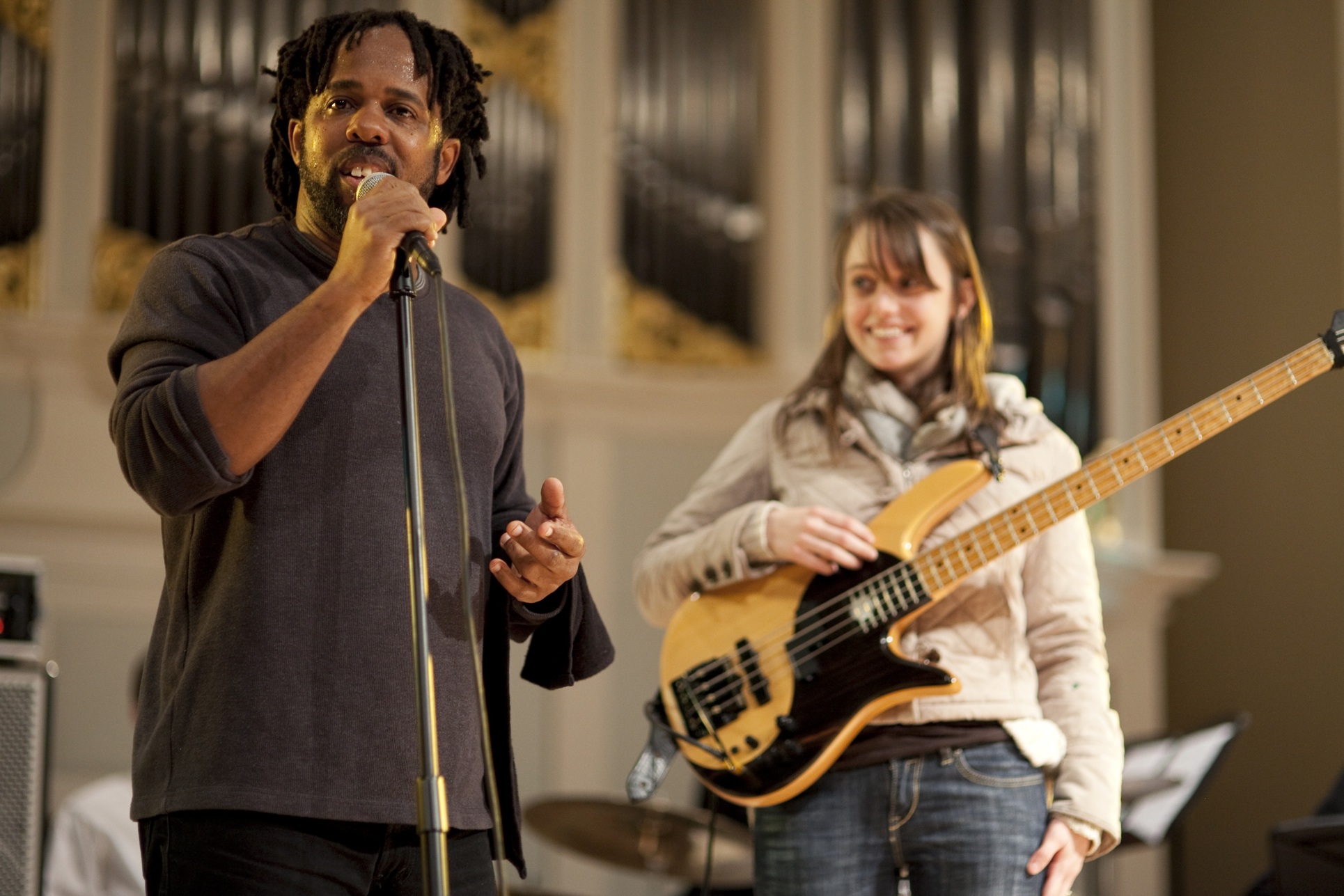 On Feb. 5th, 2011, world-renowned bassist Victor Wooten spoke about his new book The Music Lesson and played music alongside Puget Sound's own musicians. But before he held his performance in Kilworth Chapel last Saturday night, I had the pleasure of sitting down with him to inquire about his early life, his influences, his hobbies, his beliefs – especially his philosophy about music – and what it should mean to us.
Before I even sat down with Wooten for our interview, I overheard some words of wisdom. As Wooten set his bass down following a long jam session, some fanatic music students surrounded him.
They asked Wooten what music he liked playing best, to which he replied, "I am never afraid to play anything. I don't have a genre of music that I like more than any other. A lot of musicians these days stick to one style of music, one school of thought. It doesn't mean I'm a better musician, it just means I'm free." It was an abstract response, as I came to find was customary of his personality, but valid.
When I finally sat down with Wooten, the first thing I asked was about his playing style – how he seemed to let the music flow through him, accepting that he didn't always know where it was taking him.
He then explained to me his personal theory about music through a well-crafted metaphor, the main concept behind his new novel.
"Music is like a language, " he said. "You don't need to know the rules behind it to speak it.  It always helps to know the rules behind it but it isn't, by any means, necessary. Anyone can pick up an instrument and learn it because they don't need to know the rules. They just feel it."
Wooten laughed as he told me the reason he didn't follow his initial passion to become a drummer: "The band needed a bassist."
As a kid learning to play, his four brothers filled every other position in their band. Growing up during the time of Motown's explosion onto the music scene, the Wooten brothers had many influences from which to pull.
The brothers originally met Béla Fleck through their friend and fellow musician, Kurt Story. In 1988, the Wooten brothers moved to Nashville, Tenn. to start playing in a band with Béla Fleck. Five Grammies later, the rest, as they say, is history for Victor Wooten.
I asked about Wooten's hobbies, and he responded with sports, martial arts, reading, writing and most importantly, he told me, people.
He's also a big nature enthusiast – he loves to spend time in the forest, constantly bettering himself at living in synchronicity with nature.
When asked when he is happiest, he replied, "Whenever the people around me are happy. When my wife, my kids, or my friends are happy: that's when I'm happiest."
To wrap it up, I asked him broadly what he hoped his music conveyed to people.
"I want to make people feel good. I hope to inspire people to do whatever it is they want to do," he replied.
Later that night, I saw that hope embodied in the crowd attending his performance. Kilworth Chapel was overflowing with fellow Loggers and Wooten fans alike, and when Wooten was speaking or playing music, everyone was transfixed by his every move.
A key moment of the performance was when Wooten asked for a show of hands of people who had never played an instrument before. When a girl raised her hand, Wooten asked her to come onstage with him, where he proceeded to sling his bass over her neck and ask if she would play.
As he told her how to play the bass, the theory he so lovingly preached was proven —  she learned quickly, seeming to feel what she should be playing naturally without his help at all.
For a while, he elaborated on the concept of his novel and then played more songs: some he played solo where he harnessed his loop pedal masterfully and others he played with our jazz and funk bands.
Wooten also noted that Béla Fleck and the Flecktones would be coming out with a new album, Rocket Science, in May and said to log on to VictorWooten.com for more information.
With that, Wooten departed — touching more lives with his sincere words and heartfelt music than he could possibly know.
[PHOTO COURTESY / GREG NISSEN]
Tags :
Concert
music