Wind Ensemble's Colorado tour a success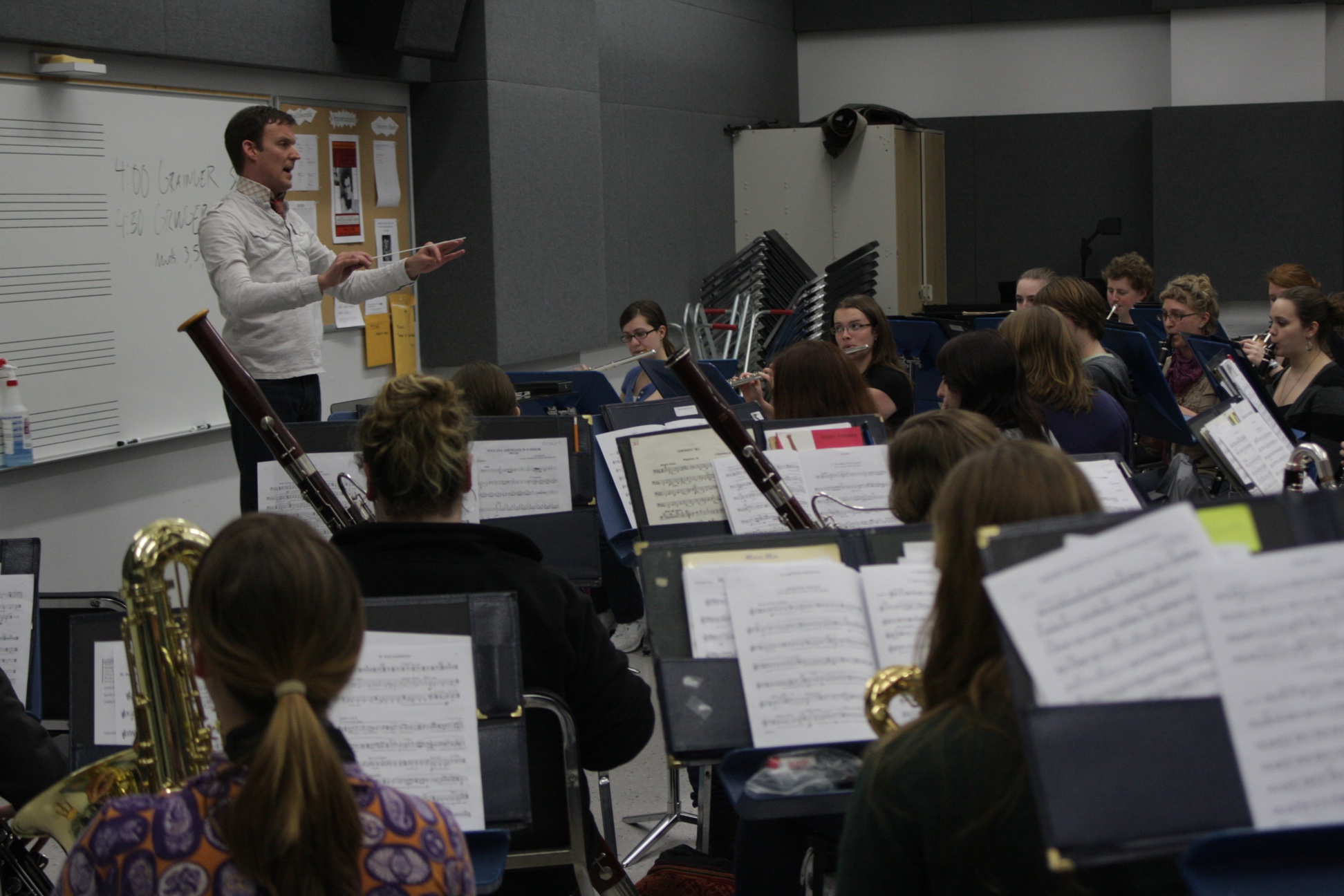 For those readers like me that don't frequent the School of Music, well, on the inside it looks pretty much like any other building on campus. The difference lies in the sounds.
Anyone who has walked through Karlen Quad, regardless of the time of day, has heard the lively sounds of the music building at play —  a piano, a flute, even a woman warming up her vocal cords.
Such was the scene as I entered the building to talk to Professor Gerard Morris about the Wind Ensemble's recent tour around Colorado.
Morris is the University's Director of Bands. Even though he has only been working at Puget Sound for two years, it seems as though he knows the ins and outs of the music program like the back of his hand.
"We take turns touring; one year it will be the band, then the orchestra, then the choir. This year I was told, 'It's your year to tour,' and I thought, cool!" Morris said.
Traditionally, the touring group tours the I-5 corridor. There is a relatively small budget for the tour and I-5 is usually the most logical in terms of spending.
But this year, Morris wanted to try and do something different — he wanted to give the students a new and memorable experience while simultaneously building a name for our university.
"What it boils down to for me is that I want to give my students something to remember," Morris said, "and I want people outside of our region to know who we are."
He then told me a story about how he once told someone that he worked for the University of Puget Sound, and they had thought we were on the East Coast.
Understandably, Morris then made it his mission to have people know about our university. "You know what they say, if you always do what you've always done, you always get what you've always gotten," he said.
Colorado was at the top of his list of places to go to start doing something new for his students and making a name for our music program.
Morris had lived and worked there for seven years, and was itching to get back. "I thought, well, we need to go back to Colorado, well, I want to go back!" he said.
So he, with the help of Jay Herman, a member of the Wind Ensemble, asked ASUPS for some additional funding and made the budget work.
Their first performance was in Frisco, Col. on Jan. 9. The bus ride took 30 hours, but Morris didn't complain, and apparently the students didn't, either.
"The students were awesome on the road, they handled it like pros," he said. "No one complained about anything, we watched a lot of movies, played a lot of games, and had some very interesting philosophical conversations. It was lots of fun."
With the exception of one stop in Colorado Springs, the ensemble did home stays every night of the tour.
"Yeah, it was great!" Morris reported. "One night kids were even soaking in hot tubs when it was zero degrees outside under the stars."
Ultimately, the tour proved to be a great experience for everyone involved. They had a total of six performances all across Colorado, got to practice with (and learn from) Allan McMurray, a highly renowned conductor at the University of Colorado, and were received incredibly well by all of their audiences.
"I think my favorite moment of the tour was getting to work with Professor Allan McMurray at CU Boulder," Emily Strong, a senior flutist for the Wind Ensemble, said. "He's an incredible musician and teacher, and I think the group learned a lot from him."
"The students played brilliantly," Morris said as tears began to well in his eyes. "They worked so hard. I know people know of us on campus, but I don't think they appreciate how amazing the students really are. I was just so proud."
After one performance, Morris was even approached by a member of the National Repertory Orchestra, who told him that his students should be auditioning for them.
But for Morris, it really came down to the last night of the tour in Loveland, Colo. That night, after finishing their performance, the ensemble received three, that's right, three, standing ovations from their audience.
"At that moment, when I walked back on stage I looked at the ensemble and their faces, and I could just tell that they were proud. I don't think I've ever felt so close to them, I just started to cry," Morris said. "Every moment was tied into that moment."
"The tour was a grand slam homerun for both the students and myself," he said, "and also for the University as a whole. People were just shocked seeing us perform. They know what the University of Puget Sound is now."
Of the 52 members of the Wind Ensemble, 48 were able to go on tour with Morris. During their time away, they spent countless hours on a bus, met great new people, impressed audiences all around the state of Colorado and grew closer as a group.
"I think the tour definitely influenced the ensemble!" Strong said. "Bonding during the travel time brought us closer together as a group, and playing so much together really helped us settle in to each others' musicality. I think it was great for us as a group."
"It's all about the students for me," Morris concluded. "I was so happy throughout the trip. We grew together; we really got to know each other. If I had the money, I'd do it every year."
[PHOTO COURTESY / KEVIN CURLETT]
Tags :
music
Wind Ensemble