Jazz Orchestra Fall Concert Review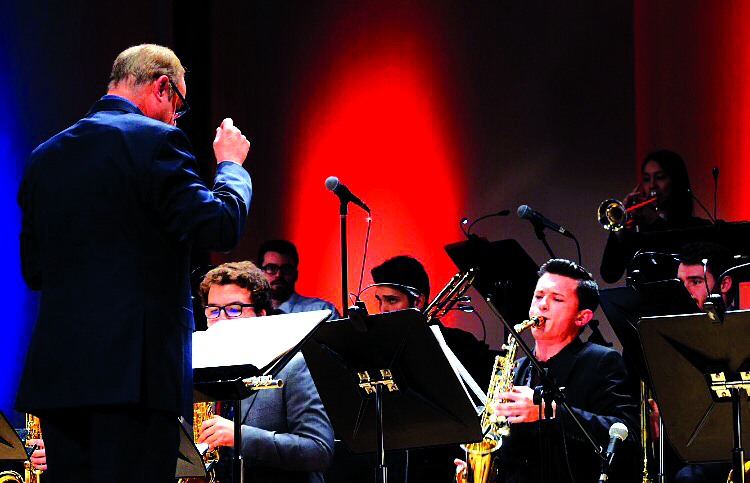 Pictured: The University's Jazz Orchestra performing their fall concert — Photo credit to Rowan Segura
I don't know if it was the players, the sound system or the music selection, but during Friday's Jazz Orchestra's concert, their first of the year, I've never heard the group sound better. The orchestra tore through a diverse set of bouncy and smooth big-band jazz tunes that gripped the packed Schneebeck Hall crowd for the entire performance.
The orchestra started off the evening strong with a bright and tight rendition of "Ain't It Wonderful" by Tom Kubis. This song set the tone for a fantastic night of music that displayed the orchestra's talent as a cohesive unit and as individual artists. After the orchestra played a great piece by Toshiko Akiyoshi titled "Long Yellow Road," band director Tracy Knoop took to the microphone for the first time that evening.
The always-charismatic Knoop got the audience laughing and then gave a brief history lesson about the group's next song, Duke Ellington and Billy Strayhorn's Shakespearean ode, "Such Sweet Thunder." Throughout the night Knoop spoke to the audience in a genuine and light tone, reminiscent of a comedian doing crowd work, and made the whole concert experience feel inclusive to everyone in the auditorium.
"When I was a little boy, my father had all these record albums — he had a lot of the records by this big band called the Stan Kenton Orchestra," Knoop said, introducing the orchestra's beautiful and dynamic performance of Kenton's "Body and Soul."
The middle third of the concert probably produced the most interesting stretch of song choices and performances, including a Latin-flared Eddie Palmieri track, "Palmas," an extended big-band interpretation of Radiohead's "15 Step," and a smooth, loungey track by Kris Berg titled "Lifelong Friends."
The orchestra finished the night with Pete McGuinness' "Nasty Blues" and Sammy Nestico's "Magic Flea." After a standing ovation, the orchestra sat down for an encore of an unnamed Barry White arrangement, which led to yet another well-deserved standing ovation for Knoop and the orchestra.
"It's a family affair up here," Knoop said after making a witty remark at the guitarist's expense. While this line was said mostly in jest, the family dynamic was fully apparent throughout the orchestra's performance. As the band maneuvered through their set of exciting toe-tappers, sentimental slow songs and even some experimental arrangements, they appeared comfortable and trusting of one another.
Maybe it wasn't just the musicians or the song choices that made this year's fall Jazz Orchestra concert so wonderful. Maybe it's the family connection in this year's ensemble that did it — their assurance in one another giving each player a confidence that bled into each tune, drawing the audience in and creating a memorable evening of music.
Tags :
Fall Concert
Jazz Orchestra
music