Going vegan: a testimony of learning to navigate the cafeteria sans animal products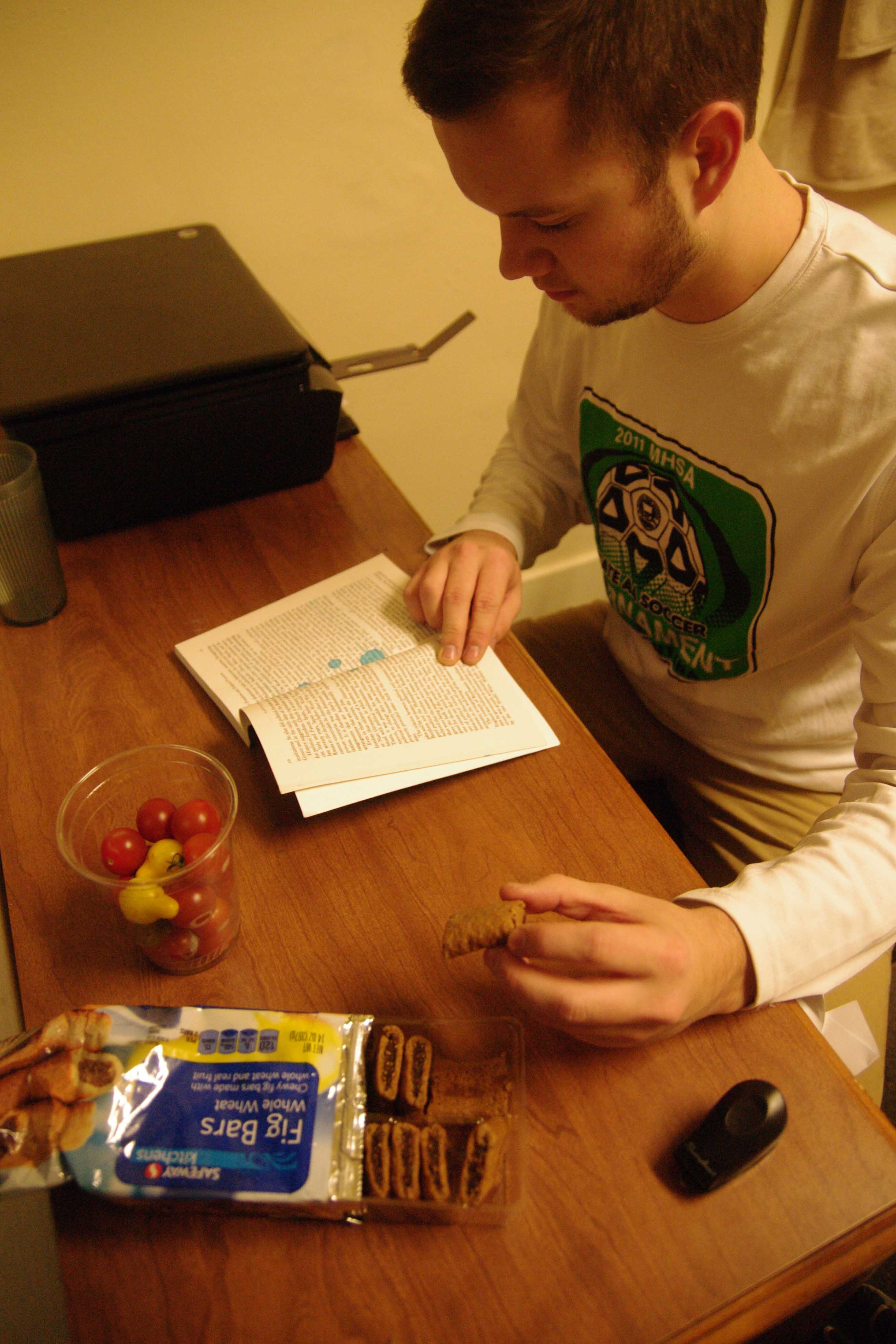 I have been vegan on and off for around two years now.  I always do really well for about a month and then the cravings set in and somehow I find myself eating a nice juicy steak. It hits my stomach and I feel absolutely terrible. Then over the next few days I typically start to reincorporate seafood and chicken back into my diet and eventually go back to my omnivorous self. The cycle continues.
Now, these periods of being a vegan don't result from any moral issue with eating meat; rather, it is a health matter.
I am not saying that being vegan is the healthiest option available for everyone. You can eat vegan and pig out on all sorts of terrible food  but the terrible foods you can eat start to get restricted. The real reason I do it is because I don't like vegetables. Fruits are awesome. No problem. Vegetables, on the other hand, I tend to avoid.
When choosing to eat vegan, though, I find that I have to eat vegetables a lot and that when I do, I feel less sluggish and have more energy. So it's a simple equation. Carnivore Sarah = not many vegetables; Herbivore Sarah= all of the vegetables.
When I returned back to school I knew I would be eating in the
cafeteria so I decided it would be easier to go back to being an omnivore.
I know that many people mirror this attitude.
"I didn't want to deal with the stress of what I would eat every day. It was an easy transition, since being vegan was more of a personal challenge than a moral decision," said sophomore, Alania Davis.
After the first month of eating meat again this year I started to feel sluggish, so I decided to see if I could make it as a vegan for one week eating solely in the cafeteria without any outside cooking.
I found that breakfast was, by far, the easiest meal of the day. I don't like eggs all that much and usually eat oatmeal. The oatmeal in the cafeteria is made with water so no problem there. A lot of the cereal options are vegan as well; one just has to get soy milk from the fridge.
Lunch was the most difficult meal to eat vegan. I am usually running around during the normal lunch hour and eat around 3 p.m. Options are pretty limited at that time for any kind of diet. Luckily the Latin American station now features boca burger "meat" which is a great substitute for meat. There is no vegan cheese at this station but anyone who wants to eat vegan forever or just for the day can add in some salsa and black beans and build up a great flavor profile.
Another great option at any hour is the sandwich station. Regardless of whether or not I'm eating a vegan diet, I rarely – if ever – eat deli meat. Vegan field roast is delicious and has a very meat-like texture.
Sophomore, Maya Richman also loves eating vegan at the sandwhich station. "I love putting humus and loads of veggie goodness on sourdough bread," said Richman.
Eating dinner as a vegan is pretty easy as well. The vegetarian station always has at least one vegan option. My favorite last week was the hazelnut patty with mushroom gravy. It has a flavor that reminds me of Thanksgiving and was heavy on sage and thyme. The Asian station features vegetarian options most the time. I found that the tofu options for half the week were vegan.
Our cafeteria has a small selection of vegan and gluten free baked goods from the Flying Apron, a bakery based in Seattle. While I do not have many good things to say about the muffins; if you can get your hands on one of the cookies it is a must try.
Tags :
cafeteria
SUB
Vegan