Justin Vernon returns to music scene with new blues and rock band, The Shouting Matches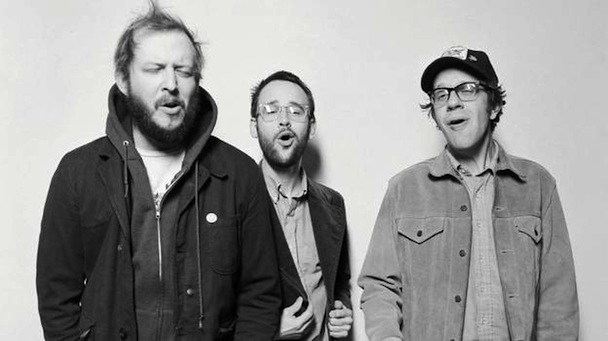 Formed by Bon Iver frontman Justin Vernon, The Shouting Matches splash boldly onto the music scene with their new release Grownass Man. This band is born out of Vernon's hometown Eau Claire, Wisc., as an outlet for Vernon's sudden excess cash and desire to help out some friends, boost their careers and have a good time himself.
The Shouting Matches is made up of Vernon and old hometown friends Phil Cooke and Brien Moen. However, this project isn't just an amateur adventure: Cooke is a member of a previous band called DeYarmond Edison, and Moen's credentials include time spent in the group Peter Wolf Crier. The experience of these three men includes a wonderful background of blues, classic rock, gospel and folk, all of which contribute to the overall sound of Grownass Man.
It would be easy to assume that this project, with Vernon's stamp on it, would be another vulnerable, mellow indie production such as his famous and award-winning For Emma, Forever Ago.
But after listening to the two records, it's almost hard to believe that the melancholy Vernon was capable of having such a good time in Grownass Man. The Shouting Matches have done a wonderful job on this album of capturing the sense of being a twenty-odd year old young man just trying to have a good time. The album is loose, loud and carefree.
It begins with an unapologetic classic-rock-inspired electric guitar intro to the first song, titled "Avery Hill," which bursts into a soulful rock song that makes one wish they were lounging in a park or dancing at a summer music festival.  The enthusiasm of these three young men is contagious from this first number, and the momentum built from this excitement continues through the rest of the album
The second song, "Gallup, NM," features some of the more recognizably soulful vocals of Vernon, but backed instead by ragged rock-and-roll, instead of delicate acoustics. "Heaven Knows" features some very 1960s-esque grinding guitar licks and drum fills.
This is a refreshing return to classic rock's emphasis on these two versatile and essential instruments: the guitar and drums, and their expressive and passionate performance fills this track.
The track "Mother, When?" paints the picture of a young Southern man on the run, and the gospel-inspired keyboard and cleverly plucked guitar in the song effectively mimic the rolling motion of a train. This leads into "Seven Sisters," arguably one of the showstoppers of the album. This song is easy on the ears, and has a smoother tone than some of the other rougher tracks. Its repeating lyrics and attractive tune can get people singing along comfortably by the end of the track, and could become an essential addition to the upcoming summer's soundtrack.
"Milkman," with a classic, soothing walking rhythm plucked on the bass behind a fun and flighty guitar solo leads in to an evenly cadenced drum backing. This is a nice moment of relaxation amongst the excitement present in the beginning of the album. The entire track is instrumental, which also goes against our modern expectations for what a song consists of, but it is such a pleasant and well-executed composition that even those accustomed to the standard band-and-vocalist construction will certainly find enjoyment in it.
Perhaps the catchiest of the album and what is likely to be the most publicized "New Theme," like "Mother, When?" capitalizes on these young men's gospel experience. The track is backed by keyboard and fronted by classic harmonies and call-and-response vocals from Vernon, Cooke and Moen.
Another favorite of the album, "I'll Be True," comes in near the end and is much more muted than the other songs of the album.
In a simple folk-song rhythm, the boys sing in harmony to a love far away, while indulging in calmly plucked guitar riffs and harmonics. As the title suggests, the song is a sweet and genuine promise and paints a beautiful picture of longing from the previously aloof group.
The album is a masterpiece of style and boldness, and the carefree joy the men had creating it surely comes through in its sound.
This album is sure to gain momentum as people need something loud and free to refresh them from the grind of the end of the school year. Make Grownass Man a part of your upcoming summer music library and give it a listen on Spotify or purchase it at the iTunes store.
PHOTO COURTESY / STEREOGUM.COM
Tags :
blues
bon iver
justin vernon
music
rock
The shouting matches