Q&A's successful annual drag show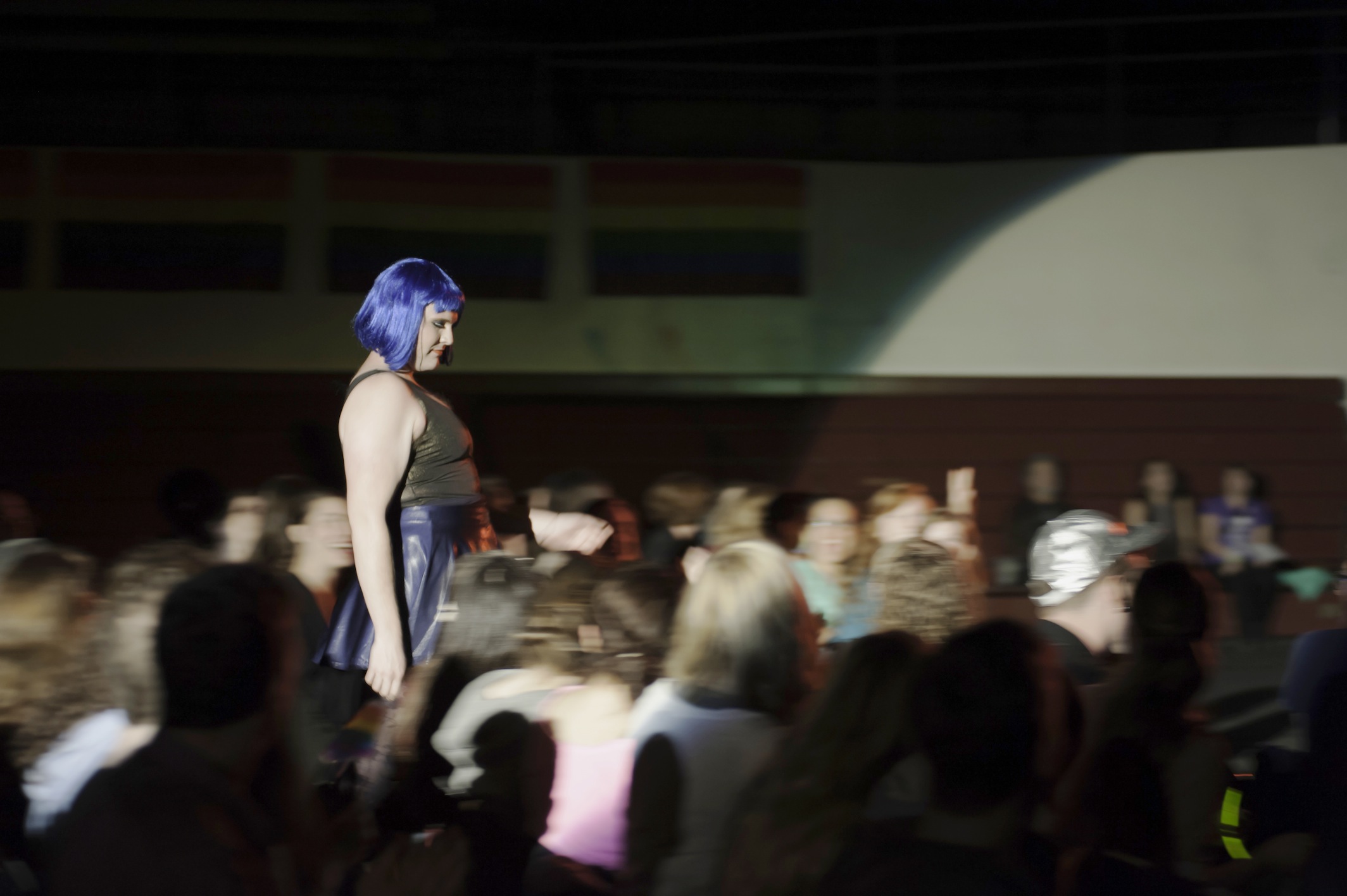 A University of Puget Sound tradition since 2002, this year's Drag Show, consisting of 17 fabulous acts, was a complete success with an incredible group of talented performers and a great turnout. From song references and joke references to the movie White Chicks to a crowd-rousing Space Jam act, audience members who attended were cheering and tipping throughout the entire show.
As Q&A's main event of the year, the main purpose behind the show is to share a unique aspect of the queer community with the entire campus, while also raising funds that go directly to the LGBTQ scholarship on campus.
Working as an entertainer at Lashes Caberet in Seattle, La Saveona Hunt was thrilled to host this year's event for the first time. Putting on a show-stopping performance with fast-paced choreography in a shining black mini dress and six-inch stilletos, Hunt gave the show a stunning start and proceeded to host the rest of the show with humor sass, and quite a bit of flirtation.
"I think life is way too short to take seriously, a lot of people in the gay community need a role model and that is what I like to be, someone they can look up to," Hunt said.
One lucky raffle ticket winner won a public dinner date with drag show diva Miss Chevious, also known as Jason Rison who has rocked the drag show stage for the past four years and graced this year's show with an impeccable Christina Aguilera lip sync performance. His gospel hands and platinum blond hair rivaled Aguilera's actual performance in both theatrics and style.
"I got the chance to be a big character on stage and it was a lot of fun," Rison said after his fourth and final performance.
Also Hannah LeFebvre's last performance as Sirius Lee, she left the audience stunned with the sheer talent experienced on and off the stage from her act. Reading a newspaper on stage, Sirius Lee surprised the audience when the iconic "Gangnam Style" began to play and PSY's dance moves were executed with style and cheers coming from all parts of he audience. The energy she produced on stage was infectious and got everyone in the room pumped and excited.
The Universtiy of Puget Sound's only mixed a capella choir, Underground Sound, made a special appearance singing a beautiful version of Taylor Swift's "I Knew You Were Trouble" and a Michael Jackson medley. They also nailed an impromptu love song performance of "I'm Yours" by Jason Mraz requested by Hunt.
"I have been helping to plan the show for the last four years. As a freshman, it was a really excellent opportunity to get involved with Q&A and get to know some of the other members. For the last two years, Mel Kohler and I have been the drag show dream team, as we made the transition from the smaller Marshall Hall drag show of the past to the bigger Field House production," Emily Bader, President of Q&A, said. "Given that Mel and I are graduating, we knew we would need to pass the torch in order for the show to remain in the future. We truly appreciate the support we've gotten from the campus community and love that everyone comes out to support the show! Alena Karkanias has been with us this year learning the ropes and will take over for what I'm sure will be an amazing 12th annual show next year."
Due to increasing popularity, the club successfully managed to triple their yearly donations to the scholarship fund and can now split the scholarship and offer it to two students rather than just one.
The club begins performance selections early in the spring term. Q&A has a no-cut policy in terms of people who would like to participate in the show, as long as they are going to take it seriously. The club welcomes all performers to join the show, so think about auditioning for next year's show and be a part of this fun, memorable drag show experience.
PHOTO COURTESY / LAURENCE STACK
Tags :
drag show
la saveona hunt
LGBTQ
q & a
ups