New KUPS radio show "Experience the Sound" offers live sets to students and performing space to artists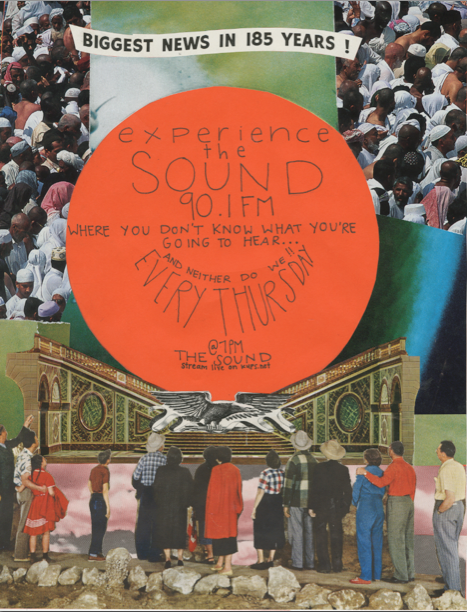 "Experience the Sound," the unique addition to our award-winning radio station, is an hour-long segment that serves as an on-air open mic night.
It is open for both aspiring student musicians and local artists that wish to showcase their talents to a larger population.
The slot begins with a motto speaking to the spontaneity of the show, "You don't know what we're going to hare and neither do we." In-Studio Director Logan Miller founded "Experience the Sound."
Hosting his first post-punk, post-rock, and doom metal-themed radio show freshman year, Miller decided to increase his involvement in KUPS by organizing in-studio performances for the station.
Miller was inspired by the array of touring bands in the Tacoma area. He also recognized the ability to utilize a lot of the equipment at the station. This was how "the idea for people to come in and play their sets" was formed, Miller said.
Getting involved in KUPS as much as her schedule permits, sophomore Andrea Eaton has been a DJ since the fall semester of her freshman year and is also a part of the "in-studio crew," helping with the setup of live music broadcasts with the help of a lot of other members, including Operations Manager Lawrence Huffines and Miller, who help the crew understand the mechanics and details that go into broadcasting live.
When Miller first approached Eaton with the idea for "Experience the Sound," he immediately "knew that it could have some serious potential, not only for KUPS but also for our campus's musicians and the Puget Sound community."
Eaton also added that, "There are so many good artists on our campus and with 'Experience the Sound' they have a chance to show the world (or the airwaves) what they're all about! Local music is so important to a community and being able to show people everywhere that we have all this local music pumping through the University's community is really an awesome thing."
Helping listeners understand the function of the crew, Eaton said, "The whole in-studio crew is responsible for contacting bands, getting them to play for KUPS, advertising and getting KUPS's name out there, much like KEXP does in Seattle."
A studio art major in print making, Eaton designed the beautiful poster for "Experience the Sound" with the intention of making people that pass by stop and look.
She decided to go with a collage look for the poster because "it's a really interesting and easy form of art that allows you to explore so much."
Splitting the hour into 30 minutes for each of the two artists to perform their sets, Talison Crosby and Evan Boucher took the opportunity to express their music through "Experience the Sound."
A writer for The Trail, a member of the band Desert Folk and a part of the in-studio crew, sophomore Talison Crosby wanted half an hour on KUPS to perform and share his music.
Going by the name of Raised By Men in his music, Crosby finds inspiration for his music in his past experiences of being raised by a preacher father and God but was later cut off from both in his life. With an emphasis on "hard" or "heavy" folk, his repertoire consists of meaningful lyrics accompanied by an acoustic guitar, specially tuned for his performance, and sometimes a tambourine attached to his foot that he incorporates with heavy stomping.
Also a sophomore involved in KUPS, Boucher models his music after his inspiration, songwriter Jeff Mangum, the lead singer of an American indie rock band from the early 1990s.
While playing in bands on campus, Boucher creates solo music that he uploads on Sound Cloud.
Releasing his EP under the name Humidity and Static, Boucher might enjoy the extra exposure to promote his music through "Experience the Sound."
Miller explains, "The idea is that anyone can do it and the hope is that everyone will do it. We're hoping to get into weird, funny, or maybe even awkward situations where someone plays a set that they've never shown to anyone before and kind of hearing their awkwardness in doing so. Giving the show a kind of voyeur feeling, listeners can get that real experience without actually being there."
With difficulty getting the word out in the beginning, most of the shows have been scheduled by word of mouth.
Students can feel free to set something up with Miller or any other member in the KUPS In-Studio crew to perform live on air for the next "Experience the Sound" session.
Only just kicking off as a new show on KUPS, "Experience the Sound" is still just beginning. The opportunity to be a part of a potential KUPS tradition is still available. Any musician is invited sign up to be one of the first performers in the show's beginning stages.
Be sure to tune in every Thursday night at 7 p.m. for who knows what.
KUPS can be streamed online from www.kups.net or from kups.tumblr.com. KUPS can also be accessed through radio at 90.1 FM.
PHOTO COURTESY / ANDREA EATON
Tags :
evan boucher
experience the sound
KUPS
music
talison crosby