Band Sun Eater looks to expand presence in Tacoma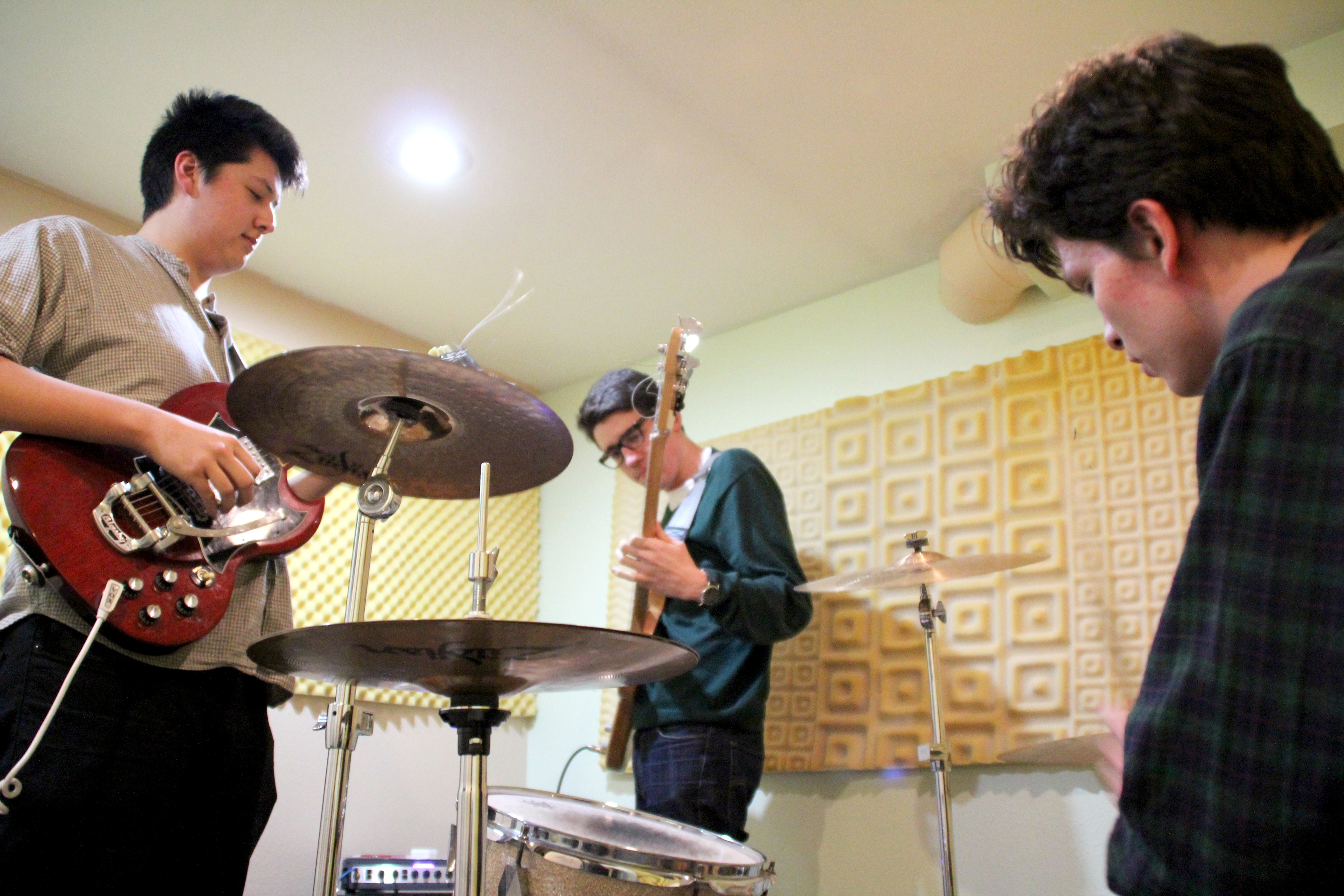 Sun Eater, comprised of juniors Ben Block, Kirby Lochner and Daniel Salas, formed in a basement in the fall of 2011.
Despite being just over a year old, the band has played at several venues in Tacoma, including the "Death" house at last year's Alder Arts Walk.
They have also seen their music featured on multiple stoner-rock blogs, winning such accolades as "Best New Band to Burn One To" and being listed among the best new stoner-rock bands of 2012. It began with Block (bass and vocals) and Lochner (guitar) jamming together.
"It was really boring just the two of us," Lochner said. So the duo invited Salas to join them on drums. "And then we had about six months of horrible jam sessions. Miraculously Sun Eater arose from the ashes of our near failure," Lochner continued.
The trio knew one another previously through their involvement in KUPS.
Each currently holds a position on the core staff of our campus radio: Block as Programming Director, Lochner as Commuter Music Director and Salas as Alternative Music Director.
The group's Facebook page describes them as a "psychedelic stoner trio;" listening to their self-titled EP, I hear a heavy psych-rock aesthetic with languishing, hypnotic reverb and a careful but relaxed sound.
The emphasis placed on guitar solos is pronounced but does not overshadow the bass and drums; vocals are sparse but tasteful.
"If we had to place ourselves in a genre, it would be heavy psychedelic rock with stoner metal and hardcore influences," Lochner said.
"I also try to bring some of the energy and intensity of hardcore punk rock in when I can," Salas said.
According to Block, the band's sound is heavily influenced by each of their personal musical backgrounds. Block played saxophone throughout middle and high school, switching to bass in 2010.
Lochner's musical background is primarily built on a blues guitar foundation along with rock guitar of the 60s and 70s.
Salas began playing guitar when he was in the fifth grade before taking up drums a year later.
"The urge to make loud noises was too great for my 12-year-old mind. I guess I haven't changed much since then. Though I have gotten better at playing," Salas said.
Lochner lists his personal influences as slide blues guitarists like Robert Johnson and Elmore James along with guitarists like B.B. King, Eric Clapton and Isaiah Mitchell of Earthless.
Block is influenced by hardcore bands like Cloud Mouth, Cougar Den, Joyce Manor, Mountain Asleep and White Lung. Salas's biggest influences include Black Sabbath, Causa Sui, Colour Haze and the percussion innovations of John Bonham and Can.
The band's EP, released in April of 2012, contains three tracks averaging six minutes each. It was recorded in their basement using Garage Band, and each song is live, giving the EP a raw intensity. For Lochner, recording the EP was a highlight.
"We had been in a pretty big rut for a while and recording pushed us to finally decide what we really wanted to sound like," Lochner said.
The band hopes to record a new EP in the spring and release hard copies of both EPs. They also aim to play more shows in Tacoma, Seattle, Olympia and beyond.
"We've been pretty limited to the Tacoma scene so far, so getting some shows in other cities is a huge goal of ours," Block said.
Sun Eater gave a performance in Club Rendezvous last fall, an engagement they are scheduled to reprise on March 9 alongside fellow campus-based bands Pilot Light, Young Ones and Harshmellow.
Find Sun Eater online on Facebook, Soundcloud and Bandcamp, where you can download their EP free. Their facebook url is: www.facebook.com/suneatertacoma, and their Bandcamp url is: suneatertacoma.bandcamp.com.
PHOTO COURTESY / MICHAEL VILLASENOR
Tags :
KUPS
music scene
Puget Sound
sun eater
Tacoma