Tubachristmas joined student and community musicians of varying backgrounds together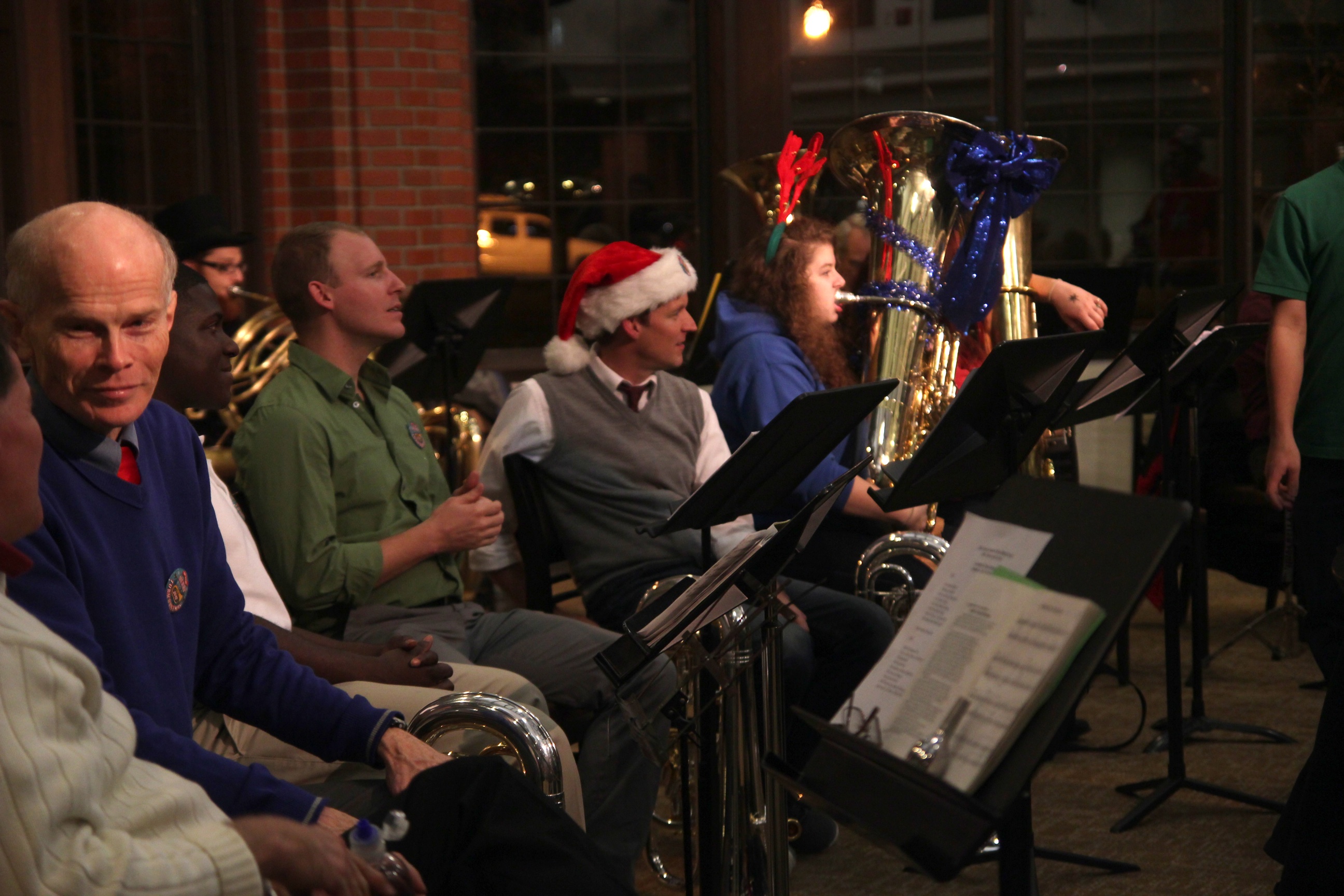 Members of the Greater Seattle Tubachristmas helped to ring in the Christmas season several octaves lower than usual. Organized by Puget Sound's tuba and euphonium professor Ryan Schultz and under the direction of graduate student Laura Erskine, the Tubachristmas ensemble played just under an hour of familiar Christmas hymns and carols in the Rotunda last week on Tuesday, Nov. 27.
There was a minor scheduling mix-up—the Puget Sound website reported the starting time to be 5:30 p.m., when it was really scheduled to begin at 7:30 p.m.—but the community turnout was still strong. Puget Sound students, alongside toddlers, adults and the elderly from the Greater Seattle area, tapped their toes to such Christmas classics as "Silent Night," "Good King Winceslas," "O Come, O Come Emmanuel" and "The Wassail Song."
Arrangements were relatively conventional, with far less oom-pahing than expected from an ensemble composed of more than 20 tubas and euphoniums. Among the types of tubas represented were 10 euphoniums, one bass tuba and 10 contrabass tubas, the lowest instrument in modern ensembles.
According to Schultz, Tubachristmas was founded in 1974 to pay tribute to the late musician William J. Bell and to honor a growing love for tubas and euphoniums. Tubachristmas events take place worldwide, including several in Washington alone.
Schultz, who is also the principal tubist of the Pacific Northwest Ballet Orchestra and the Auburn and Yakima Symphony Orchestras, has been organizing the Greater Seattle Tubachristmas for about 10 years. He has been involved in the program since his undergraduate professor began a Tubachristmas at his alma mater.
This is the first time a Tubachristmas has been held at Puget Sound.
"I love educating people about the melodic capabilities of our instruments. Several people from the community came just to see what exactly what we were doing—I heard they loved it. Mission accomplished!" Schultz said.
Audience reactions were positive, with toe-tapping and head-nodding abounding. Audience members cheered at a rousing rendition of "Jingle Bells," laughed when performers shouted "Merry Tubachristmas!" in unison and, at the end, gave a standing ovation.
The Tubachristmas ensemble was composed of a wide variety of performers. Among the ranks were current School of Music students, alumni, three professors, one Oregon resident and three musicians on active duty in the military.
There was also a wide range of ages represented, from one 14-year-old girl from Stadium High School to many players over the age of 55. All of the performers were volunteers.
"It's a powerful thing to notice that, even with the diversity in age and musical experience represented in the ensemble, a common purpose—and instrument family!—can bring us together," Erskine said.
Erskine, who is a graduate student in music pedagogy, found the experience of conducting the group to be one of positivity and joyful music-making that spoke to the Christmas spirit of giving.
"I offered my time, ideas and leadership. The musicians gave their time, joy of playing and musicianship. The proceeds were given to charity. The audience gave their attention and positivity. And the music itself is familiar, heartwarming and funny sometimes … I'm sure everyone who came has some sort of connection with the music we shared," Erskine said.
All of the tuba and euphonium players in the Puget Sound School of Music participated in Tubachristmas, including freshman Stephen Abeshima. Abeshima enjoyed playing Christmas music in a large ensemble made up entirely of tubas and euphoniums, which is not a common grouping.
"I did not know about Tubachristmas before this year, but I really enjoyed it and definitely want to play in Tubachristmas again next year," Abeshima said. Abeshima has been playing euphonium for about eight years.
For more information on Tubachristmas, visit tubachristmas.com.
PHOTO COURTESY / PETER DAVIDSON
Tags :
laura erskine
Puget Sound
ryan schultz
tubachristmas
tubas