'Game of Thrones' returns to HBO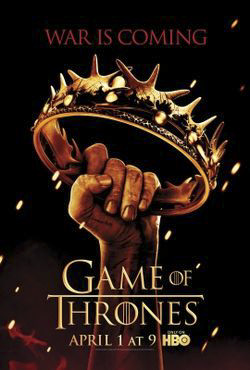 On Sunday, Apr. 1, the second season of Game of Thrones, HBO's adaptation of George R.R. Martin's enthralling fantasy series, A Song of Ice and Fire, premiered to a far broader audience than the show began with.
During the first season, viewers acquainted and unacquainted with Martin's work were gradually drawn to the show's all-star cast and its curious blend of thorough, Tolkien-esque mythology, cutthroat politics and pervading explicitness.
Eventually, Martin's vision became a national sensation through the HBO series, spurring the popularity of his books and even the development of a multi-platform Game of Thrones video game, which will release next month.
However, with the former masthead of the series, Eddard Stark (Sean Bean), swiftly beheaded at the first season's close, viewers uninformed by Martin's novels may have experienced difficulty trying to imagine what will happen next.
Luckily, the second season's premiere already introduces intriguing new plot developments yet sustains all of the first season's gratuitous volumes of guts and glory.
The viewer is propelled once more into the Seven Kingdoms of Westeros, where upstanding families vie for power against each other and sometimes, even their own kin.
Caused by a series of escalating atrocities between the rustic, noble Starks of the North and the decadent, Machiavellian Lannisters of the South, the Kingdoms are now at war.
The premiere's focus traverses deserts, mountains and cities to update audience favorites, namely Robb Stark (Richard Madden), the leader of the Northern rebellion and eldest son of Eddard Stark; John Sno (Kit Harington), the admirable bastard son of Eddard Stark serving in the coldest reaches of Westeros; Daenerys Targaryan (Emilia Clarke), the white-haired, dragon-toting warrior queen of the venerable Dothraki army; and finally, Tyrion Lannister (Peter Dinklage), the diminutive, cunning and often hilarious redeemer of the otherwise contemptible Lannisters.
Of them all, Clarke and Dinklage leave particularly lasting impressions. Clarke's ferocious confidence  as "Khaleesi" hasn't diminished but rather intensified with her newfound pride after provoking the shocking rebirth of dragons.
Already, Clarke's commanding performance forebodes the advent of cataclysmic events that will inevitably arise in the coming episodes.
Throughout his first moments onscreen, Dinklage's reprisal role as "The Imp" exemplifies deadly wit  as he manipulates his power-hungry sister, Queen Cersei Lannister (Lena Headey), and even the tyrannical boy-king, Joffrey Baratheon (Jack Gleeson), cementing his command as the Hand of the King.
More stunningly smug than ever in the new season, Dinklage dominates every scene that he appears in with both humor and finesse.
However, new characters also provide viewers with a sense of novelty, rather than familiarity. King Stannis Baratheon (Stephen Dillane) and Melisandre (Carice van Houten), a foreign priestess and royal advisor, are especially noteworthy new characters.
Dillane's performance already implies his character's frightening hostility, admitting to the hatred of his brother and disregarding objections to warring against both the Starks and the Lannisters.
If the second season's premiere is any indication of what's to come, Dillane's character will certainly arise as a daunting adversary in the war for the Iron Throne.
From her first appearance as she sanctions the burning of Westeros' Old Gods in effigy, Houten's Melisandre is exquisitely sinister. Although mystery currently surrounds her elusive character, Houten already demonstrates that she should be closely attended as the season progresses.
From now until June 3, new episodes of Game of Thrones will premiere every Sunday at 9 p.m. on HBO.
Game of Thrones' stellar cast and plot deserve a glance, if nothing more, from television enthusiasts of any given interest.
See hbo.com/game-of-thrones/index.html for more information.
Tags :
entertainment
review
television