Jazz legend Wycliffe Gordon delights campus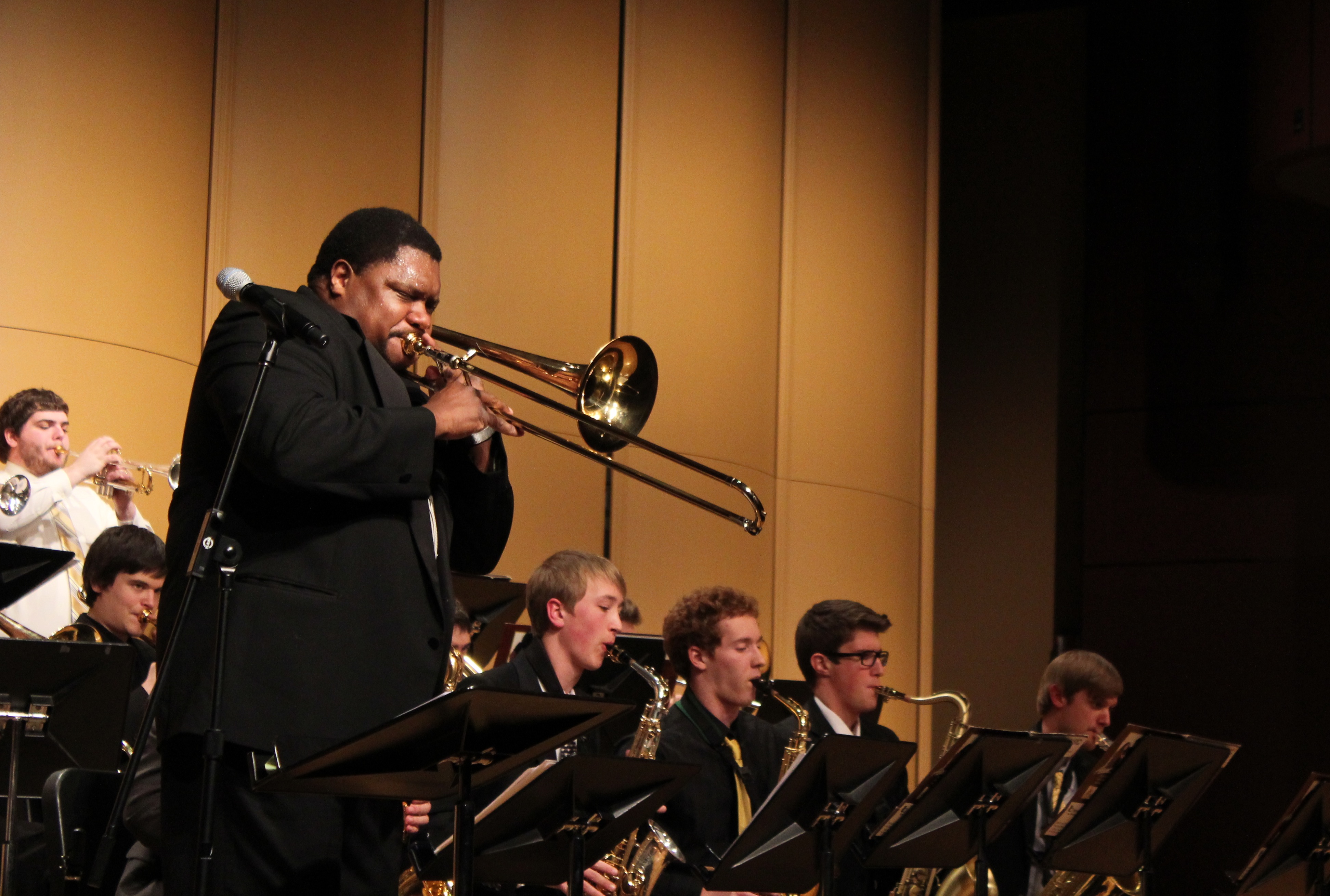 Esteemed for his mastery of jazz trombone, Gordon often meandered into captivating, experimental solos during his performance with Puget Sound's jazz band last week.
Puget Sound was graced by special guest star Wycliffe Gordon on Feb. 28 when Gordon joined Puget Sound's jazz band in concert to honor Black History Month.
Gordon gained renown in the jazz world for his expert playing of the trombone and for his collaborations with jazz heroes such as Wynton Marsalis. Gordon also reimagined the theme of NPR show "All Things Considered."
The jazz band began their concert with a song independent from Wycliffe Gordon, and before they began, the director of the jazz band, Wayne Horvitz, introduced himself and the evening to come.
"I've only been here two years, but this is the best crowd we've had," said Horvitz.
After the band played "Cupid's Nightmare," a piece arranged by Dan Redmond, Wycliffe Gordon joined the band in the song "Basin Street Blues."
In the beginning of the song, Wycliffe joined with subtle and superbly crafted vocals and later on joined with a trumpet and then a trombone. It seemed that Gordon had a bag of tricks next to him as he pulled up one instrument after the other.
Before Wycliffe Gordon's first piece was even finished, the audience was already picking up in enthusiasm. After they finished "Basin Street Blues," boisterous applause followed.
The next song played by the band and Gordon was entitled "What You Dealin' With" which Gordon described as a song that combines boogaloo and bebop. The song itself includes a fun spoken word aspect of the lyrics with the exchange of the phrase "what you dealin' with" between Gordon and the band.
After the band had finished playing a couple of songs with Gordon, Horvitz returned on stage to announce that the next song the band would play was one Horvitz arranged himself, and that he had had the band play it because he wanted to hear Gordon featured in it.
"I am a selfish man," Horvitz said as he joked with the crowd.
After only a few measures the song was instantly recognizable as "Fever," a classic jazz standard. As eyes explored from row to row, it was clear that nearly every foot was tapping or head was nodding in rhythm to the band's smooth tunes and Gordon's lively musical styling.
Overall, Gordon was having fun during his time on stage with Puget Sound's jazz band. He took on his solos with ease, interacted amiably with the students, and smiled and joked with the crowd.
When given the opportunity for a solo, Gordon was as conversational within the song as he was in between the songs. His solos seemed the instrumental jazz equivalent to scatting. His notes would bark, scream, yell and sing to the audience, and some rather abstract noises were heard as well, which had the audience rubmling with chuckles.
Before the last song, Gordon chatted with the crowd a little more and garnered even more adoration.
"If you're here and you're not having a good time, it's probably your fault," said Gordon.
After the jazz band and Gordon played their final song together, Gordon graciously returned to stage for an encore, although the band had no more music to play with him. At first, Gordon joked and turned to his fellow musicians and said, "Ready, band?" The band laughed, and Gordon began his own solo to close the evening.
A Tuesday evening with Wycliffe Gordon and Puget Sound's jazz band yielded two standing ovations, many cheers and an altogether impressive exhibition of jazz music to absorb.
PHOTO COURTESY/MAX HONCH
Tags :
entertainment
jazz
live music
on-campus